Kolkata: West Bengal Governor Jagdeep Dhankar recently launched the fourth edition of "Wisdom Speaks" - a trilingual multi-disciplinary-peer-reviewed journal – published by Indian National Forum of Art and Culture (INFAC), a premier non-profit working for the promotion and invigoration of art and culture in India since 2005.
The governor's wife, Sudesh Dhankar, was also present at the cultural function attended by eminent personalities at the ICCR, Kolkata.
The cultural programme was organized by INFAC in collaboration with ICCR. On the occasion, uniquely crafted Durga icons by Kolkata-based Church Art was presented to Dhankar and his wife, respectively by Gautam Dey, Regional Director, ICCR, and Subrata Ganguly, Founder of Church Art.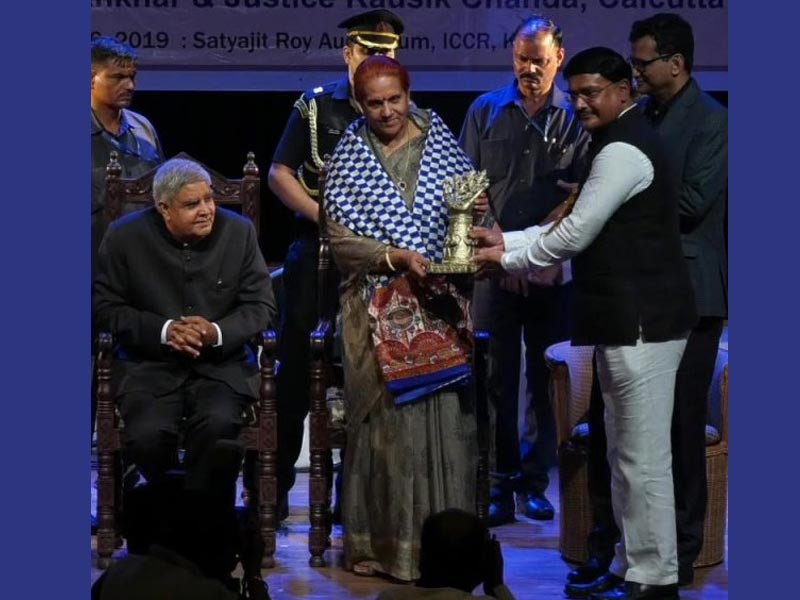 Church Art is known for creating pioneering art works of various kinds that are inspired by art, culture, religion, aesthetics and ergonomics.
"It is a great privilege for INFAC to have the fourth edition of our peer-reviewed journal Wisdom Speaks released by His Excellency, Shri Dhankar ji. INFAC is engaged in promoting and popularizing art and culture," said Tapash Gan Choudhury, Chairman, INFAC. A cultural programme of devotional, classical, modern and folk songs was held.
"On the occasion, we presented to the Honourable Governor and the First Lady some work of art on behalf of INFAC which was much appreciated. The work of art is a sculpture depicting a woman's hand with a god or goddess marking each finger with its musical instruments, weapons and other sacred objects symbolic of their roles and power," said Subrata Ganguly of Church Art and the Cultural Secretary of INFAC.
Wisdom Speaks journal is published in English, Hindi and Bengali and covers subjects like Architecture, History, Literature, Philosophy, Performing and Visual Arts. The peer body includes, among others, Prof Dr Bashabi Fraser and Prof Dr Neil Fraser of Edinburgh Napier University, UK; Prof Guy L Beck of Toulane University, US; Hindi litterateur and Jnanpeeth Awardee Dr. Krishna Bihari Mishra and Bengali litterateur Biplab Dasgupta and Professor Sanjukta. Wisdom Speaks is edited by Dr. Nupur Ganguly, Senior Associate Professor of Vocal Music, Rabindra Bharati University, Kolkata.
Indian National Forum of Art and Culture (INFAC) has been working since 2005 for the promotion of arts and culture in the country, INFAC has come to be known as a premier organization of its kind. In 2007, INFAC had organized Asia's largest art workshop where 550 artists from India, Bangladesh, Sri Lanka, Japan, France, Germany and the United States participated.
Besides holding national competitions in the fields of visual and performing arts every year, INFAC continues to hold solo and collaborative programs with institutions like the Lalit Kala Academy, the ICCR, and the Rabindra Bharati University, as also with other universities and academic institutions.