Himanshu Gulati, the Indian-origin youngest MP of Norway, had also served as a Deputy Minister of Justice at the age of 25. He is one of the youngest politicians of the Scandinavian country to have assumed such a high profile post. Besides working for his party (Progress Party), Gulati, whose parents are from India, has a keen interest in travelling and has been to more than 160 countries. In an exclusive chat with Ehsaas Woman of Chandigarh, Rishma Gill, Gulati spoke about his political journey as a Norwegian and much more at a session in Ek Mulakat Vishesh, hosted by Prabha Khaitan Foundation and presented by Shree Cement. IBNS correspondent Souvik Ghosh tracks the event

How does it feel to become the youngest Member of Parliament?
I am very grateful for the opportunity to have had a high position in the office of politics at a young age. Although it is less common in India, becoming an MP or Deputy Minister at a younger age is common in Norway. I think it is important that in every society, people of all ages have their voice inside politics and their part in how the society is shaped. I think it helps create better policies when all age groups are well represented.
You must have faced a number of challenges when you started out as a politician. Would you take us through some of those?
One of the reasons why I have excelled as a politician at a young age is because we have well developed youth parties and organisations that function as recruiting organisations for the main parties. I was 22-23 when I became the national leader of one of our main opposition parties. When I was 25, my party won the election and we came to the government and I was asked to serve as a Deputy Minister. I guess the challenge one faces being an outsider, being so young in politics is that people underestimate one and I think that's the challenge people face everywhere. But we live in a world where one's input is more important than his/her identity.
At the age of 15, you had joined the youth organisation of the Progress Party. What propelled you to join at such a young age?
I always had very strong opinions. When I looked at debates on television, my blood used to boil and I had almost participated in them from my living room. I had the feeling that unless one participates in the democracy and throws it out there, one doesn't really have a legitimate reason for complaints. I felt if I was unhappy with something, I should be a part of the change. I also believe in the words of Mahatma Gandhi ji who said, "Be the change that you want to see in the world".
Your parents were the first generation immigrants to Norway. So what have their journeys been like?
Like a lot of people who left India in the 1970s, 1980s, my parents also started with two empty hands. My father, being an educated doctor and my mother, being a physiotherapist, came to Norway with nothing really. They created a life for themselves and a future for their children. I am very grateful to them.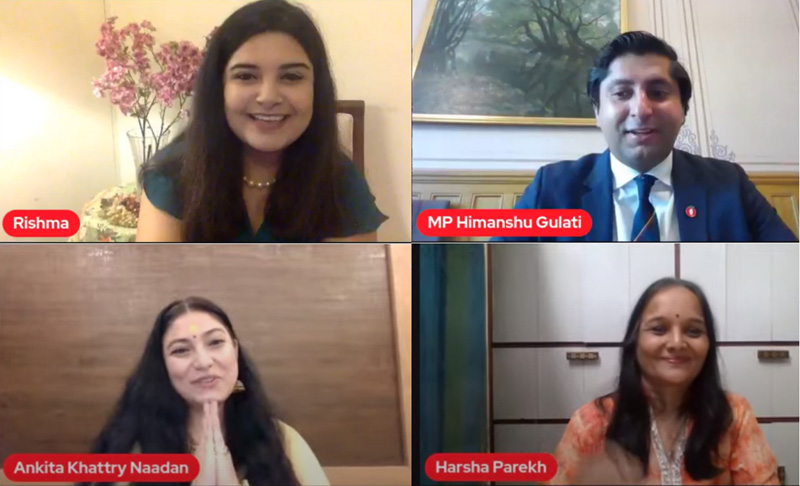 Being an Indian origin person, how do you think the Indian culture and heritage have shaped your thinking?
A lot. My Indian heritage is an integral part of me. I am proud to be a Norwegian but the way my soul, views have been shaped is very much influenced by my Indian heritage. I try to stay very much connected (to the Indian heritage) by watching news everyday, watching (Indian) music, movies and visiting India as much as I can. It also gives perspective. India represents almost one-fifth of humanity in population size and with the historical weight the Indian culture carries through mediation, yoga, scriptures, India gives a bigger perspective than living in a small country like Norway.
What have been the key initiatives that you and your party are most passionate about in bringing about a social change?
My party has a history. It started as a sort of rebellion party to the established parties. It was a small party which started in the 1970s. The party was sort of a people's revolt against too much governmental power, too high taxes for the working class. That was sort of the start of the party. While in the latter years, a lot of the focus, apart from lower taxes and better atmosphere for businesses to grow, has also been on healthcare and pension. We have to take care of the population in order to create a safe society so we need better healthcare and pension for the elders. Europe has had, in my opinion, a bit too liberal asylum rules in the past decades which is one of the greatest challenges and that's also been a big point for my party to address.
You have travelled to over 160 countries. Could you tell us about your travels across the globe and what an immense exposure done for you personally?
Travelling is the true passion of my life and I urge everybody to travel as much as possible. I travelled a lot within India also and was fortunate to see all parts of the country. Travelling truly expands one's horizon and also teaches one that the world is not black and white. The world is full of nuances and people all over are very different in culture. I have travelled to some dangerous parts of the world like North Korea, which is one of the most isolated countries in the world. I was recently in Yemen, Syria, Afghanistan, Iraq and also have participated in several personal initiatives to help Norwegians stranded abroad to come home. So I do travelling for my own soul and as a hobby.