Music is high on the country's cultural agenda but Western Classical music has somehow missed the bus in the current scenario. Surangama Guha reports
Divine music by geniuses like Bach, Beethoven, Mozart etc. has enthralled the world for generations. But in India somehow Western classical music has remained at an esoteric level, perceived as confined to the elite 'westernised' gentry for appreciation, right or wrong.
But are things changing?
First, a peek into its sporadic history in India.
In fact, Western classical music began touching lives as early as in 1542. Catechism i.e. religious conversion, through music, was prevalent in Goa, Bombay (Mumbai) in the Middle Ages particularly after Vasco da Gama opened te sea route to the country from Europe. However, it was only in 1922 after the British made a strong toehold that the first permanent symphony orchestra of the country arrived in then Bombay.
The Calcutta School of Music (CSM) was set up in 1915, one of the first of its kind in India. The Bombay Chamber Orchestra was established in 1962. In 2006, the Mumbai-based National Centre for Performing Arts (NCPA) started the Symphony Orchestra of India.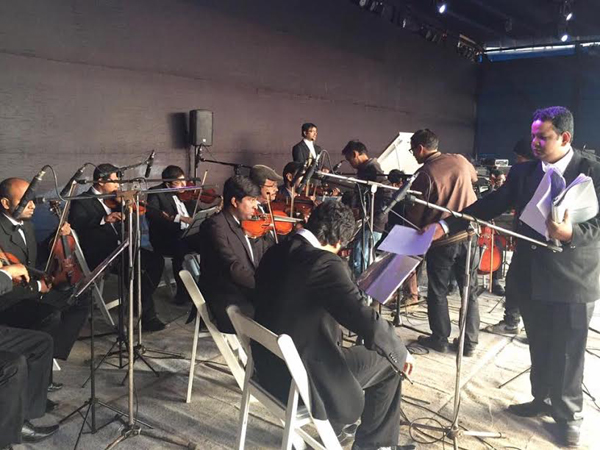 Currently, there are just a few schools of music with dedicated Western Classical Music courses in Kolkata, Bangaluru, New Delhi and Shillong. In Chennai, maestro A.R. Rahman founded the KM College of Music and Technology (#KMMC), a one of a kind music conservatoire offering higher education in instrumental music, music theory and technology, that includes both Hindustani and Western classical music. KM is affiliated to Middlesex University, UK.
St. Anthony's College, the North-Eastern Hill University, and Martin Luther Christian University, Shillong, provide bachelor's degree and diploma level courses in Western classical music. In 2013, Goa University added Western Music to their syllabus. In Nagaland, Patkai Christian College offers courses focusing on the theory and performance of Western classical, among others.
But is it just within the formal curriculum that the music is getting some level of recognition?
According to Sebanti Chatterjee, research scholar at Delhi School of Economics, who is studying the history of Western classical music in India, "There have been numerous intervention programmes from different education boards and individual music educators from Europe and the USA. But it's the festivals across the cities that keep the enthusiasm going."
The International Classical Guitar Festival in Kolkata, the Goa Monte and Ketevan World Sacred Music Festivals, Con Brio Piano Competition in Mumbai etc. keep the western classical appeal alive across the country.
In 2015, the country got Serenade Magazine, the first online portal on Western classical music, a venture that is both imaginative and optimistic.
Says Adam Greig, academic coordinator at KM Conservatory, "Students do tend to be very enthusiastic but they usually have very poor knowledge of what formal music study entails. They seem to think that they will be trained to be the next superstars. The reality of having to study on a degree-style course complete with theory, history, writing etc. comes as quite a shock to them."
The preparatory Pre-degree Foundation course at KM attracts about 70 to100 applications per year in which applicants have little prior training in formal music. Greig also pointed out a large predisposition amongst students towards popular genres, even within Western music, and towards Indian film music, with majority of entrants harbouring the ambition of landing up in the commercial film industry.
This is corroborated by Karthik Manickavaskam, first year Diploma student at KM conservatory, who feels that the inclination towards Hindustani classical music quite surpasses its Western counterpart. "To survive in the Indian popular music industry, you need to be able to sing Indian classical," he feels. Karthik also thinks that the idea of developing a career solely in Western music is still far-fetched in India.
So is Western classical music growing in India simply as an accessory to the popular music industry, with most students of the music treating it as a necessary evil to becoming the next A. R. Rahman?
Samarjit Guha, CEO, Calcutta School of Music, feels that students cannot be blamed for trying to make inroads into the popular music industry. "The growth of Western classical in India is one of slow process. Students have to find opportunities to perform."
According to him, they tend to automatically look towards commercial music for platforms to showcase themselves.
It seems then, that opportunities to flourish solely as an educationist and practitioner of Western classical music in the country are still few and far between. So what does the future look like?
Abraham Mazumdar, principal -founder of the Kolkata Music Academy, and a leading proponent of Western classical music in this part of the country, appears pessimistic: "There can be no future for Western classical music in our country without help from the government."
While that possibility still seems far-fetched, Mazumdar feels that the standard of music education in the country could also be improved. "The foundation for this kind of music cannot be strong unless we produce highly qualified teachers, who specialise in western instruments, and can inculcate correct technique as well as interest in harmony music among children".
Both Mazumdar and Guha, agree that only a minuscule percentage of the students actually take up Western music as a profession.
It is possible, however, that innovative ideas are gradually seeping into the otherwise sluggish teaching methods of our country.
Teaching for Artistic Innovation (TFAI) by Sublime Galleria (#Sublimegalleria) is an innovative platform for promotion and exploration of the arts and artists, based in Bangaluru. In association with the Prestige Foundation (#PrestigeHomes), TFAI music is set to introduce a ground-breaking curriculum in schools both in India and abroad, integrating both Eastern and Western music. The different levels of the programme aim to include a coherent music education, including music theory, music history, choir, percussion and instrumental lessons.
TFAI is collaborating with an impressive array of music educators in India, Europe and the USA for this ambitious project. Their chief programme designer for music, Jeremy Woodruff, says that parts of the music curriculum will probably be made available and tested this as early as this summer.
Image: Wallpapers/Calcutta School of Music