Kolkata: Rabindra Bharati University hosts seminar on impact of nature and environment on music
Kolkata, Mar 24 (IBNS): Rabindra Bharati University's vocal music department recently held a two-day international seminar on the impact of nature and environment on music at the Dwarakanath Mancha of Jorasanko Thakurbari, Kolkata, on Thursday.
Professor. Dr. Goutam Nag (Department of Instrumental Music, Rabindra Bharati University), Pt. Anindya Banerjee (Dean of Academics, The Fifth Note), Professor. Dr. Asit Ray (Department of Music, Rajshahi University, Bangladesh) and Professor John Thorpe (Guest Professor, Rajshahi University) were present at the inauguration.
The objective of organizing this seminar was to make students and scholars realize and rethink about the importance of nature and environment in Indian music.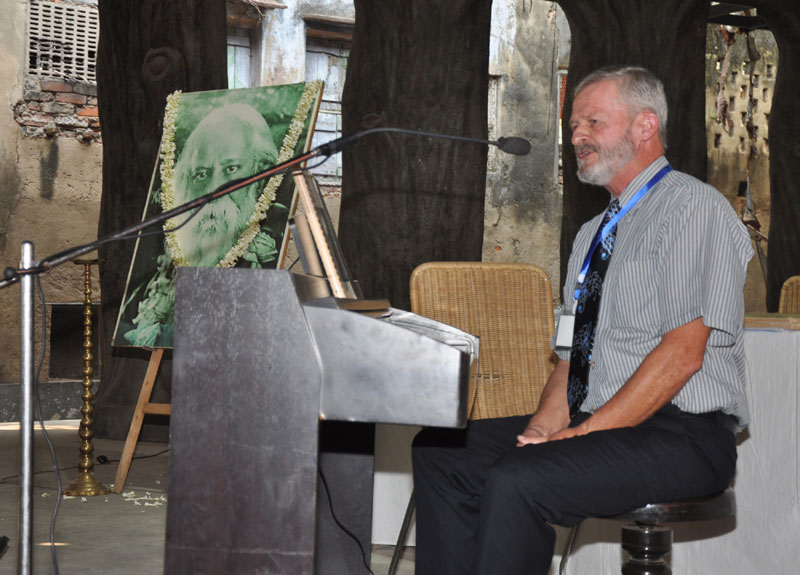 It focusses on the intimate relationship that nature has with music and how the aesthetics of the natural environment shape human feelings, which in turn gets depicted through music.
Pt. Anindya Banerjee gave an audio-visual presentation which reflected the integral relationship of nature and instruments.
In his welcome address he said, "Every instrument that we use for musical purpose is made of a distinct natural element, replacing which will lead to the change of tune."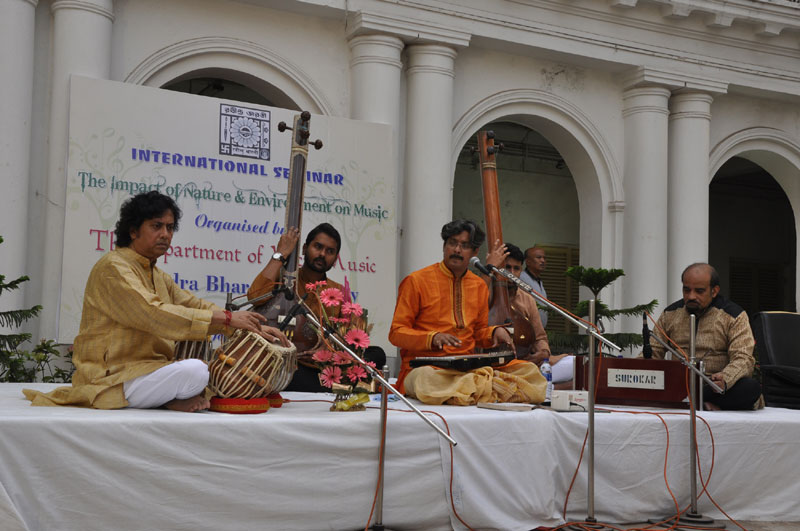 It was a two day event that featured dignitaries from the Vocal and Instrumental music department of Rabindra Bharati University and Rajshahi University of Bangladesh.
On the second day of the event a musical programme was held with Vocal Musical recital of Biplab Mukherjee, with Pt. Subhen Chatterjee on the Tabla and Hiranmoy Mitra on the Harmonium.
Biplab Mukherjee presented Vilamvit Khayal, a Thumri in Mishra Pilu, Tarana in drut teen taal and concluded his recital with a soulful rendition of Mira's bhajan, 'Aliri mere naina baan padi'.
It was followed by the flute recital of Pt. Ronu Majumdar, with Rohen Bose on the tabla. Pt. Ronu Mazumdar began his recital with a composition based on Raag Nageswarawali.
Then he played a short Rupak in teen taal and concluded the evening on the lilting note of a Pahari dhun.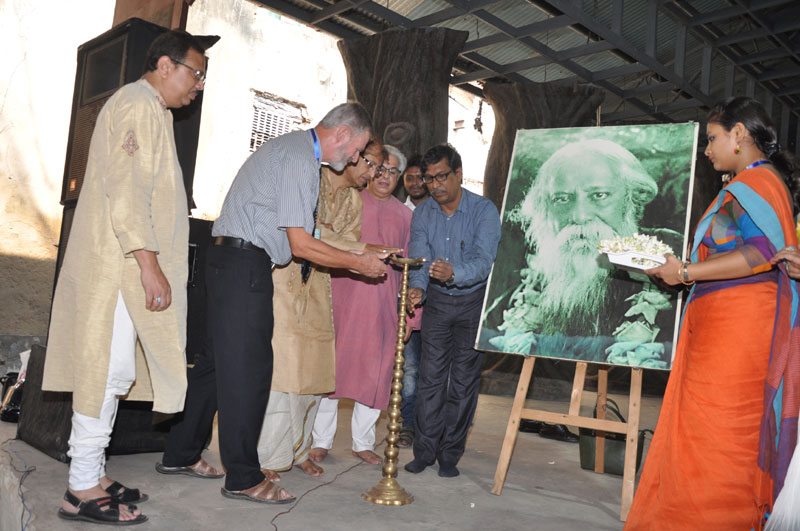 The event also provided for time exclusively dedicated for paper and abstract presentation on the various sub-themes of the "impact of nature and environment on music" on both days followed by a certificate giving ceremony.
Dr. Kankana Mitra, Seminar co-coordinator and Teacher-in-charge, Department Of Vocal Music, in a conversation with IBNS, said, "It is a very important occasion whereby we want to make people aware of the various facets of music."
(Reporting bySourajit Choudhury)