Arpita Akhanda to hold her multi dimensional 'A Walk Over Senses' exhibition in Kolkata
Kolkata, Sep 12 (IBNS): Kolkata will soon witness a unique exhibition by Arpita Akhanda, which will consist of a series of performances, installation and video pieces where she used her own body as a site for exploring the fragility and strength of the human condition under stress of our contemporary society and their conflicts.
Titled 'A Walk Over Senses', the exhibition will be held at the Janus Cultural Society on Park Street in Kolkata between September 20th and 27 (Monday closed), from 12 noon to 7om.
Arpita Akhanda is presently engaged in an inter-media dialogue along body, process and interactivity. Exploring body as a multifaceted encounter of memory and physical encounter of past and present. By engaging with different social situations and issues and translating them into multi sensory interactive experiences.
Through her work, she narrates important political sentiments and a poetically charged oeuvre where the medium becomes the metaphor.
In her works she explores and expresses the agonies of war, human rights violations in an interactive and often provocative way.
By engaging the viewer making them walk through her work, dismantling it or sensing multiple objects she has tried to hit a melancholic cord.
She is evoking us to listen to these unheard or ignored stories and trying to bring back of what is being forgotten.
In her performance 'Moving with the Five Senses', she will be exploring the five senses from the past by creating a dialogue between her feminine identity and the five senses.
Born in 1992 Odisha, Arpita Akhanda studied painting (B.F.A. 2015 and M.F.A. 2017) from Kala Bhavan, Visva Bharati, Santiniketan.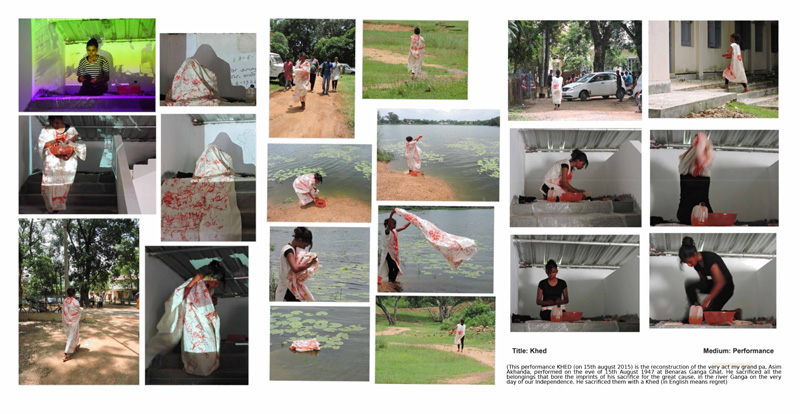 She has participated in several group exhibitions from 2013 to 2017--
BINDU 2013 (group exhibition,painting) Academy of Fine Arts Kolkata
BASUDHA 2013 (Painting and photography) at Lalit Kala Academy, Bhubaneswer,Odisha
A point of view (alternate print) Nandan Art Gallery, Kala Bhavana Santiniketan
BASUDHA 2014
Fragments of Cities, international exhibition of photography Palazzo Albrizzi in Venice (Italy)
MORPHOS, organized in Venice -June and November 2014 Architecture Biennale
POTPOURI group exhibition, ICCR, 2014
PRARAMBH, exhibition photography at Twin Art Gallery, New Delhi 2014
Where science meets Arts, exhibition of painting at Kolkata, 2015
Young Santiniketan Artists of Santiniketan,SSVAD 2016
Group show of 6 young artists , in Kala Kendra Gallery, Bangladesh, curated by Wakilur Rahman and Kehkasha Sabah
White Field Art Collective, exhibition in V R mall, Bangalore, 2017
Emami Art Chisel Annual Exhibition, 2017
China Bot : The magician, Nandan Art Gallery Santiniketan, 2017
The Shape of Things, group show curated by Ushmita Sahu, Ganges Art Gallery, 2017, Kolkata
Multidisciplinary Art Show- 3rd in Chittagong, Bangladesh, 2017
Pentamerous, group show in gallery Art Exposure,2018, Kolkata.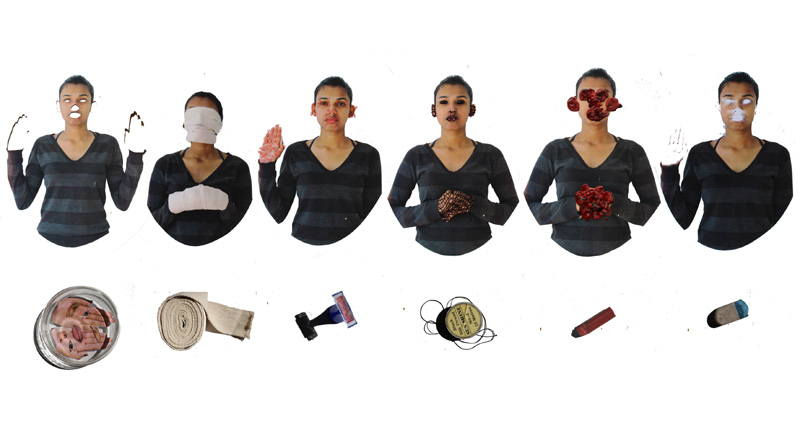 She has also participated in many national and international workshops and performances like --
BASUDHA 2013 painting workshop, Odisha
KIPAF(Kolkata International Performance Art Festival) 2014, Kolkata
Group Performance for Ebong Alap organization at Jadavpur University, Kolkata
SSVAD workshop organized by SBI
Group Performance on "We and Others" at Birla Academy of Fine Arts, Kolkata
Collaborative performance on "Black House" at Black House, Santiniketan 2015
Collaborative performance "Gendered Land",at JNU Delhi 2016
CARTIST Festival, workshop, Jaipur 2016
Student exchange program and Cultural exchange in Yunnan University, China, 2016
Collaborative performance "Gendered Land", at Asian Art Biennale 2016, Dhaka Bangladesh
Ordinariness of Things, workshop curated by Amit Mukhopadhyay, Art and Aesthetics Gallery, New Delhi 2016
In- Field Studio, collaborative project and workshop with infield studio architects Japan, School of Architecture Vadodara and Visva Bharati University, 2017
BAP-3 (Barbil Art Project ) in Barbil Odisha, curated by Ushmita Sahu, 2017.
Some of her achievements include --
Merit Scholarship, Kala Bhavana, Visva Bharati University, 2012
BASUDHA 2013 cash award for painting
National Youth Festival 2013
Cash Award for painting workshop, SSVAD Gallery organized by SBI
National Scholarship 2016, in painting , Ministry of Culture , Government of India
YOU scholarship, Telegraph 2016
MOYTREE, AIR 2016.