Rhitom Sarkar, slide guitar artist, is keen to take his melody to a wider audience
Born to musician parents Rhitom Sarkar, a child prodigy, started with Indian classical music but soon he veered towards playing the guitar because of the instrument's musical appeal akin to vocal due to its ability to glide. His innovative mind searched for ways and means to incorporate the finer nuances of Indian music in his guitar. An MBA in System Administration, B.SC (Hons) in Computer science, he has also completed M.MUS/Sangeet Bhaskar (Guitar-classical), and is a Gold Medalist (First Class First). Sarkar shares his musical journey with Subhojit Roy, co- founder Connections PR.
Tell us about your childhood and initial Taleem in music?
At the age of nine, I began learning Slide Guitar under Pandit Debashish Bhattacharya. My mother late Niyati Sarkar who is a vocalist from Bishnupur Gharana and a School Mistress took me to PT. Bhattacharya when I was very young. I started my training under him and was tutored by him for 10 years.
Later I learnt under Debotosh Dey, Guitarist of All India Radio.
Now, I am taking my advance training from PT. Shyamal Chatterjee (Sitarist) a disciple of late Ustad MD. Dabir Khan Saheb and PT. Ravi Shankar.
Also, I received Taleem from PT. Ajoy Chakraborty in special Appreciation Class, PT. Buddhadev Dasgupta in Rajya Sangeet Academy and trained under Madhu Mukherjee in Acoustic Guitar for a long time.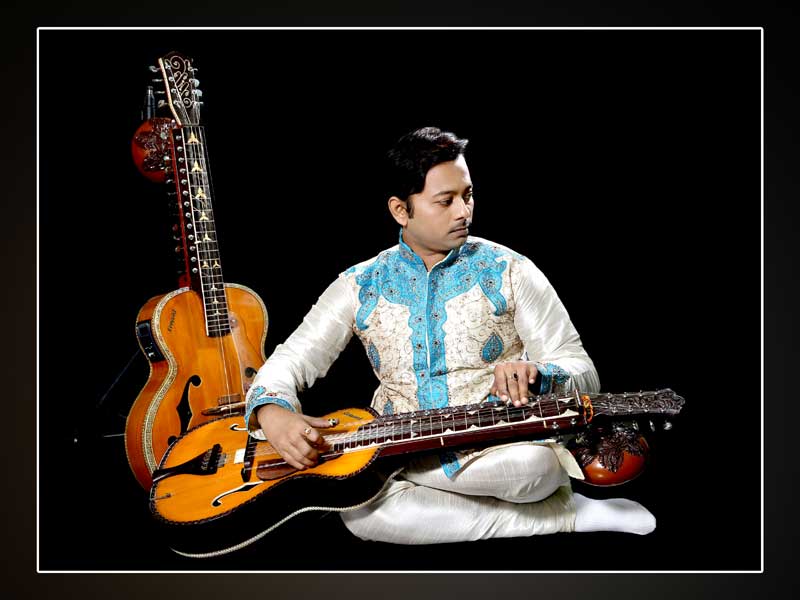 How did your passion in music transform into profession? Has it been a rewarding experience checking a successful career in music?
My music lessons continued along with my studies.
I completed my BSC(Hons) in Computer Science and MBA in System and Marketing along with CCNA.
So by profession I was into Marketing, a career that I pursued for two years. Music was then more of a hobby.
But later I decided to take music as a full time career and left my job.
Now I am into full time music, performing in and around India and abroad, teaching students in three different institutes, doing online classes and also teaching students in my home and also doing some projects in meditation and Bollywood Music.
Yes, I think my decision to resign from my job and taking music as a full time profession was a right decision.
To boost my music career, I completed M. Muse from Chandigarh University where I achieved First Class First with Gold Medal.
I am an "A" grade artist of AIR, national and state scholarship holder, Sur-O-Mani Awardee, Sangeet Yuba Ratna Awardee from Art and Cultural Trust of India and also an empanelled artist of ICCR and EZCC.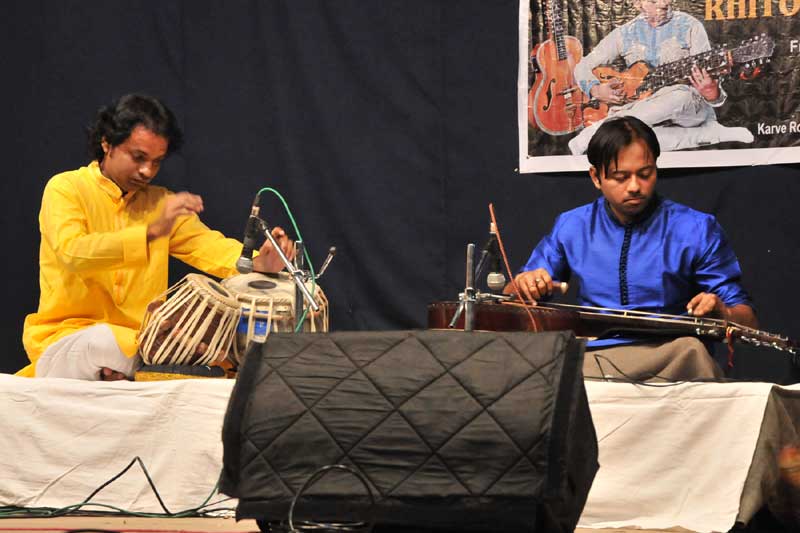 Do you get enough opportunities to showcase your talent or perform in India?
I do perform in many events, social cause, concerts and programmes all over India.
I performed for the Horizon series of ICCR in Kolkata, Mumbai, Pune and Goa.
In Ali Akbar Sangeet Kaksha, Bhawanipur Sangeet Sabha, SRA, Pratibha Utsav and Jalsaghar from EZCC. India Habitat Centre, India International Centre, EP Centre Gurgaon, Lok Kala Mancha, UNITY Concert on 61st Independence Day, All India Music Festival,20th Saltlake Music Festival,All Bengal Music Conference and many more.
But still I think I have a long way to go with my Slide Classical Guitar as there are many people who are still not aware of the style and techniques I use while playing, many who are yet to hear the Sound Scape of my instrument [22 string Slide Classical Guitar].
Besides performing live, I have some CDS released from India, namely Enchanting Evenings from Cosmik Harmony, Serenity from Raga Music, Blissful Journey and Lyrical Journey from Questz World and five more CDS on Meditation, namely Divinity, Atmaa, Blessings, Fragnance and Moksha from NITL (Sahaja Yogi).
Share your experience on your performance abroad.
I had an opportunity to perform in the USA, Canada, Germany, Denmark, Singapore and Bhutan.
I performed in Hindu Heritage Day Programme organized by Viswa Hindu Parisad of America, Vedanta Ashram in Rhode Island, SIFAS festival in Singapore, Festival Of India in Toronto Island, ICCR tour in Bhutan on eve of 50 yrs celebration of Indo- Bhutan relationship and many more.
I have conducted workshops and master classes in Philadelphia and Boston also.
Recently, in 2018, I was invited to Canada. I was in Toronto for 28 days to record an album with many great North American and Canadian Slide players - Don Ross, Ivan Rosenberg, Sean Pinchin, Dan Walsh, Sarah Siddique, David West, Michael Oesch and Guy Westbrook. The album is a melding of North American and Indian Slide Guitar Styles (Indo- Canadian Slide project). This album named 'Delta Raga' will be released in early January 2019.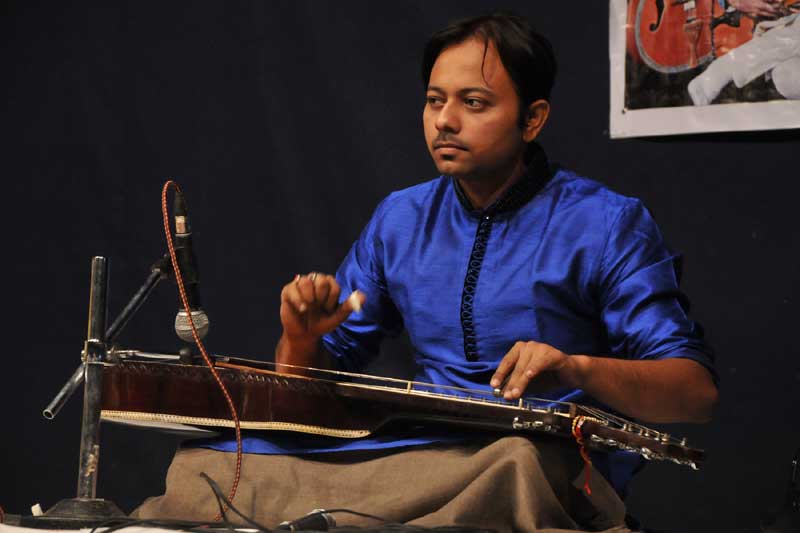 What are your plans for your musical career in the future?
I am working on some old Bollywood numbers, mixing with Indian Classical music in different arrangements and styles for the past two years. There are some Singles with new arrangements which I am working with, which are likely to release in January 2019 and I already have a few programmes and concerts in India and abroad slotted for 2019 .
What is your opinion about Classical Indian Music's future? Will it survive the electronic sound and new age music?
Old Wine in a New Bottle. I compare Indian Classical music with old wine. As you see, only Indian Classical Music is used to cure diseases, in meditation, for treatment, etc.
So demand for Indian Classical Music was there in the past and will always be there in future too.
The only thing I think is that classical musicians in present time need to serve it in a different plate, i,e, different style and packaging. I strongly believe that it will definitely attract audience of all age groups. So whatever form of new music are there or comes in the future, demand for Indian classical music will always be there.
And as per the sound of instrument, acoustic instrument sounds always touch the heart and soul and it gives enjoyment inside. For variation in tonal quality and to increase the gain, we require digital/electronic gadgets but the acoustic sound is always the best