The art of magic has a long history in Indian culture, and has shaped the popular imagination of India as a "land of magic." American magicians have visited India searching for magic for centuries, and Indian magicians have performed in the U.S. as well. U.S. Fulbright Nehru scholar Dr. Shreeyash Palshikar who delivered a Talk on "Vanishing Mysteries: Magical Connections Between India and America" in Kolkata recently, mourns the lack of patronage to the street magicians. Subhashish Roy
It was a session of some magic spell indeed at the American Center in Kolkata as U.S. Fulbright Nehru scholar, Dr. Shreeyash Palshikar, took the audience on a walk down the corridors of magical connection between India and America.
Dr. Palshikar is an assistant professor of History at Pennsylvania-based Albright College and a performing artist. His talk on "Vanishing Mysteries: Magical Connections between India and America", which explored the history of magic in India and how it connects the U.S. and India, is part of his current Fulbright project examining the traditional and modern Indian magic in a global context.
The project analyses the decline of traditional folk magic performance styles that were once common.
These were popularized in the West during the colonial era, and Indian magicians transformed the way magic was performed.
Dr. Palshikar is also investigating modern forms of magic performance beginning in the mid-20th century.
Among other things, his project focuses on interviewing and analyzing performances of the few remaining traditional magicians, reading archival sources from modern Indian magicians, and assessing the state of the art of magic in India today.
The practice of magic has been a part of Indian culture since time immemorial. Magicians or conjurors have been known to perform a large number of tricks, including those based on sleight of hand, illusion, and deception.
These even shaped the imagination of the visiting foreigners, who began to see India as a 'land of magic'.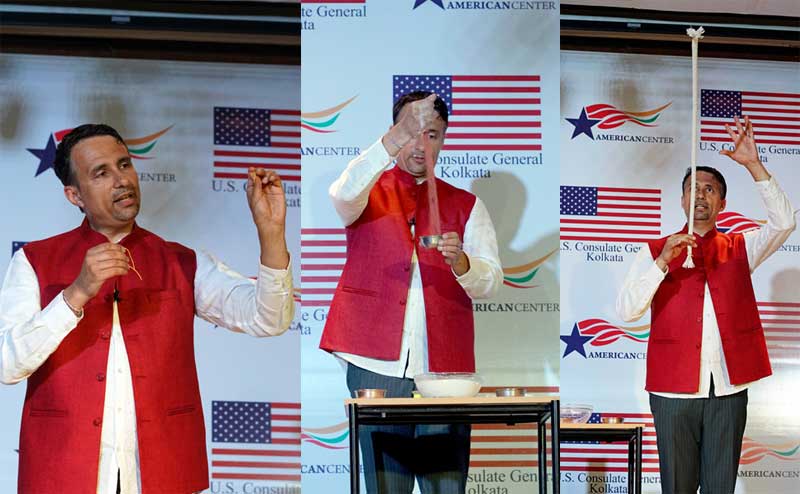 He spoke about how American conjurors have travelled to India over the past century or more to learn about tricks performed by local magicians while their counterparts from India have performed successfully in front of American spectators
Dr. Palshikar said that India has a deep-rooted connection with religious and mystical traditions. According to him, the ancient magicians were the priests who connected the spiritual world to the physical world. A lot of modern magic has been derived from traditional magic," he said.
But he regrets that unlike traditional music and dance, traditional magic and magicians do not receive patronage from government agencies. Traditional magic is on the verge of dying, said Dr. Palshikar.
"The government provides support to traditional performing artists in areas of music and dance to go abroad. But so far nobody has sent a traditional Indian magicians' group abroad. It is only possible if we see it as an art," he said.
At the American Center, the audience was treated to some very interesting conjuring tricks by Dr. Palshikar and a team of magicians.
Dr. Palshikar performed some routine magic such as the rope trick, ocean of milk (Sattva, Raja, Tama) and joining strings.
It was a pleasure to watch Kolkata-based illusionist Amazing David (David Abhijit Nobo) who creatively blends optical illusions and psychological principles to create magic.
Amazing David is one of India's premier Illusionists. With over 12 years of professional experience performing across the globe, he creatively blends optical illusions and psychological principles to create magic!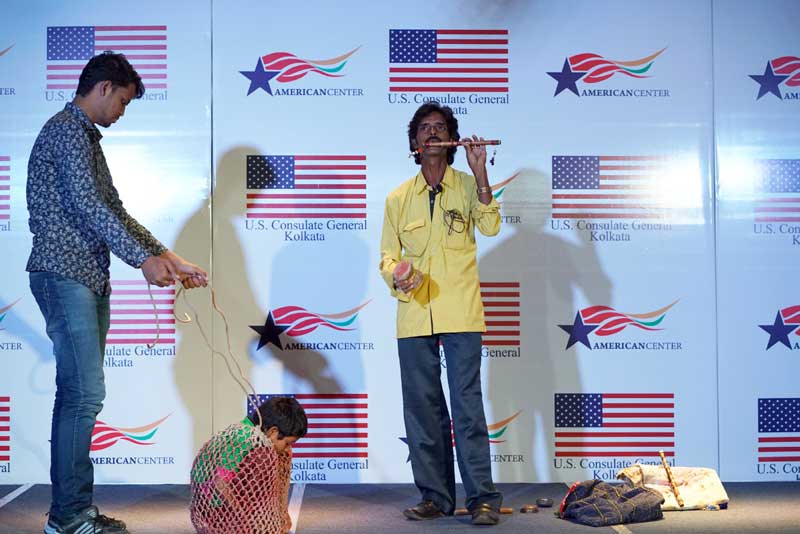 He has performed for the Royal Family of Bhutan, performed 3 major Houdini like escapes and has been seen on major Indian television network including Star, Sony, and Zee. Most recently he shared his ideas at TEDx.
Bande Ali, Firoj Sha, Kalam Sha and Sikhandar, who come from the community of Indian street conjurors popularly known as 'madari', too showed some of their most popular tricks, such as the coin trick, the flower trick, the disappearing kid, etc.
One of the magicians, Kalam Sha said, "Magic is sleight of hand, not any 'jadoo' or supernatural power."
Speaking about the welfare of the Indian street magicians, Dr Palshikar said, "People should appreciate them as an artist, not beggar or troublemakers. The whole idea of Indian magic comes from them, proof of which lies in photographs taken over the past two centuries."
To Dr. Palshikar, the performance by the traditional street magicians, rises to great heights, as they do not take help of technology.
"You don't see any trap-doors, there is no stage, no curtains, no dancing girls to distract you, yet these guys make a little boy disappear in front of your eyes," said Dr. Palshikar.