With his very first feature film Lady of the Lake Haoban Paban Kumar has won the Rajat Kamal at the recent National Film Awards. It was cited as the 'Best Film on Environment Conservation and Preservation.' Shoma A. Chatterji in conversation with the producer-director from Manipur
Excerpts from an interview:
How did the idea of making a film on this subject came up?
I was planning my first feature film on contemporary life in Manipur. I went to Loktak lake for the recce. I went along with an environmentalist friend who suggested a beautiful village. To our shock, the entire floating village had been burnt down and there was water all around. I was taken aback but immediately started shooting with a documentary in mind. Deep down I was convinced that this was the perfect subject for my feature film. So I slowly moulded my story into the crisis of the lake and what it meant for the fishermen community who lived right in the middle of the lake.
Tell us a little about the story
It is based on life on the Loktak lake and the conflict situation in Manipur. It tells the story of a fisherman named Tomba, who lives with his family in a hut constructed on the phum (floating biomass) of the lake. He faces constant threat of eviction by the government. This fear keeps him confined to his hut while his wife, Thambalsang, toils to make a living. They are a real-life couple, by the way. One day, Thomba finds a gun hidden under the biomass and transforms himself into an assertive man looking for a target to attack. An old lady who mysteriously wanders in the lake knocks at his door in the middle of the night. Thomba suspects that this old lady is the spirit of all evils. He chases her in sheer terror and commits an unintended crime.
It has been adapted from a short story called Gun by Sudhir Naoroibam. Is this the language of revolt and the only form of revenge available to the protagonist Tomba?
My stories come from contemporary life in Manipur. When I was planning my feature film, the idea of gun/power became the central idea of my film. My protagonist and his community are already fighting a losing battle for a long time against the authorities who come armed with guns and machines. While doing an earlier documentary called Floating Life, I always had this thought that if they took up arms, what would happen? In my film, it becomes extremely important for them.Nothing seems to work in their favour. They somehow must find a way of saving their home and their lives.
The protagonists are poor. So how do they obtain a gun in the first place?
The gun might have been left by some body/ or a member of the authority or have been hidden by someone who, like my protagonist, wants to take an extreme step to save their family and community. There can be many angles. Today, when I look at my birthplace Manipur, I see guns all around. Gun, as a symbol of authority and ownership drives others, be it insurgents or the state authorities. We forget that fear and anxiety instill further worries resulting in violence.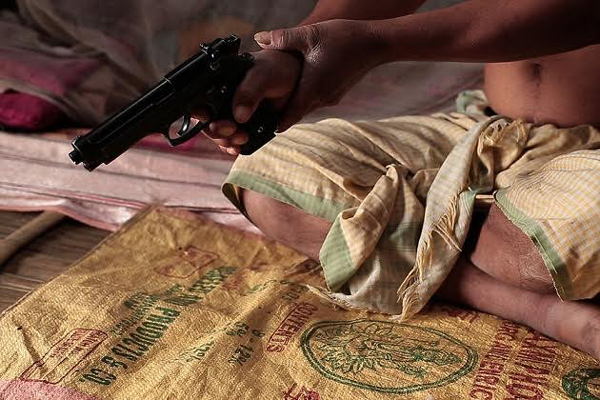 You have taken non-actors for the main roles. How did you train them for the film to avoid looking into the camera?
I had always planned to do my fiction the way I do my documentaries, real people, and real situations. However, the two films are very different and independent entities not because of the genre, but because of the narrative. I had already worked with these locals for Floating Lake. So, this is their second film and now they may be called professional actors (laughs.) I shoot when people feel comfortable and sometimes I simply shoot candidly. You must know when to roll the camera while at times it is all about getting the right rhythm.
Lady of the Lake is being screened across the world and winning not only accolades but also big awards. How does it feel?
This is my debut feature film and I consider myself very fortunate that my film was World Premiered in the Asian New Current Section of the 21st Busan IFF and then the European Premiere at 67th Berlin IFF. I am very happy when people watch my film and I am able to reach out with my story to more and more people. It also pushes me to do more- and better.
Has the film-making scenario in the North East in general, and Manipur in particular,changed in recent years?
Yes, it has changed for the better especially with the entry of digital filming which has led to the production of 40 to 50 films a year in Manipur alone considering the first film there was made way back in 1972. The first digital film in Manipur rolled out in 2002.
For filmmakers like myself in Manipur, cinema is a means of communication that helps us to tell stories about ourselves and about contemporary issue we live with. Filmmaking for me is a natural extension of what is around me – guns and violence that comes along with authoritarianism.