Bollywood actors Ranbir Kapoor and Katrina Kaif are now busy promoting their upcoming film Jagga Jasoos. The two actors speak on their personal chemistry. IBNS-TWF correspondent Souvik Ghosh tracks them
Was it that tough to summon up enthusiasm each time you entered for the shooting of Jagga Jasoos?
Katrina: For me, it wasn't. There are two reasons. We both have immense belief on Anurag Basu as the filmmaker in the industry. Everyone has a lot of belief in his talent. Apart from that, everything was very unique on set, it wasn't repetitive and boring. There were times as frustrating but it was new and innovative. Me and Ranbir have certain dynamics that pushes us to try and compete which somewhere drives us and keeps motivated.
Ranbir: Apart from competitiveness, we can amuse and entertainment ourselves. There were actually some mundane days, but one will see me and Katrina up to something, like having a conversation which is very deep or fighting or pulling each other's leg or something that keeps energy always high up.
How do you stay focused as an actor when you know all eyes are on you and your relationship with Ranbir (their relationship and break up)?
Katrina: I think as an actor, all eyes are always on you. To me, the film only matters and the stage performances. I feel actors must be responsible when they are performing on a stage, or a theatre or in front of movie camera. To me it does not matter what people are saying or thinking about me and matters only what I am feeling. When I was going through difficult times, it mattered to me what I was feeling and not what people or media were saying.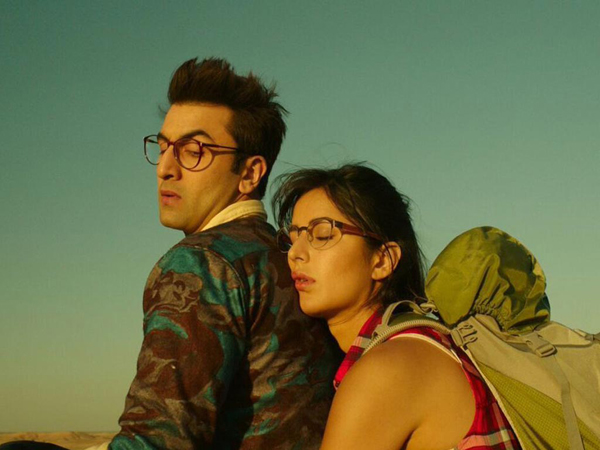 Tell something about your character in the film, Ranbir?
Ranbir: My character is a lonely boy in search of his step father who brought him up and went missing. It is his quest and journey. It is his search with Shruti (Katrina's character) to find his step father. Jagga, the role I play, stammers and so he sings because when you sing you do not stammer.
In what genre is this film?
I think every Disney film like Sleeping Beauty, Snow White and the Seven Dwarfs am Beauty and the Beast, etc. I watched as a child stayed with me. I love that kind of entertainment and Jagga Jasoos is in that genre. It will entertain people like Disney films.
How Anurag Basu is unique as a director?
Katrina: He is a very unique artist. I find his vision very unique and I find him very cinematic. He naturally has in him the affinity to the ways stories are told or should be told in cinema. Everything he does is very rooted in emotion.
Ranbir, you worked with Anurag Basu earlier in Barfi. What made you choose this script to work with Basu again?
After Barfi, me and Dada (Anurag Basu) were talking about out next venture. Then, he told me about this detective character which he wanted to make as musical. We wanted to make a film where the entire family can go and watch. So we loved this idea. We both loved this genre and ensemble script with all the ingredients to produce the film (Ranbir Kapoor is also the producer of the film).