To be precise, the man almost reinvented himself a couple of days ago at the Filmistan Studio in Mumbai when hundreds of his fans thronged the studio just to get a glimpse of the star who once ruled their hearts. There, he unveiled the new comedy show on Sony television – The Drama Company – where he is playing the anchor as Shambhu Dada, a character that always leaves his peers (on the show) flabbergasted.
Terming this as a new challenge in the world of comedy, he had glowing praises for present day comedy king Kapil Sharma. By the way, The Drama Company apart, he has at least four projects.
The 67-year-old actor says he was never detached from the industry. In the studio, he mingled in his usual way with co-stars Krushna Abhishek, Sudesh Lehri, Ali Asgar, Dr Sanket Bhonsale, Sugandha Mishra and Ridhima Pandit.
Excerpts:
What made you anchor this comedy show The Drama Company?
This was the only genre left – a comedy show. The circle is complete now. In past, I often thought of doing comedy but scope didn't come my way. Now that it has come, I am a bit nervous as all stars are fantastic actors and are great performers.
What made you do television shows?
I don't why people underestimate television. Whatever you call me – superstar, megastar etc – I have become so also because of television. Dance India Dance (DID) has also given me good mileage as I have entered people's drawing rooms with DID.
Is it a sort of comeback for you?
I didn't stay away. I was forced to stay away for illness. Physically I wasn't fit to do my job…bedridden, but now I am fit and that is a past for me. Now I want to work again like I used to do earlier. I won't call this a comeback as I had never gone anywhere. More importantly, nobody left me, this industry never left me. I would say I am happy that I am with the industry people.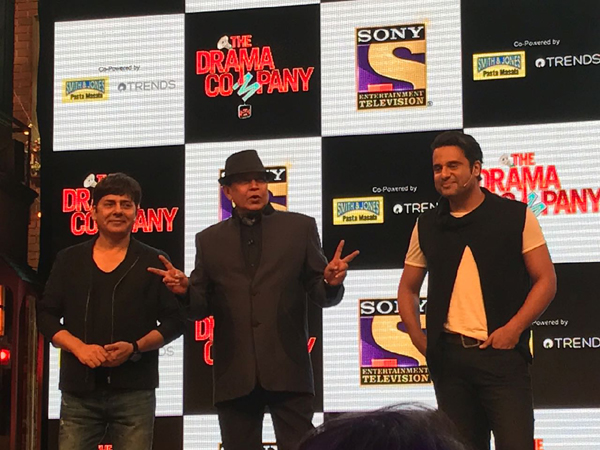 Your daughter (Dishani)has grown up to be fine lady. Can we expect to see her on silver screen?
My daughter is just 19… You people only have highlighted her and now she has an inclination towards this industry. At the moment she will study in USA and when she comes back, we will take a call. It all depends on what the almighty wants.
Any take on your political stint?
No comments.
Don't you think your comedy show The Drama Company will be competitor to Kapil Sharma show?
How can it be a competition? Both are being aired in the same channel and I have no idea about any competition. I have been to Kapil Sharma's show and I do watch it. Kapil is one of the biggest talents in this industry. Industry has seen very few like him.
Do we expect to see you as Mahaguru in DID?
Why not? There will be no clash of time, I will do it again.
Is television work taxing?
Yes it is, but I think it's slightly less than films.
Can you please name a few projects you are working on…
Quite a few actually. Ram Gopal Verma's Gehar, Anil Sharma's Genius, Anup Jalota is making a film called Sahaas and one Kannada film with superstar Shiva Rajkumar's The Villain. They wanted me desperately and I said, yes.
Your reaction on Soumitra Chatterjee getting Legion of Honour…
Soumitra Da is immortal.