Bollywood is known for making extravaganzas, full of glamour and glitz in larger than life canvases. But of late, it's the simple stories set in small towns that are making news- and money, finds Shoma A Chatterji
Bollywood cinema has forever been linked to the glitz and glamour that metros and big cities exude with extravagant sets, designer clothes and of course, hit music adding to the narrative and the characters. If it were outdoor shootings earlier they were in the beautiful Kashmir valley or at the most, Goa.
Now the trend is, the more exotic the better, with plots stretching to some foreign locale in Europe or America. However, despite all this chutzpah, recently some of the big budget films have flopped while quietly, films set in some small Indian town with 'regular' people that are making it big at the box office. It is also a reflection of a changing taste and a more discerning audience.
Two recent films come to mind in this context. Bareilly Ki Barfi and Shubh Mangal Saavdhaan.While the former is set in Bareilly near Lucknow, the latter has been shot in Haridwar on the banks of the Ganga,
Bareilly Ki Barfi has protagonists who speak in a language any common man or woman would recognise in the Indian milieu while the romantic story builds up.
Shubh Mangal Saavdhan is set mainly in Haridwar, one of the holiest cities in the country, with all its colour, hustle -bustle and temples. But the subject is far from the usual romantic 'boy gets girl' set in a pious ambience. Rather, it deals with the rather delicate subject of erectile dysfunction many men suffer from, a subject that has never been dealt with in Bollywood before.
The common thread that binds these two films, apart from the small-town ambience, is Ayushmann Khurrana who projects the image of a small-town boy convincingly. His charm was equally evident in an earlier ground breaking film Vicky Donor where he was a sperm donor for couples unable to conceive.
Earlier Khurrana impressed with his boy-next-door look and acting (once ably portrayed by Amol Palekar), in Sharat Katariya's Dum Lagake Haisha. A sleeper hit, it was shot in Haridwar too. The endearing story has school drop-out Prem and his educated 'fat', mismatched wife Sandhya (Bhumi Pednekar) who struggles to find love and acceptance but staunchly refuses to go on a diet to please him.
Finally, good sense prevails to make for a happy ending. It touched a chord with the so-called 'common' people for whom all those ritzy locales are as if from some dream sequence. For a change these films seemed 'real' and that's how they became hits.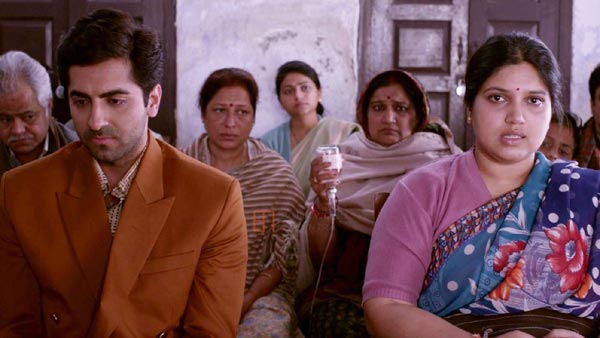 Small town and bold subjects dealt with sensitivity but entertaining nonetheless, are the USPs of these films thereby beating some big Bollywwod films hollow because of weak storyline. Even if some big budget films from the factory do moderately well, the returns are not upto it. The lure of reaching the 100 crore club could be their aim but often, they leave the audience cold.
The other noticeable aspect of these so-called small town oriented stories is that the women in suburbia and villages are also different from the image of ghunghatwali beings overshadowed by men.
Here the leading ladies are smart, intelligent and – and not necessarily in the mould of 'moral' guards of the society. They are bold enough to try and lead life on their own terms, belying the 'cute and shy' myth of the small town girl once and for all. After all, small towns are not excluded from the influence of globalisation on the one hand and the information highway on the other.
Arrah is a little known district of Bihar. Anarkali of Arrah pushes the borders of performance and genre to tell the story of a gutsy woman called Anarkali who is a stage dancer. She tries her best to live life on her own terms and is not ready to sleep for money if she does not want to. The film did not do too well commercially but will be remembered for its wonderful performances and the aggressive storytelling.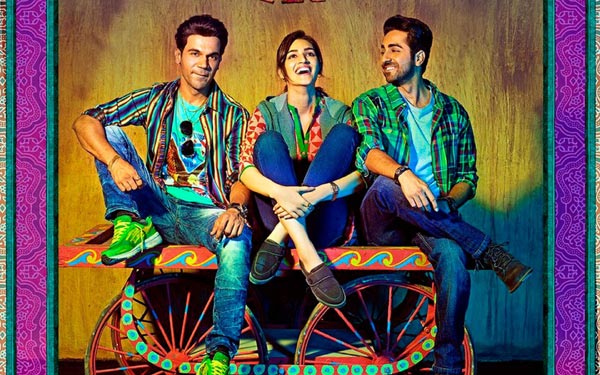 In his well-researched paper, Provincialising Bollywood? Cultural economy of north-Indian small-town nostalgia in the Indian multiplex, Akshaya Kumar states: "The small-town may have gradually become more form than content, it might have also become the anchor of a cinema located elsewhere – which would mean a body of films that shun the label 'Bombay Cinema'."
He adds that Dabangg re-establishes the tricky but magnetic relationship between Bollywood and the small-towns of north India, yet not without a critical take on them. It illustrates an enthralling performance that borrows from the tradition of spoof as much as it does from impersonation. All the women in Dabangg from the mother of Chulbul Pandey through his wife and the other item girl are any day, bolder and brasher than their big city counterparts.
Even Bareilly Ki Barfi , heroine Bitti Mishra (Kriti Sanon) would rather run away from home to find her dream writer than marry according to her mother's choice and in Dum Lagake Haisha Sandhya would rather leave her in-laws' house to take up a job as a teacher than give in to unrealistic demands.
These characters are etched from real life dramas and are not like distant dream girls. Definitely, the small town has made its statement in big, big, Bollywood. And people are taking notice.