Vidya Balan is busy promoting her new movie Tumhari Sulu where she portrays the role of a Radio Jockey. But who are these people behind the scene? How do they go about their talkathons? Sudipto Maity goes behind the voice- based industry
For Sunny, a truck driver in his mid-20s, the FM has been a friend. "A saviour" as he puts it. "I don't stick to any particular station, I randomly flick through and listen to the songs I like. It's the only thing that helps me get through while ferrying goods during the wee hours of the morning."

However, radio or the modern FM as we call it, has not always been like this. Think about the early 90s and it was a lot more sedate. Life in general was more slow-paced too and it reflected on the radio programmes too.
In India, private FM was launched in Delhi in 1993. Phase 1 auctioning started for separate frequencies in 2001. From the 128 bids, around 21 stations went on air. In the second phase, which took place in 2005/06, 338 frequencies were offered for auction and about 237 were sold. Phase 3 is witnessing over 800 frequencies being auctioned across the country.
Recalls Aninnya Sarkar, a post-grad student, "I have been listening to the radio since childhood in the 90s. There were occasional programmes like 'Sunday Suspense' for which I waited eagerly. Then by 2007, with a smart mobile phone with special FM facility, I became quite addicted to Red FM and Radio Mirchi. FM channels have almost become a mandatory part of my life now."


Of changes and retention

Everyday- use and street language in FM channels have played an important part, not just in India, but globally too in its increased popularity.
"It's a lot more dynamic, definitely more high-tech and much more accessible than what it was," says Jimmy Tangree, one of the most recognisable voices in the industry. Tangree, the station head of ABP Group owned Friends FM, has been a RJ for over two decades now.

Weighing in on the topic of what has been the biggest change in Radio/FM, RJ Roy of Radio One says that the style of presentation has gone through a sea change.

"Earlier, and I'm talking about the 60s and 70s, it was a lot slower compared to today. The language of communication has changed not only in India, but globally too. It's a lot funkier now."

Not all has changed though, feels Tangree. "If one looks way back, I feel the warmth and closeness has been retained, but, with a wacky and more engaging attitude,"he says.
Agrees Abhinanda Bhattacharya, an HR administrator, "Previously the presentation was kind of wooden. Now people listen more to the FM because the RJs interact in a more friendly manner."

However, Taniya Mukherjee, post-grad student, finds that, "Earlier, listening to the RJ speak was relaxing to some extent as they would talk about life in general; often I could relate to them too. But these days there are too many ridiculous jokes and ads in-between songs. It's kind of irritating sometimes and that's why I flick through the channels."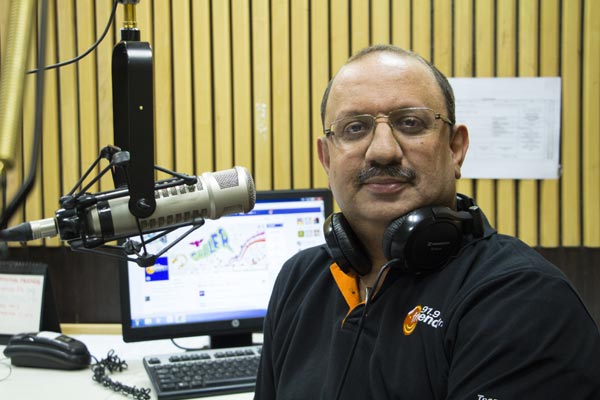 What it takes to an RJ
Radio or FM may not match the reach of the World Wide Web (internet), nor can it compete with the television in terms of audience, but it still is a very powerful medium, accounting for 7 to 8 percent of the advertiser's expenditures around the world.

Most of it is because of the women or men who keep us glued to the medium, otherwise known as Radio Jockeys (RJ).

So, what is Radio Jockeying (RJing) and what goes into the making of a good RJ?

In simple terms, an RJ is a host who presents a programme on air. However, while the definition of RJ hasn't changed much, the way one goes about the job has.

A faster world requires faster responses and an effective way to deal with the change is to keep oneself updated about various things.

"Preparing for my show is a lengthy process," says Roy, "My show starts at 7 am and goes on till 12 noon. During this time, I try and gather information which I share with my listeners. There are various places from where you can pick the information. Grab a newspaper, a magazine or just browse the web, but read. It's very important to keep your ears and eyes open."

Both Tangree and Roy opine that a good RJ must be 'spontaneous'. As Roy says, "It's still about the voice."

Listing out other qualities that an 'Ideal RJ' should possess, Tangree says, "One must have a decent knowledge of music; she/he must know the city well; must have good computer skills; good interview skills, needs to be well organised in terms of research and points to go on air. Most importantly, she/he must be accessible to the listeners and should never have an attitude."


Tick-tock

RJing is never a one-show-wonder business. RJs slog day in and out to make their presence felt and it only through hard and sincere work, does one build a brand.

The hard work takes time. While some acknowledge the 'changes' they have had to make for their longevity, others believe that their 'love' for the job that kept them ticking.

In an interview last year, when asked about his secret, popular American RJ Howard Stern had revealed, "I couldn't have done the show I'm doing now 20 years ago. I've changed a lot. I'd be sort of pathetic if I'd reached this point in my life and I hadn't. How else do you have longevity?"

Stern added that a number of his contemporaries "who started out with me in radio have disappeared, because they couldn't broaden their view about what entertainment should be, or get in touch with what they find to be exciting and fun and funny."

Roy says, "The constant love from fans…I have been told by my listeners that I have a sense of humour and that is heartening to hear. It keeps me ticking."

Loving what he does helps Tangree continue what he has been doing for over 24 years now. Says the radio veteran, "Well, I love what I do and totally enjoy it. One needs to have a lot of dedication and I feel success comes from loving what you do."

The reason behind the success of FM is perhaps best described by this comment by Guy Gugliotta, journalist from USA, "Perhaps no invention of modern times has delivered so much while initially promising so little."