Jyoti Swaroop's only big hit as a director, Padosan, celebrates its 50th birthday this year. It is one of the first hits in Indian cinema where humour is the subject, comedy is the hero and the music and songs are the stars. This balance was made possible because the film created an ideal amalgam of the best comedians of Hindi cinema of the time from Om Prakash through Agha, Mukri, Keshto Mukherjee, and Sundar, led by ace comedian heroes Kishore Kumar and Mehmood. Shoma A. Chatterji pays a tribute
Padosan, made in 1968, is ageless because everyone will laugh at almost every moment of the film while also rejoicing in the wonderful songs that define it as one of the best entertainers in Hindi cinema. It has some of the best compositions written by Rajender Kishen who also wrote the story and the screenplay with the music for the nine immortal songs scored by Rahul Dev Burman which makes a film an outstanding musical too.
Just as the cast represented a galaxy of some of the best comic actors of the time, it also boasted of the best voices that came together in this film much before Hrishikesh Mukherjee did it in Anand. The songs were belted out by Kishore Kumar, Lata Mangeshkar, Manna Dey, and Asha Bhosle, every song a thumping hit.

The song picturisation, orchestration, and positioning of the song sequences are imaginative, innovative and very funny that always leads to side-splitting laughter among the viewers even for repeat viewings.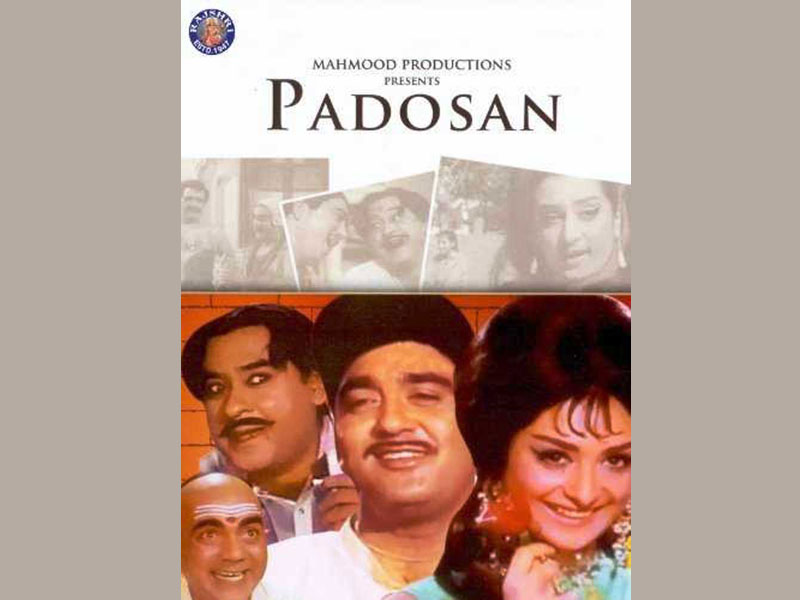 Comedy in this film is not a relief in an otherwise serious drama or melodrama. It is the very heart and soul of the story enriched by brilliant performances of which, Sunil Dutt's performance as the slightly stupid by simple Bhola is perhaps his career best, trapped that he was in serious roles often laced with heightened melodrama.
.
Produced jointly by Mehmood and N.C. Sippy, Padosan (female neighbour) was based on a Bengali story Pasher Bari (Next Door Neighbour) penned by Arun Chowdhury and adapted into a Bengali film in 1952. In 1953, there was a Telugu version titled Pakkinti Ammayi, followed by the Tamil version in 1960 called Adutta Veety Penn and once again in Telugu as Pakkinti Ammayi in 1981.
The time span of the several language versions underscores the entertainment value proving how comedy, if handled well, can cross the time, space, language barriers for the audience craving for entertainment through simple, straightforward fun.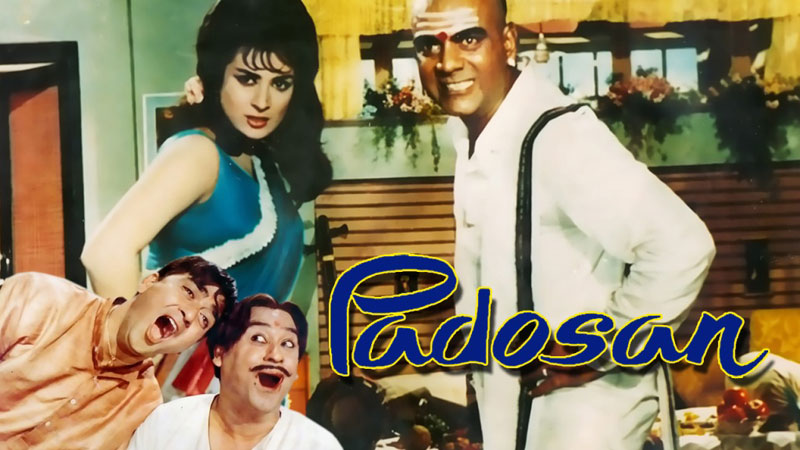 Though the title Padosan, focusses on the beautiful neighbour Bindu (Saira Banu) who flops in her exams every year, the story is more about how the hero Bhola's friends, comprised of Vidyapatiji (Kishore Kumar), Banarsi (Mukri), Lahoria(Raj Kishore) and Bangaliya (Keshto Mukherjee) rally around him when he is smitten by this beautiful Bindu on his arrival from his village to his aunt's house as he sets eyes on the neighbour.
But Bindu loves music and her mother is intent on getting her married off as she fails every year – a novel introduction in an Indian film of the time which featured heroes and heroines as "brilliant" never mind if one never saw them pouring over books even if they went to college.

In his attempt to win Bindu's heart, Bhola engages his friend, music teacher Vidyapati. One does not know if this is a subtle tribute to the famous Vidyapati (1937), a memorable musical produced by New Theatres and directed by Debaki Bose in which Pahari Sanyal plays the title role of a talented poet and singer. But this Vidyapati played by Kishore Kumar is different. When he begins to tutor Bhola who is as out of tune as a donkey, he is forced to stop because a real donkey climbs up the stairs and enters the room when Bhola begins his riyaaz! Vidyapati decides that Bhola will not be able to sing even to save his life.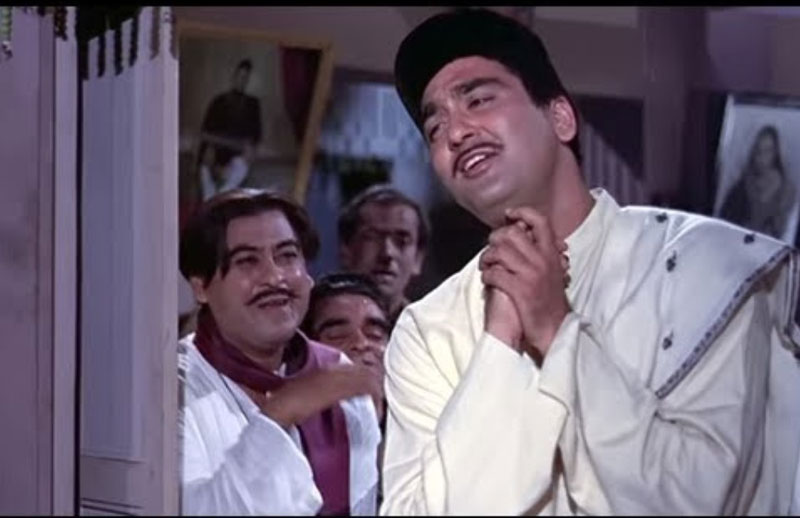 Vidyapati along with Bhola and his gang hits on a novel idea – Bhola will do the lip-syncing to a song actually sung by the trained singer Vidyapati in the background. The song?
Mere Saamne Waali Khidki Mein
Ek Chaand Ka Tukra Rehta Hai
.
Bindu is charmed by Bhola's performance but her Masterji Pillai who secretly loves her is piqued.
Then begins an unequal competition between Masterji fighting it alone against Bhola backed by his friends and Vidyapati for the unsuspecting Bindu's hand in marriage.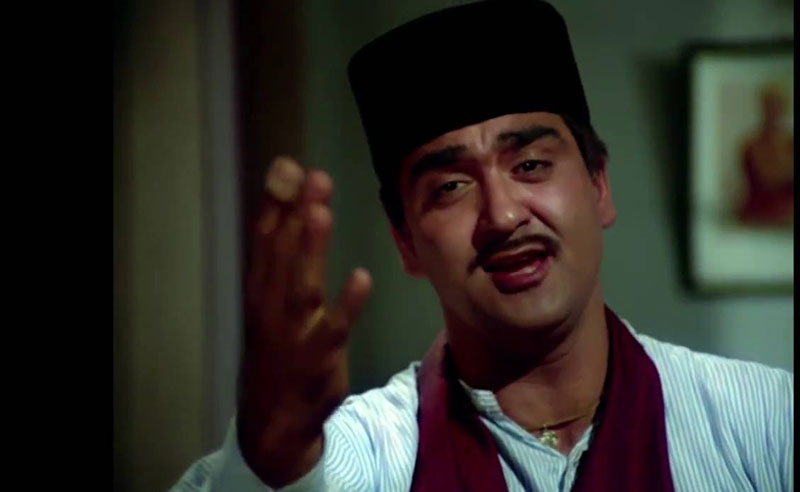 This masquerading as a singer takes the film along a wonderful journey of fun, music, songs, and drama narrated in a very simple and straightforward manner set out to entertain every member of the audience, man woman or child. Padosan, like all comedy films should, is both character-driven and incident-driven.
The characters present a cross-section of Indians across different regions capped by Bindu's Tamilian dance and music teacher Pillai portrayed by Mehmood in one of the most brilliant performances of his career. His dialogues heavily loaded with a Tamil accent make every line he speaks a source of laughter. Many actors have tried to copy this style but no one has been able to reach anywhere near Mehmood's Masterji Pillai.
The same goes for Kishore Kumar's Vidyapati who, like the music teacher of the time, wears dhoti and kurta, chews paan all the time with the betel juice often spilling out of the corner of his mouth when he is not spitting it out and his heavily oiled hair combed just so. Saira Banu in bouffant hairdo, heavy make-up, and bizarrely gorgeous saris does her bit as the utterly spoilt only child of Agha with the right dose of coquettishness she can muster.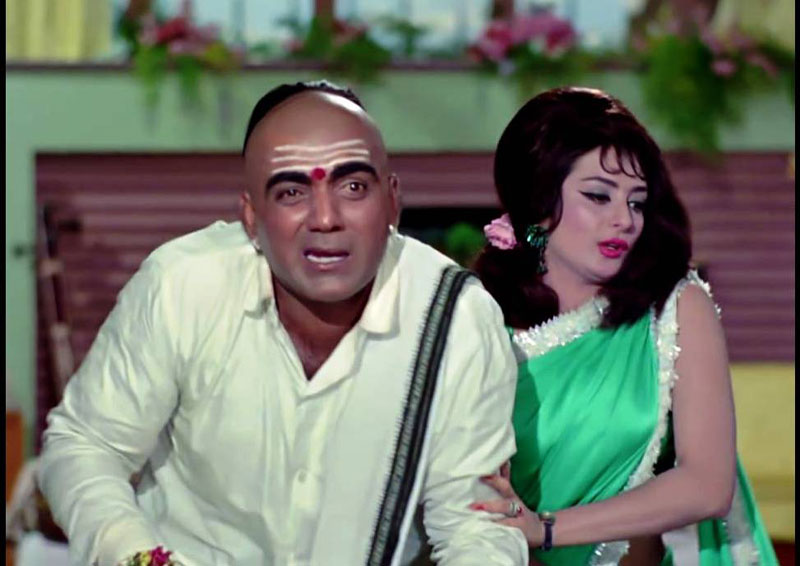 There is an interesting behind-the-scenes rivalry between Manna Dey and Kishore Kumar while recording Ek Chatur Naar Kkarke Sringaar when the recording became a challenge as Kishore Kumar kept sending Dey into splits of laughter and it was not possible to record at all.
The story also goes that since Manna Dey was a trained classical singer, he did not wish to lose out on the untrained Kishore Kumar in this historic duet and refused to dub the word yeh sur kahan gaya jee for Mehmood. Subsequently, Mehmood dubbed the line in his own voice.
This song sequence is a hilarious balancing of lyrics, music, and drama. Manna Dey adds the Tamilian accent in his rendering. Pillai begins to actually enjoy the song lip-synced by Bhola and Bhola too gets carried away as if he is singing the song himself, almost to the point of giving the secret away and falling off the balcony.

Bindu remains a decorative girl waiting to get married who does no housework and has little in the name of intelligence. It, therefore, suits Bhola who lives up to his name, to fall in love with this little-in-the-upper-story department beauty.
The film's songs and dialogues and storyline continue to inspire Bollywood.
Last year, director Akshay Roy directed
Meri Pyari Bindu
with the film's title inspired by the song of Padosan, on a story penned by Suprotim Sengupta. Both of them were not even born when Padosan hit the charts.
The climax in Padosan is a laugh-riot. Pillai, rejected in love, attempts suicide and is saved in the nick of time by Bhola's friends. But in the closing scene, we find him play on the shehnai outside the pandal where Bindu and Bhola are getting married!