The demise of choreographer Saroj Khan in early July sets the ground for a look-back at the evolution of dance in Indian cinema in general and Bollywood in particular. She brought respect to the vocation of choreography in cinema and turned dance into a cultural statement, says Shoma A. Chatterji
The song and dance numbers began as fillers in cinema for an added boost to the entertainment quotient of the film. But slowly, dance evolved into a cultural statement, taking on an important character and sometimes, as a strategic move to create a turning point in the story, or even, to emphasize a quality in a given character.
The Early Influence
Fulbright Fellow and academician Anugyan Nag whose fellowship was on Dance in Bombay Cinema: Dance films, Dancing bodies, Choreography and Choreographers writes: "Early Indian cinema showcased gestural and facial expressive movements and gradually evolved into a very sophisticated form with the introduction of the playback technology and the advancement of formal aesthetics of filmmaking.
"Dance in Hindi film demonstrates a strong lineage from earlier performative forms of India, primarily the Parsi theatre, the classical and folk forms of performances, Hollywood musicals, and the western stage that incorporated song, music, theatre and dance."
Indian cinema cannot be imagined without a song-dance number, period. Uday Shankar's Kalpana (1948) was the first ever musical film in Indian cinema, written and directed by the dance maestro.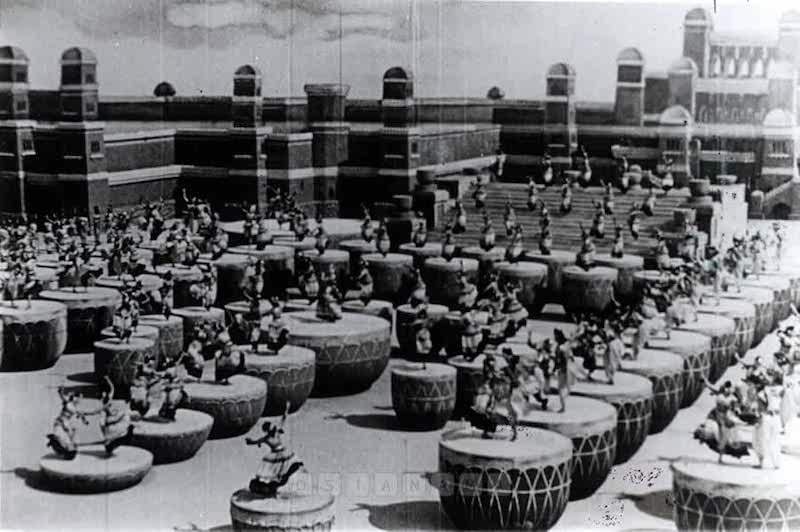 It had a slender storyline presented in a ballet format with some fantasy sequences about a dancer's dream of setting up an academy of dance. Kalpana was the germinating ground for the presentation and perpetuation of Uday Shankar's distinctive style of dancing known as Oriental Dance. Later Shankar did establish a dance academy in almora. The film is said to have had inspired the S. S. Vasan's Chandralekha (1948).
Chandralekha, originally made in Tamil, was released worldwide with 609 prints and was a widely viewed Hindi version too. It featured one of the most spectacularly shot dance numbers in the history of Indian cinema. Known as the 'drum dance', it used a huge number of drums making up a dance platform.
The musical piece had echoes of Arabian music with drums predominating the sound track. Though the body movements of dancers were slightly restricted, it still remains a benchmark for choreography, performance and innovative shooting style around dance.
Then came V. Shantaram's Jhanak Jhanak Payal Baje with dance as the sole subject of a film targeted exclusively at the box office. The story was secondary to this dance opus.
Aesthetically it was not a very satisfying film as Shantaram used loud colours, heavy ornate sets, elaborate costumes and jewellery to attract the masses but they either did not care for it or did not know much about classical dance styles.
The dancing stars of '50s and '60s
The success of a Bollywood performer, especially of a heroine, is always intertwined with her dancing prowess. One of the most prominent examples is perhaps of the legendary Vyjayanthimala.
No history of Bollywood dance and choreography is ever complete without mentioning this powerhouse of a dancer and actress whose number Mon dole mera tan dole in Nandlal Jaswantlalji's 1954 film Nagin catapulted her to instant stardom.
While she became a screen goddess who never looked back since, capping the fag end of her Bollywood career with films like Jewel Thief (the ensemble Hothon Mein Aisi Baat sequence), her dance moves in Lekh Tandon's 1966 film Amrapali- where she played the iconic royal courtesan of Vaishali in India around 500 BC- is a milestone.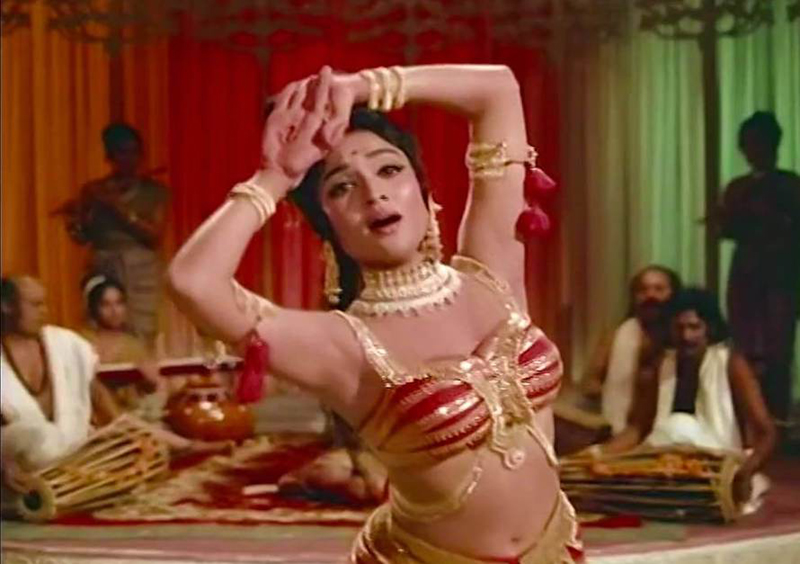 The lavishly mounted film was a flop back then but in Bhanu Athaiya's costume inspired by the Ajanta caves, Vyjanthimala showed how classical Indian dance can be blended with the commercial demands of a Bollywood period drama.
While Vyjanthimala can be the best Indian cinema ever witnessed, her contemporary Waheed Rehman also was known for her dance. Well, who can forget the unconventionally bold and beautiful Rosie essayed by her in Guide and her passion for dance as she rose as a star in the film with a storyline ahead of its time in Hindi cinema.
The most outstanding dance that added meaning and drama to the film was the snake charmer dance performed only on music by Waheeda Rehman in this Vijay Anand film. Guide raises dance in Indian mainstream cinema to a high level of aesthetic excellence.
Dance in this film, focused on varying performances of different styles and forms executed by Waheeda Rehman not just to highlight her talent, but also to stress on the socio-psychological role it plays in her life, her profession, her love, her changing moods and her relationships with the men and women she encounters in her rough journey.

Of courtesans and catalytic moments
According to Nag, "A large number of films have been made on dance and dancers as the central protagonist of the narrative. The numerous films commonly referred to as the tawaif/courtesan films are remembered for their melodious music, lyrical poetry, exquisite costumes and above all the pleasure and spectacle of majestic dance sequences.
"Interestingly, these dance pieces in the films were choreographed by dance masters (as they were popularly called till the mid 80s) or dance directors, who were rarely credited in film titles, and or scarcely, received substantial journalistic or academic attention."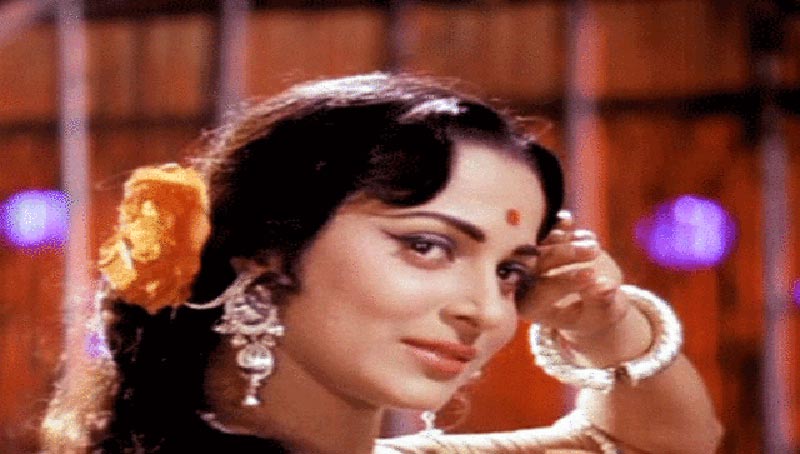 Some films had dance as a dramatic strategy to express a catalytic moment in the script. One can recall the 'thandava dance' number performed by Sridevi in a film like Chaalbaaz as her expression of rebellion against oppression and humiliation by her foster guardians and the 'dance of rage' she executed with beautiful variations in expression and body movements in an ambience of rain and thunder in Lamhe.
Hema Malini, another Bollywood heroine known for her classical dancing skills, would be remembered for the Sholay sequence in the villain's den where she danced on broken glass shreds to the song "Jab Tak Hai Jaan".
Maar Dala, one of Madhuri Dixit's kotha numbers in Sanjay Leela Bhansali's Devdas reaches beyond the performance adding a different dimension to her love for Devdas.
The line maar dala comes four times over the four stanzas of the song and choreographer Saroj Khan created a different way of expressing maar dala every time it occurred.
Madhuri expressed maar dala through her facial expression and body language in 16 different ways in the song. It gave a new dimension to a kotha dance.
"She is my best pupil ever who I had to deconstruct completely from her background in Indian classical styles to train her in fusion and Western numbers like hip-hop, salsa, ballroom, Indian folk styles, fusion, item numbers and any other dance style one can imagine," Saroj Khan had said.
Item numbers- from Cuckoo to Helen and beyond
Item numbers in Bollywood films date back to cabaret queen Helen who left her fans gasping for more with numbers like Mungda, Piya tu, Mehbooba etc. But she was never termed an item girl.
But before Helen was Cuckoo Moray, also credited as Cuckoo or Cukoo, an Anglo-Indian dancer who had sizzled the Indian silver screen and even earned the epithet of "rubber girl". She was the dancing queen of the 1940s and 1950s and starred in several movies starring top stars of the time like Raj Kapoor and Dilip Kumar. In fact it was Cuckoo who had encouraged Helen to join films as a dancer.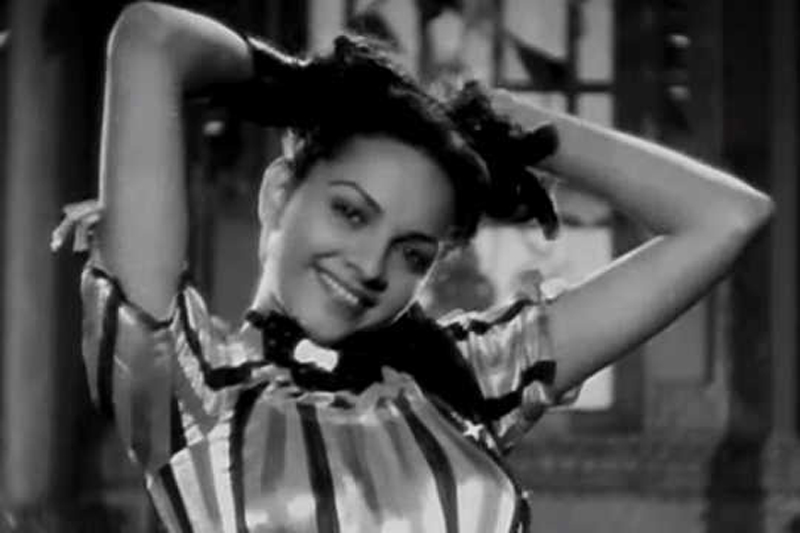 In the 1960s Helen's name on film posters got more space than the heroine's. Helen was effortless, she was a born item girl. She had class and her skimpy costumes never looked vulgar on-screen, yet there were oodles of sex appeal.
It was a time when a dance number by Bindu or Aruna Irani was like an insurance policy for the film's success. Bindu's mera naam hai shabnam number in Kati Patang is remembered till this day. Other dancers who became famous as sensuous dancers not always performed in cabaret style were Madhumati, Lakshmi Chhaya, Padma Khanna, Meena T and Jayashri T among others.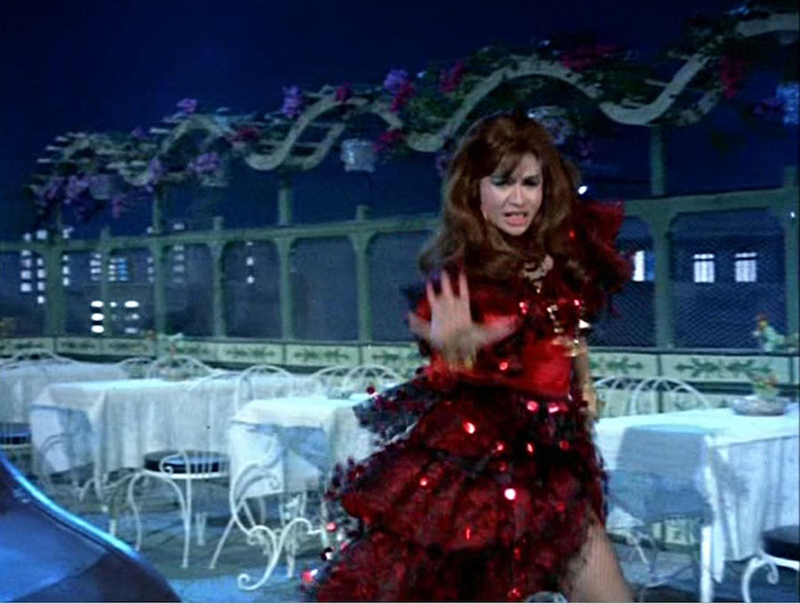 In the past years, leading female stars from Kareena Kapoor to Katrina Kaif through Priyanka Chopra vyed with each other to step into item shoes, offering more sizzle and sex than dance.
One example is Aishwarya Rai in Bunty Aur Bubbly in the famous kajarare kajarare tere kaale kaale naina sending the audience into a frenzy of catcalls pushing up the box office scales for a film that was almost floundering at the box office before the dance was added afterwards.
However, one wonders whether dance in Bollywood had been reduced to sheer gymnastics and acrobatics if reality dance shows are taken as an example.