Poonam Gupta 43, is a Scottish-Indian Entrepreneur and Philanthropist who moved to Scotland from her native India in 2002. A year later she started her company PG Paper that specialises in a variety of printing and writing paper and board, packaging paper and board, tissue and other speciality products.
The company buys paper from some of the world's biggest paper mills and have developed well established relationships with these mills in Europe, Asia and North America. Using an internal logistics team, PG Paper then export this paper to customers in markets across the globe.
Over 90% of the total volume is exported to the Indian Subcontinent, the Middle East and the Far East. The company also has strategic partnerships with several facilities in India, Pakistan and Turkey which allows the development of in-depth market knowledge, difficult for competitors to duplicate.
The company employs globally and in 2015 it acquired 2 of Tullis Russell's most globally recognisable brands- Trucard and Gemini.
The company is continuing to diversify and expand into other areas such as cosmetics, stationery and children's toys and are continuously researching and developing new ideas within the team.
Poonam's other business interests are scrap metal, machinery, real estate in multiple countries and health services currently but her curiosity means that expansion in other sectors are just a matter of time.
Winner of multiple business and community award on regional and national level as recognition of work in business and charity. In 2016, Poonam has been awarded an Officer of the Most Excellent Order of the British Empire (OBE) for services to business and charity; a highly reputed honour from the Queen.
Poonam in an interview with IBNS expressed concern about the use of precious and scarce resource like water in the paper industry in India besides environmental problems that the industry poses.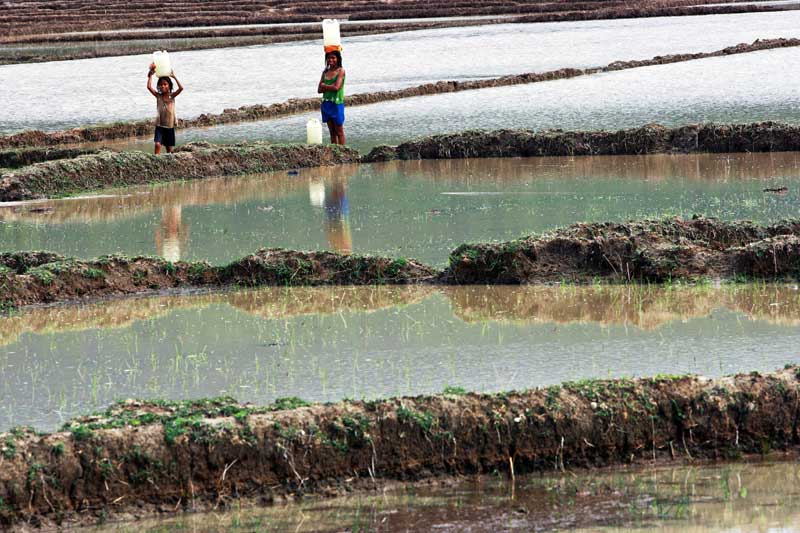 With water scarcity hitting one of the metros in India.. how do you think paper industry can be affected?
In a recent documentary by BBC it is clear that in some cities of the world, water position and availability for human use is critical. This is not something new to cities of India at all. Save water campaign has been going on since I was a child reminding people how scarce and precious this natural resource is. Now if we look at this issue in context of Paper Industry, most mills around the world are always situated beside a natural water source to have a continuous clean supply needed for production of paper.
An average of 300000 litres of water is needed to produce 1000 kilos of paper if this is not re-used or re-circulated back. To put it in perspective 10 litres of water is used to produce one sheet of A4 paper that you use in your printers at the offices. An average Indian person uses 130 to 150 litre of water every day.
Now do your maths! 2000 people can benefit from water which may go in production of 1000 kilos of paper!
What about Europe and USA vis-a-vis India?
In Europe and USA a lot of mills now have advanced filtration systems, not only that in some countries where mills are located there is no shortage of water, in fact sometimes there is an oversupply.
Most of water efficient plants in North America and Europe use 10000 to 25000 litres of water per ton of paper. Hardly any investment has been made by Indian paper manufacturers in installing filtration and pollution control systems and paper industry remains widely a cause of high level of pollution that the country is already struggling with.
Although the manufacturers claim that they are taking measures to reduce this consumption of water from 76000 to 62000 litre to produce 1 ton of paper, this figure remains high in comparison to international standards. One needs to consider the implementation of policy in certain countries where when water is short in supply the usage is curbed for paper industry completely.
Again taking India in context how wise is this move in the current situation to try and curb import of certain papers to support paper manufacturing and boost our own industry for just money and not welfare of the wider society.
Should a country like India put forth the environment conditions before everything else?
With pollution levels in India at all time high and Government desperate to take measures to somehow purify the air quality and water quality around cities and industrial hubs; it is only common sense that India needs to put forth the environment conditions before everything else. The choice lies between making certain companies wealthier or over all well-being of the society.
Water is a key element and actually more important than food for human survival. It is in shortage around India. It is also a key element in paper production since about 300 litres of water is used in producing 1 kilo of paper that's when it is not circulated back into the system for re-use. This means paper industry places a huge demand on water to run their production when same can be better utilised in day to today much needed consumption in Indian households.
In recent times China has been cracking down on industries which attribute to pollution levels and paper industry is one of them. China is one country which is known to dump paper in India and around the world as they always had over production is now moving back towards imports to feed their own consumption. It may be a better choice to let the paper be manufactured elsewhere in the world and be imported to India freely to support printing and publishing industry rather than emphasise on production in India in light of environment cost it has on the society.
Image: UN Photo