Kolkata, Sep 6 (IBNS): Hoardings of political parties are part of the collective garbage that ails Kolkata, said actor and BJP Rajya Sabha MP Roopa Ganguly while speaking at the second Behtar India Go Green City summit, presented by DHFL Pramerica Life Insurance, at Birla High School.
'I would like to move away the hoardings and banners of any political party from the streets of Kolkata," she said at the panel discussion.
Launched in Bengaluru in 2017, the Behtar India (a better India) is a collaborative social responsibility campaign to make cities cleaner, greener and healthier through efficient waste management and waste recycling, according to the organizers.
'Behtar Vatavarn', 'Behtar Swachhta', and 'Behtar Swasthya' are the three pillars of Behtar India's campaign.
Kolkata was the first stop on the second leg of the campaign as it entered the pan-India stage.
Birla High School of Kolkata was chosen to hold the summit after students recycled 16,400 kg of waste, the highest amount among the participating schools.
Over 55 schools and 2,529 students registered for the campaign in Kolkata, which enabled the recycling of 46,090 kg of waste, according to the organizers, adding that
a staggering amount of 1,50,000 tonnes of waste is generated in India.
Apart from Ganguly, Anshuman Verma - Chief marketing & Digital officer DHFL Prameica Life Insurance, Subhash Datta - well known environmentalist, Meenakshi Batra - CEO, Charities Aid Foundation India, and Tushar Himatsinghka - Founder & CEO, Vital Waste also shared their views at the panel discussion regarding waste management and recycling.
The panel discussion focused on the ways by which waste can be recycled and disposed in a bio-degradable way
Roopa Ganguly said hoardings of political parties are an eyesore while there is a lack of political will to clear the sidewalks of hawkers owing to vote bank politics.
She said that old school books should be donated to someone or sold to the second-hand book sellers in College Street to encourage recycling.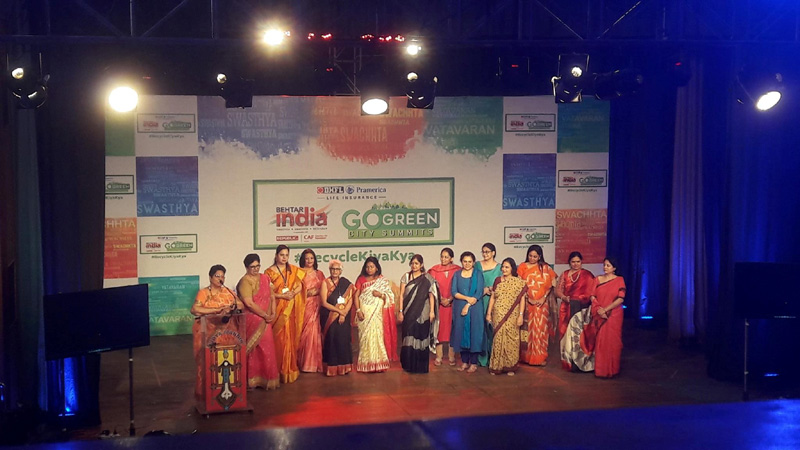 Speakers at the second panel discussion included principals from various schools, including The Heritage School, Kolkata, Jain Academy International School, Radiant International School, Patna and Sudarshan School, Guwahati.
Topics like creating awareness in students and waste management ideas were discussed in this panel.
Students associated with the Behtar India campaign also spoke about the issue of waste management in India and recycling techniques.
Birla High School students also performed a skit highlighting situations where we unknowingly litter the environment and the harmful effects they may have while students from the junior classes regaled the participants with the theme song of 'Behtar India.'

(Reporting by Meghna Dunbar and Subhajit Mandal)