Sundarbans, the land where three great rivers merge, is the third most vulnerable delta in the world today. Sea level rise due to climate change, devastating cyclones, etc. are affecting this densely populated area. Realising the urgency, international agencies are working on issues like adaptability to cope with the new reality. Ranjita Biswas reports
This is a country of 'The Hungry Tide' as award winning author Amitav Ghosh titled his novel on the Sundarbans landscape. Some surmise that the name -Sundarbans (beautiful forest in Bengali) comes from once abundant Sundari trees in the area. It is a fascinating land where mangrove forests- one of the largest contiguous blocks in the world, crocodiles, snakes, the ferocious Royal Bengal Tiger, and resilient human society have been coexisting for centuries.
Yet, today, this deltaic region straddling West Bengal in India and Bangladesh where the great rivers Ganga, Brahmaputra and Meghna converge to meet the Bay of Bengal, is hardly a palette of beautiful stories.
Rather, it is in the news for hosting powerful cyclones, flooding of low-lying areas, islands disappearing from the archipelago due to the rise in sea water level, thanks to global warming, and submerged stories of displaced people due to these calamities.
People in the Sundarbans reside in 53 islands, according to the Delta Vision 2050 document (WWF-1, 2011). It is a Unesco World Heritage Site. The area outside the protected National Park has been mostly used for agriculture.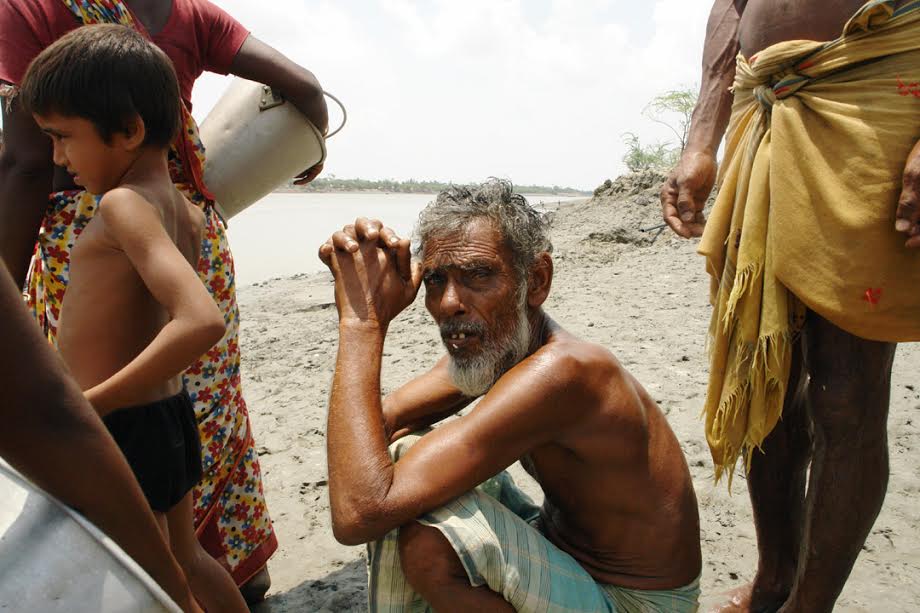 The connection between global warming and sea level rise has been conclusively established by scientists, including those of the School of Oceanographic Studies at Jadavpur University, Kolkata.
The latter warns that in the Sundarbans, rising sea level and depletion of mangrove forests that act as a natural buffer against cyclones and rising water, could see more islands getting submerged. Like Ghoramara, Suparibhanga and Lohachara, which have wholly or partly been submerged in the sea.
From these islands, more than 30 thousand people were relocated to the Sagar island, a place of pilgrimage for Hindus, 25 km away. Now as more low lying areas are under threat, the continued migration could put a strain on the dedicated area in Sagar too, say experts. Incidentally, scientists point out that while globally, sea level rise due to climate change is usually at 1.2 mm per year, in Sundarbans it is much higher at 4.2 mm per year.
In such a scenario, what can be done to tackle people's vulnerability? DECCMA (Deltas, Vulnerability and Climate Change: Migration and Adaptation), a multinational project involving hundreds of environmental scientists and academics from different disciplines are working to find a more viable answer to this vexing problem. More importantly, as it is also one of the most densely populated regions of the world: 1000 plus persons per sq. km. The Indian Sundarbans area locates an estimated 4.5 million people.
DECCMA's three main aims are: To evaluate the effectiveness of adaptation options in deltas; to assess migration as an adaptation in deltaic environments under a changing climate; to deliver policy support to create the conditions for sustainable gender-sensitive adaptation.
At the moment the case studies are focusing on three deltas- the largest- Ganga- Brahmaputra- Meghna (India and Bangladesh), and smaller ones at Mahanadi (Odisha) and Volta (Ghana) which have similar characteristics.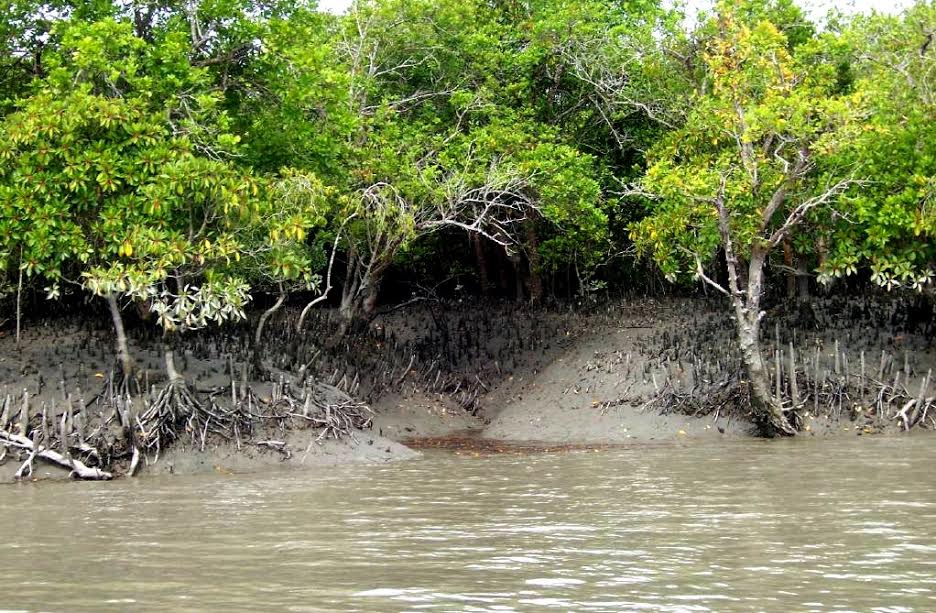 Kolkata-based autonomous research organization, Centre for Environment and Development (CED), is an active partner of this five-year project (2014-2018). Says Ashish K. Ghosh, director, "The Sundarbans is the third most vulnerable delta in the world. We have to see how the inhabitants, taking into consideration the topography and new climate change, can adapt to the new reality and lifestyle."
Some of the key areas on adaptability, scientists at DECCMA are working on to ameliorate the misery of the inhabitants are: ensuring an early warning system for the people so that they can be prepared; building accessible cyclone centres for temporary period: if they have to migrate, how the government is planning their rehabilitation and resettlement.
Another important element that is inseparable with adaptability is food security. Ghosh worked earlier at re-introducing lost strains of saline-resistant paddy crops in the area. The devastating cyclone Aila thrashed the southern part of West Bengal in 2009. "One million people became homeless in one night; the date was 29 May," Ghosh recalls from his field experience. Post this national disaster, 40 to 80 per cent of the male population of the most vulnerable island areas migrated to 11 states in India in search of a livelihood leaving behind the women, children and the elderly to fend for themselves, although emigrants sent regular remittances. Obviously, women have to bear the extra responsibility. "Hence it's important to ensure that people can sustain themselves, despite the challenges," he says.
Increased salinity due to sea water 'invasion' became a problem for growing paddy; so far, the farmers were used to rain-fed agriculture.
This made ENDEV (A Society for Environment and Development) Ghosh's sister concern, search for saline-resistant paddy strains which had all but disappeared though they were once cultivated by farmers in this area. With help from the seed bank Vrihi, a brainchild of Debal Deb, an ENDEV associate, who shared two potential strains, and researching to retrieve long-forgotten strains by Ghosh , five varieties of saline-resistant paddy seeds were collected.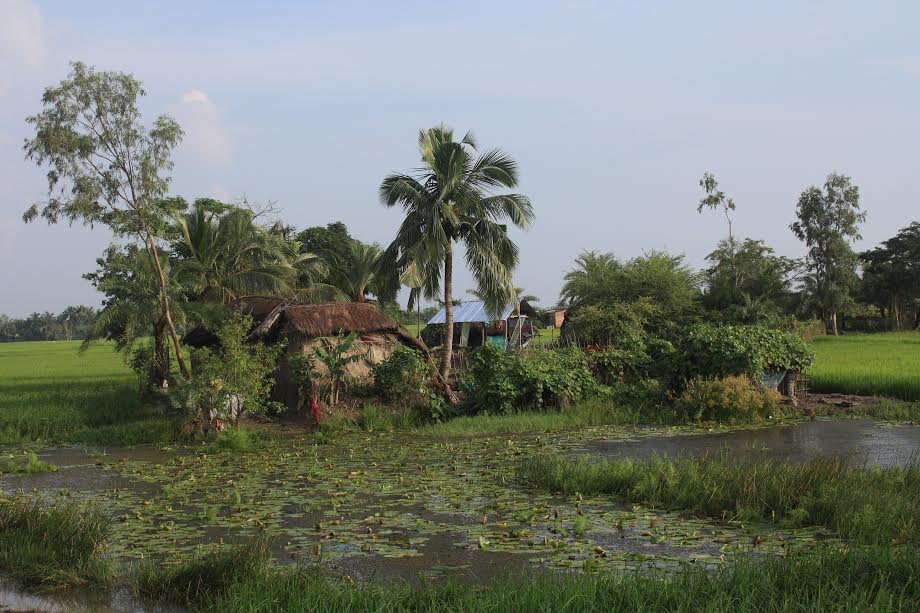 Then farmers' workshops were organised with support from National Council for Rural Institute (NCRI). After deciding on the right seed variety, planting started on an experimental basis in collaboration with local communities in blocks of Sandeshkhali I and II, Hingalganj, Gosaba, Mathurapur and Namkhana. The success thereof brought international recognition for ENDEV in 2013.
The other important element, Ghosh believes, to curb migration is skill development. Centres can be built to use local skill which would also help employment.
A WWF funded study, "Indian Sundarbans Delta: A Vision" (2011) warns about "…the likelihood that by 2050, the "Global 200" iconic ecoregions of which the Sundarbans is one, will regularly experience monthly climatic conditions."
What becomes clear is that, to tackle various socio-economic problems, as well as to cope with effect of global warming in this vulnerable area, and population, a multi-pronged approach, drawing in expertise from various agencies call for urgent attention.
As the Vision report cautions, "The increased intensity of extreme events in the Indian Sundarbans, potentially due to climate change, poses great challenges to the safety of the human settlements in the delta as a direct result of sea level rise, coastal erosion, cyclone incidences and coastal flooding."
Image credit for Sundarban village: Arne Hückelheim/Creative Commons