Errors and negligence by doctors was a key issue discussed at the Medicon International 2018
Kolkata, Nov 18 (IBNS): Medicon International 2018, recently organised in Kolkata, focused mainly on involving people from the medical fraternity, such as general physicians, post graduates and specialists.
This event was jointly organized by Royal College of Physicians, Edinburgh, Peerless Hospital and B.K Roy Foundation & Association of Physicians of India.
Prof. F E Udwadia, Dr. Deepak Dwarakanath, Prof. Anjan Lal Dutta, Dr. Debasish Datta and Dr. Sujit Kar Purkayastha were present at the press conference.
Prof. F E Udwadia, Consultant Physician and Director of Intensive Care Unit, Breach Candy Hospital, Mumbai said, "It is unfortunate that these days medicine has been placed in compartments, doctors only look at the malfunctioning organs instead of the whole body. It is important to look at the patient holistically as a whole and not just the individual organs."
On being asked if the Prime Minister's Ayushmaan Bharat Yojana will help people, Prof. F E Udwadia said, "A person needs to rely on their medical insurance and poor people should be provided a medical insurance, so this Yojana will assist poor people."
Cardiologist, Prof. Anjan Lal Dutta said, "Even if the insurance is given, the facility and faculty need to be present for them or the insurance is of no use," while emphasizing on the need to provide medical insurance to people even in the the remote corners of the country.
On being asked about how to deal with medical errors, Vice President of Royal College of Physicians, Edinburgh, Dr. Deepak Dwarakanath said, "No doctor goes to work to cause errors, but sadly if an error does occur we have to be honest about it and take responsibility. We have to be open, honest and frank with the patient about the error and make an open apology about it. If a surgery goes wrong, it is thoroughly investigated. With regard to punishment of the doctor, there is a strict governance process with the general medical council in the U.K which handles such cases."
Gastroenterologist at Peerless Hospital & B K Roy Research Centre, Dr. Sujit Kar Purkayastha said, "There are systemic changes which reduce the possibility of errors. The pharmacist constantly checks the drugs which a doctor would prescribe, so if there is any problem with the time duration of the medication, the patient will come to know about it in most cases. Hiding the error under the carpet is the last thing a doctor should do and we should all know the difference between negligence and mistake."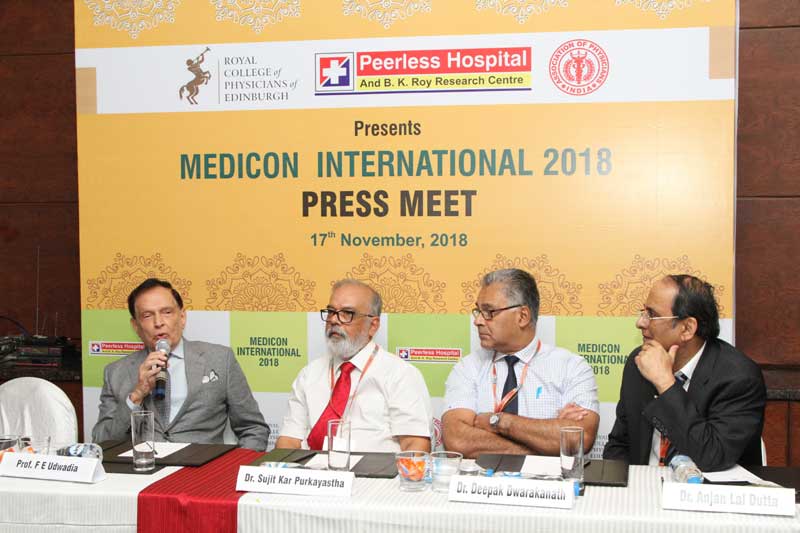 Gastroenterologist Dr. A. Konar said, "If any medical error concerning death of a patient does occur in Kolkata, then the doctors and the anesthetic team will be crucified. Investigation is mandatory, and if errors do occur then the doctors mistakes are taken to the medical council for evaluation."
Shedding light on heart diseases, Prof. Anjan Lal Dutta said, "The development of a country is based on two important pillars namely, basic healthcare and basic education. So unless we don't improve these two pillars we won't be able to improve our quality and quantity of life."

"Heart disease is the leading cause of death," said Dr Dutta, "It was said that heart disease is the disease of the rich countries. However, after taking up the technical, logistic, feasible and successful measures, there has been a drastic reduction in the occurrence of ischemic heart diseases in the Western countries. Sadly, in contrast to that, in India we are having increasing cases of ischemic heart diseases. The incidence of heart diseases in India is an alarming 12 per cent to 15 per cent in the urban areas and about 6 per cent to 8 per cent in the rural areas. What we need at this point is awareness about health and whatever is preached should be practiced."
Dr. Debasis Datta, a gastroenterologist at Fortis introduced the Medicon International 2018 by saying, "Nowadays all doctors are specialists in the fields like cardiology, gastroenterology, nephrology, etc. But you need to be a good physician first to be a good doctor and you must have a good background of general medicine. The essence of Medicon International 2018 is to make people aware of the proceedings occurring around the world in different specializations. No delegation fee is taken from post graduate students and they come here free of cost. We also try to give a social message to everyone because nowadays there is a lot of disturbance in the medical faculty and hospitals, so in this conference we talk about medical errors and how to handle it. This conference is not only about learning but also about the communication of doctors and patients."
Dr. Sujit Kar Purkayastha said, "The primary intention of the Royal College of Edinburgh is spreading medical education all over the world and the Indian healthcare centre should be progressing."
Dr. Deepak Dwarakanath said, "The healthcare in the U.K is moving rapidly. I believe, we really need to move away from cure and focus on prevention because one half of the world is starving due to no food and in the other half, people are suffering due to eating too much. Lack of exercise, alcohol consumption is all leading to health problems so prevention is important."
On being asked what steps has the private hospitals taken to spread awareness by means of campaigns, Dr. A. Konar said, 'The private hospitals are not empowered to do this, they are our guardians of health. Private hospital has no commitment for public health and all these steps should come from the public health department. I am the president of a Liver Foundation in West Bengal which has started campaigning for Hepatitis B from Siliguri to Sundarbans. We need to understand, social activism can mainly operate to government agencies or NGOs, but not from a doctor as an individual."
The press conference was followed by the Shyamal Sen Memorial oration delivered by Prof. F E Udwadia.
Prof. Udwadia talked about using the heart and mind for feeling, listening and hearing the patient to make the right diagnosis.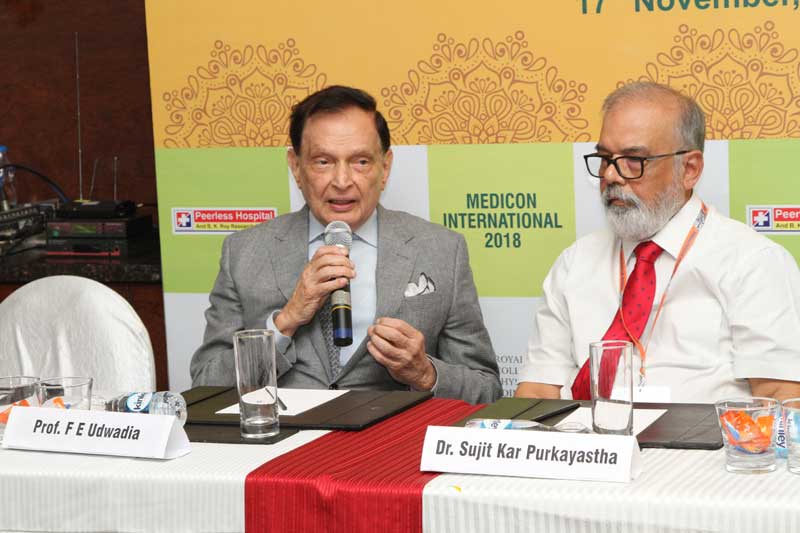 "The art of medicine is not just based on advanced medical technology, but it also includes, unspoken signs that a doctor might get from the patient," said Prof. Udwadia. "The art of questioning the patient and physical examination is a holistic way that should be followed to establish the mutual bond of trust between the doctor and the patient."
Medicon International 2018 threw light on educating the general public, the best approach and practices to adopt, for acquiring the maximum mileage with least amount of cost, time and hassle.
(Reporting by Meghna Dunbar)