Health
Indian legends and icons from various fields join hands with Rotary to eradicate Thalassaemia
Kolkata, Nov 29 (IBNS): Sachetonota- Eradication and Awareness for Thalassaemia free India at the Science City Auditorium was held to launched to start the campaign.
A sustained campaign has already been launched for testing of blood before marriage by screening camps and an awareness drive over radio, television, social media campaigns.

Present on the occasion were Dr Sashi Panja, Soumitra Chatterjee, Victor Banerjee, Alokananda Ray, Past Rotary International Director Shekhar Mehta, district governor Mukul Sinha along with Dr Ramendu Homchowdhury.

Legendary cricketer Sunil Gavaskar along with noted Bollywood director Imtiaz Ali,Classical music maestro Pdt Tarun Bhattacharya joined the campaign to eradicate thalassaemia. The campaign also features award winning thespian of Indian cinema Soumitra Chatterjee, along with Internationally acclaimed actors Victor Banerjee, veteran actors of Bengali cinema Sabyasachi Chakraborty, Biswajit Chakraborty, Rituparna Sengupta, actor & entrepreneur Arijit Dutta. The campaign features video messages requesting for blood test before marriage.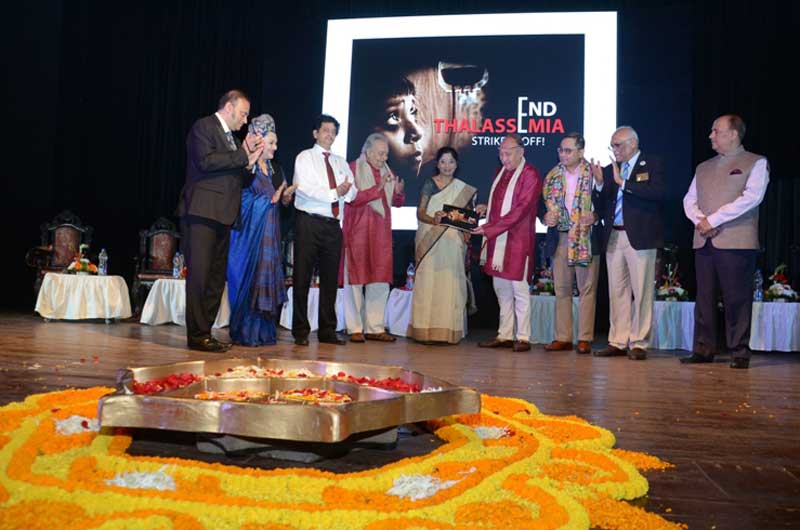 Thalassaemia is a blood disorder involving lower-than-normal amounts of an oxygen-carrying protein. A person with the thalassemia trait has a normal life expectancy.

However, heart complications arising from beta thalassemia major can make this condition fatal before the age of 30 years.

It is estimated that there are about 65,000-67,000 Beta-thalassemia patients in our country with around 9,000-10,000 cases being added every year.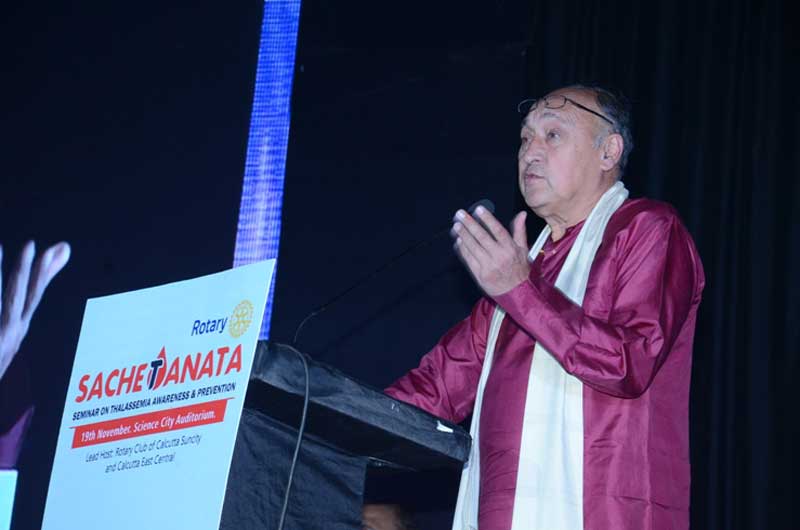 Speaking on the campaign Rotary 3291's District Public Image Chair Subhojit Roy said, " We had initiated this campaign way back in 1998 on behalf of Rotary where we had placed a demand to the then Government that blood test for thalassaemia carrier be made mandatory before marriage through a Legislation. We had received tremendous support of Sunil Gavaskar, Shahrukh Khan, Rituparna Sengupta among others, ofcourse pioneering work for campaign and fund raising was done by Mithun Chakraborty. Unfortunately the campaign fizzled out after a while, though our cause partner Thalassaemia Society of India has kept up the treatment of existing patients at their day care unit till today. But now Rotary has decided to renew the pledge of making this a Thalassaemia free state and renowned orthopedic Dr Ramendu Homchowdhury is leading the campaign towards Zero Thalassaemia status in West Bengal."

Among the various measures Dr Homchowdhury and his team has undertaken screening of blood among the underprivileged villagers and young students in colleges and educational institutes as well as awareness among the urban population because even among educated population there is a distinct lack of awareness and reticence to test the blood for carrier of thalassaemia trait.