Medicon International: Doctors give importance to human touch even in the age of technological advancement
Kolkata: Top doctors, who attended the second day of the Medicon International, 2019 conference where the Professor Shyamal Sen Memorial Oration was delivered, here on Saturday said that despite advancement in technologies over the years, medical practitioners should give importance to the system of 'Bedside Encounter'.
"Just by symptoms, you cannot arrive at a diagnosis, the doctor needs to ask patients questions and give him a minimum time through casual conversation," said Dr. Saubhik Sural, top nephrologists of the city.
"A computer will not tell you what the patient does. A patient is your best teacher and the objective of the memorial was not to forget bedside clinic," he said.
Prof Derek Bell OBE, President, Royal College of Physicians, Edinburgh, delivered the 'Professor Shyamal Sen Memorial Oration' on Saturday on the issue of 'Clinical Skills in 21st Century'.
Whenever one recalls eminent names in the medical fraternity who have left a very positive impact in minds of people they have touched and treated, there are many names that still get talked about, written and discussed. One such luminary was Dr. Shyamal Kumar Sen. Considered by the medical fraternity as a legend in the field of Neurology in India, Sen was also a pioneer in the world of neurology teaching, training and research in Eastern India. Dr. Shyamal Kumar Sen passed away on 19 June 2011. He was 89 years old at the time of his death.
Medicon each year pays their silent tribute to his great work by hosting a special session- Dr Shyamal Sen Memorial oration.
Sharing his thoughts on the Medicon International event, Dr. Sujit Kar Purkayastha, Patron of the Medicon Interational organising committee, earlier said: "The main objective of the conference is to transfer knowledge."
Speaking on the speech delivered by Bell, another Kolkata-based doctor Subhrojyoti Bhowmick, said, "It was a matter of pride for us that such a wonderful lecture was delivered on an eminent doctor like Professor Shyamal Sen."
"The way Prof Bell started the speech by mentioning Prof Dr. Shyamal Sen and what Edinburgh thought about him was important. Its a matter of motivation and pride for me," he said.
"While technology is very important for repetitive work and for precision, but you always require human touch for analytical works," he said.
Speaking on the Medicon International, he said compared to Western countries, a modest amount of research work is done in India and conferences like this one serves as a motivation for research and knowledge sharing.
"Through these conferences, we try to highlight the best practices in medicines followed in both the nations-India and the UK," he said.
Speaking on the selection of Kolkata as a venue for the conference, he said: "The Royal College of Edinburgh participated in a collaborative role because of the keen interest in this part of India to know more about the field of medicine. I must add that medicine is vast and dynamic in nature. Platforms like this one not only highlight practices in the UK but also in India."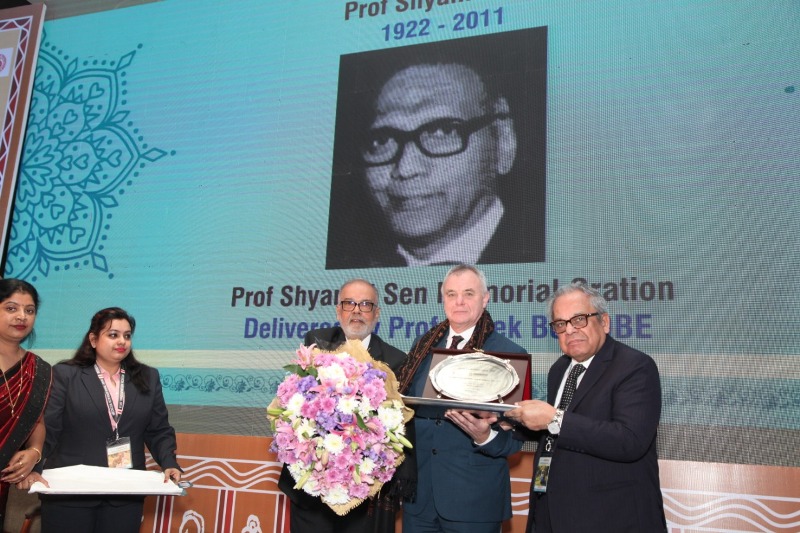 "In this conference, the audience learned how patients are managed in both countries. Sharing of best practices of both the nations also takes place here," he said.
The two-day conference begun in Kolkata on Friday.