'The only solution to Covid-19 is herd immunity': Kolkata-based homeopath Dr. Pratip Banerji
Kolkata/TWF: Most states in India have seen a fresh surge in Covid-19 cases in the post-festival period.
Partial lockdowns or night curfews have been imposed in many cities, and people are still being advised to stay at home and maintain social distancing.
Senior citizens and children are being told to stay indoors. We shall shortly bid adieu to 2020...but the virus is here to stay!
"Our experiences during the 10-month period March to December 2020 suggest that the only solution to Covid-19 is herd immunity," says eminent Kolkata-based homeopath Dr Pratip Banerji, a fourth-generation practitioner from a family in which homeopathy has been practised for over 150 years after Pt. Ishwarchandra Vidyasagar himself introduced homeopathy into the family in the 1860s and treated patients himself, and thereafter popularised it.
Historically, homeopathy has played an important role in combating viral infections and epidemics, with its very founder Samuel Christian Friedrich Hahmemann (1755-1843) himself handling a cholera epidemic during his lifetime. Since then homeopathic medicines have been effective in treating viral infections and epidemics, including plague with a recovery rate of 70% —higher than that achieved by conventional medicines.
The effectiveness of homeopathic medicines in treating pandemics in the past is borne out in the experiences of the USA, Germany, UK, Ireland, Austria, Cuba, Hungary and several other countries.
According to Dr. Pratip Banerji, there are well-founded reasons for serious uncertainties, doubts and misgivings regarding the statistics now being used as the basis for plans of action and decision-making, the various precautions being taken, and also the vaccines that the whole world is now looking forward to.
"The statistics compiled have often been based on the numbers of patients and tests done being considered the same, the inclusion of faulty tests conducted with test kits initially made available by the ICMR (Indian Council of Medical Research), the absence of data relating to treatment with alternative medicines, and also of treatment of patients at their own residences and not at hospitals, and, lastly, the deaths actually caused by the adverse effects of high-dose antibiotics and steroids on patients with comorbidities, rather than by Covid-19 itself," Dr. Banerji states.
With regard to the various precautions being advised and being taken, nothing can really be foolproof…while masks should continue to be worn and hands repeatedly washed, the use of sanitisers cannot possibly cover every infected surface, and social distancing with six-feet gaps cannot be ensured everywhere when there are constant movements of people.
While the whole world is eagerly waiting for the Covid-19 vaccines, it is not widely known that these vaccines will be strain-specific…the Covid-19 virus mutates, and there are reported to be enough strains already in existence to cause sufficient confusions and doubts about their effectiveness.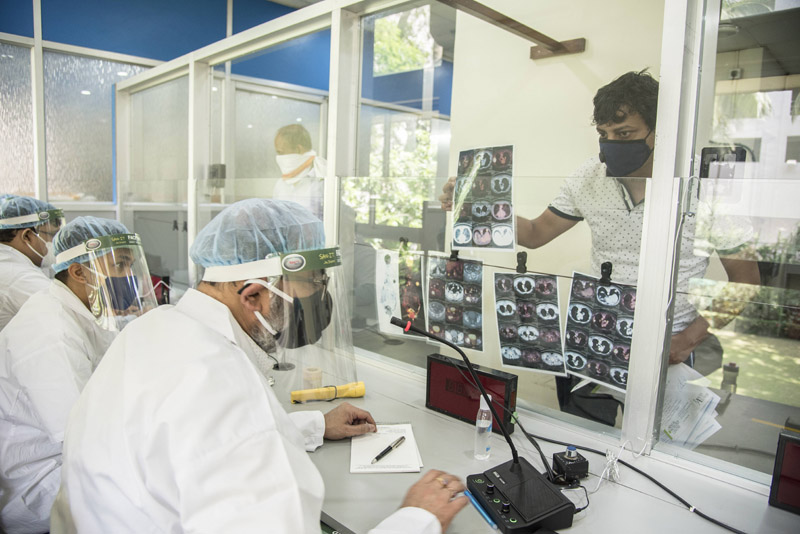 With all these uncertainties, what should be done?
Dr. Pratip Banerji states,"I feel that the most important step to be taken is to boost immunity with a view to combat Covid-19, and I strongly recommend the homeopathic medicine Thuja occidentalis 30c the effectiveness of which in combating viral infections has been established in our family's experiences of over 150 years.
"Thuja occidentalis 30c is a broad-spectrum antiviral homeopathic medicine which does not kill viruses, but generates the correct immune response to help the body combat viral infections.
"This contrasts sharply with the use of steroids under the conventional system of medicine which actually suppresses our immune system."
He added, "In recent months, we have prescribed and distributed Thuja occidentalis 30c on a vast scale, and so far no fatalities have been reported.
"Kali Muriaticum and Ferrum Phos are two other homeopathic medicines which help 'resettle' our body and are giving good results in our treatment of Covid-19 patients."
Dr. Banerji says, "At present, our clinic is open with proper precautions to handle patients in the 'new normal' conditions spelled out by the Covid situation. We are into treating many Covid positive as well as post-Covid recovery patients with good results."