William Shakespeare's 400th death anniversary is being commemorated this year. A visit to his home in Stratford-upon-Avon introduces Ranjita Biswas to the growing up years of the literary genius
If William Shakespeare followed his father's footsteps, he would have become a master at making soft leather gloves and shoes. Instead, he became an actor and a playwright. And that, as the Bard would have himself said: "It is not in the stars to hold our destiny but in ourselves."

Four hundred years after his death in 1616, the poet-playwright still holds the world in thrall with his ageless themes on man and destiny.
William was the third child of John Shakespeare, a leather craftsman, and Mary Arden, a local landed heiress. They lived in Stratford-upon-Avon, a market town on the river Avon in south Warwickshire.
It was to this place, 103 miles west of London, that we were headed to see how that great writer spent his childhood. Though no specific birth records exist, the local Holy Trinity Church accounts indicate that a William Shakespeare was baptised on April 26, 1564. From this, scholars surmise that he was born on or near April 23, 1564. Today the date is acknowledged as his birthday.
Not much details exist of William's childhood either, and even less about his education but researchers opine that most likely he had attended the King's New School in Stratford, which taught reading, writing and the classics.
The house of Shakespeare is a half timbered 16th-century building on Henley Street in the small township. It was almost in ruins when the Shakespeare Birthplace Trust took it up for restoration. It is where he was born and grew up with his brothers and sisters.
Today this small town, and the house, have become almost a pilgrimage centre for all those familiar with the English language and lovers of performing art. It is said that every day, at some corner or the other in the world, either in its pristine form or modern interpretation, a play of Shakespeare gets enacted. Visitors from India make a sizeable chunk , we were told, to Stratford-upon-Avon. After all, generations of students in the country have grown up reading Shakespeare's works, and continue to do so. Well-known director Vishal Bhardwaj, a known aficionado of Shakespeare's plays, has made three acclaimed films on the Bard's work, Maqbool (on Lady Macbeth), Omkara (Othello) and Haider (Hamlet) placing them in the present context.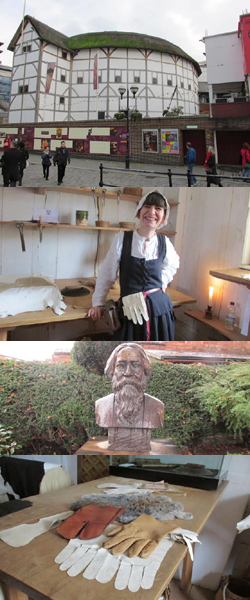 The tour of the house, managed by the Trust, is a lesson in 16th century lifestyle in the English countryside; and quite atmospheric too. Guiding through the house with nuggets of information are women volunteers dressed in16th century authentic gowns. At another corner a gentleman in togs suddenly breaks into a song with lyrics of the time while strumming his guitar.
However, it is not a 'poor' house because John Shakespeare was quite an important and prosperous figure in the local council. The décor on the walls show that. The recreated dining table looks quite well-appointed too. In one room are laid out to dry leather skins as John would have done before shaping them into leather gloves and shoes. Some historians say that Shakespeare would have also learnt the trade hen he was young. The parlour, hall, workshop and bedchambers are furnished as in 1574. The pieces of furniture are well-preserved too. The children's bedrooms are upstairs. By today's standard the beds look quite small.
A pleasant surprise awaits Indian visitors in the garden in the backyard: a bust of Rabindranath Tagore. It was installed in 1995. Tagore's poem to Shakespeare, written in 1916 in praise of the poet with his own English translation, adorn the pedestal.
Shakesperare married Anne Hathaway, a local girl, eight years his senior, in 1582. But he did not spend much time in his village as he set his eyes on London and moved there quite soon. At first, he may have worked as a horse attendant at some of London's finer theatres, nothing unusual for aspiring actors those days.
Though fellow playwrights from London, like Robert Greene, threw aspirations at this new entrant from the countryside, Greene writing thus in 1592: "...There is an upstart Crow, beautified with our feathers, that with his Tiger's heart wrapped in a Player's hide, supposes he is as well able to bombast out a blank verse as the best of you: and being an absolute Johannes factotum, is in his own conceit the only Shake-scene in a country," he soon dominated the London theatre scene as an actor and dramatist.
Subsequently Shakespeare became a business partner in a major acting company, the Lord Chamberlain's Men (renamed the King's Men in 1603).
By 1597, 15 of the 37 plays written by Shakespeare were published. Civil records show that at this time he purchased the second largest house in Stratford, called New House, for his family, which is now being converted to a museum.
By 1599, William Shakespeare and his business partners built their own theatre on the south bank of the Thames river, which they called the Globe. Today a walk on the South Bank, a favourite with 'with-it' visitors, next to the Tate museum, will bring you face to face with the iconic theatre all. But the round building is a replica of the original which was destroyed by fire in 1613 during a performance of Shakespeare's Henry VIII. A theatrical cannon, set off during the performance, misfired, igniting the wooden beams and thatching.
A second Globe was built on the same site and opened by next year. However, in 1642, like all the other theatres in London, the Globe was closed down by the Puritans and later pulled down.
The present construction almost at the same site was opened as 'Shakespeare's Globe' in 1997. Today, this theatre holds round the year events and the poet-playwrights' plays performed by different groups. On the 400thdeath anniversary year currently, it has been particularly busy and visitors , even if unable to go to Stratford-upon-Avon can buy tickets to take a tour or enjoy a performance. And echoing the poet, perhaps try to accept that "All the world's a stage" and that distressing oneself too much when faced with problems is "Much ado about nothing."
(Photo Credit: Ranjita Biswas)