Men dress like women, and women dress like men, that's what androgynous fashion means to many. But there are many other shades in-between within this ambit, finds Pramita Bose
The world of fashion tends is not just about glamour and glitz , it also tends to be a step ahead in many ways - breaking barriers and making bold social statements. From selecting 'newsmaker' transgender model Anjali Lama from Nepal to 'walk for fashion' weeks, to introducing the renowned gender-neutral model Petr Nitka on the Indian ramp as part of the just-concluded season of Lakmé Fashion Week Summer/Resort 2017, the world of creativity and glamour has witnessed many innovative overtures.
"Working with ace lensman Bharathan Gangatheran in Perth in Australia had proved a turning point in my life. The confidence that the results of his photo-shoot gave has indeed been a life-altering experience for me," says Nitka. He came to be recognised as the first ever gender-neutral model from the Czech Republic and Slovakia. It further led him to be invited to South Africa. "As a matter of fact, I landed in the African continent as the first gender-fluid model. It was a moment of great pride for me," he recalls.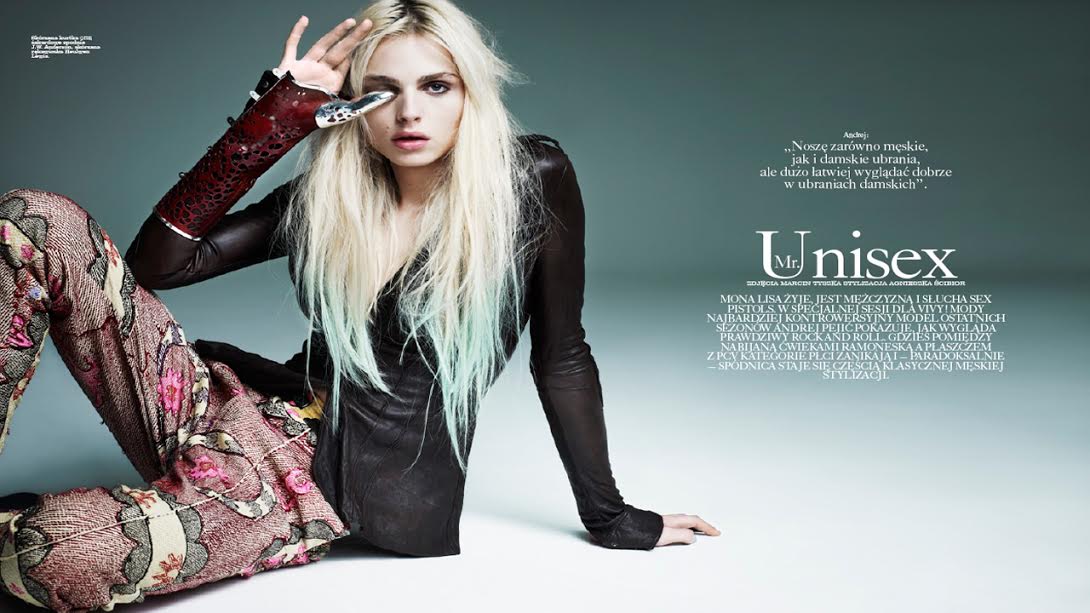 "Being a model comes with a tremendous responsibility for us. It offers a great platform in the public arena. It's an opportunity to start a conversation about individuals with different sexual-orientations and demolish the prejudices and stereotypes in the process which tag alongwith it."

While many think it is absolutely uncool for men to wear middies, maxis or skirts plus sporting hairbands, jewellery and that long braided mane, a recent ad shows a social gathering gradually warming up to a cross-dressed man. Designer Ritika Arya Jain agrees that new-age men are experimenting with sheer fashion, see-through shirts, kurtas and t-shirts with deep-cut necklines. "Frankly, I am not a huge fan of this trend. As long as kurtas are concerned they look great of course. But sheer skirts are a big 'no' for me," she says.

But men are experimenting nonetheless. It's no longer a film star or a model's prerogative to resort to gymming and grooming. Even the so called common man take up innovative fashions these days. "That's just fantastic, of course !" exclaims the designer "There has been more awareness regarding the significance of male grooming. Men today are suave and sophisticated. They understand well that their appearance creates a positive vibe or a negative impression across. Due to the intervention of social media and excellent men's fashion magazines flooding the market, most men are today pretty aware of stylish fads and are able to identify with hip fashion diktats," she notes.

Menswear designer Medhavini Khaitan acquiesces in that the society is slowly but surely waking up to androgynous fashion. Till very recently, a gender-bender was ridiculed in public but this scene is definitely changing now for the better, she feels. "People do get uncomfortable with them around. But I suppose overall, the mindset is broadening. Generally, people are more accepting towards them these days," she finds.

Like men, women too may cross-dress to follow the route of androgyny in vogue. "Women can follow androgynous fashion by letting go of their feminine side, thus provoking the 'tomboy streak' in them and accordingly choose their attire. Androgyny is all about abandoning restrictions and erasing out the conflicting conception of gender-duality," emphasizes Khaitan.

On lending out fashion tips for a 'gender neutral' style, the couturier suggests, "Most importantly, be yourself and be confident enough. Wear what you want to wear and slip into what makes you happy. Don't care about what people would say about you. To look good you have to feel good. That's what matters!"
Image: Nitka Facebook Page / Internet Wallpapers