lifestyle
Artist Milburn Cherian of 'The Healer' fame holds solo exhibition in Kolkata
Kolkata, Dec 14 (IBNS): Art lovers in Kolkata have until Monday, December 18, to see some of the fascinating art work of Milburn Cherian, including her famous acrylic on canvas work titled The Healing' that was exhibited in Goa during the 2004 exposition of the sacred relics of St Francis Xavier.
Inspired by the story narrated in Chapter Five, Verses 21 to 28 of the New Testament, it drew international acclaim.
It was also exhibited in London.
Cherian's art exhibition titled Old World-New Palette is on view at the Academy of Fine Arts, North Gallery. The exhibition is presented by Cymroza Art Gallery.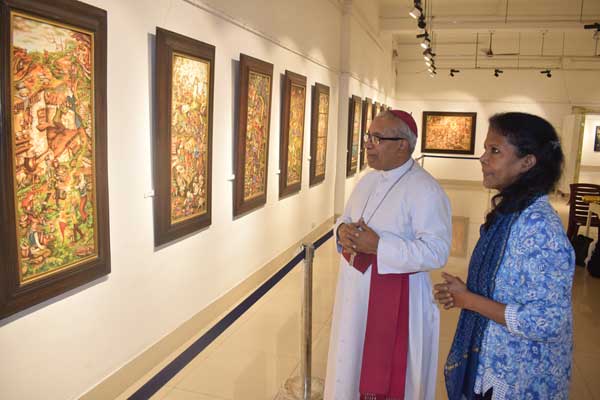 The Mumbai-based artist graduated in Visual Communication from Ahmedabad's National Institute of Design.
Describing Cherian's works, art historian Carmel Berkson said, "The initial effect of conglomerate, multiple, individual shapes offers the viewer, who is intent on entering this highly complex world of interacting forms, colours and symbols, the possibility of initiating, step by step, detail by meticulously executed detail, a journey which leads on towards an ultimately unified, single synthetic whole."
The exhibition in Kolkata was inaugurated by Chhatrapati Dutta, Principal of Government Art College, and artist Dipali Bhattacharya. The Archbishop of Kolkata also visited the exhibition.