lifestyle
Mizzle of Love: Audio album by Pdt Tarun Bhattacharya, Chandreyee Dutta Guha Roy released
Kolkata, Jan 15 (IBNS): Mizzle of Love, an audio album featuring a unique collaboration of a legend, Tarun Bhattacharya and elocutionist, Chandreyee Dutta Guha Roy was recently released in Kolkata.
The collection of music and poetry - Mizzle of Love- has been dedicated to Nobel laureate Rabindranath Tagore .
The epitome of humanity and love, Tagore's works on Monsoon are depicted in this album.
The maestro has designed the music on Santoor, Keyboard, Flute in Raag Desh, emphasizing the monsoon as reflected in the voice of Chandreyee Dutta Guha Roy
Of all the seasons, Varsha ( Monsoon) or the rainy season was a great favourite with Tagore.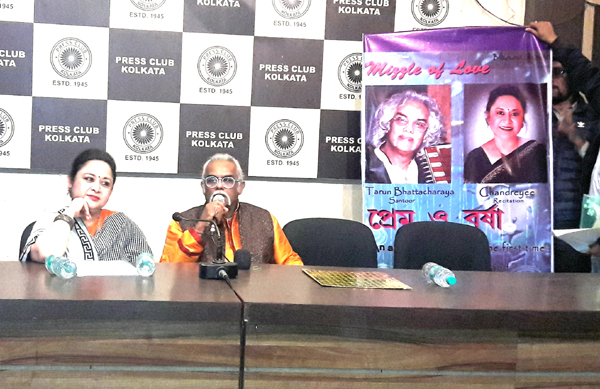 The album is based on Tagore's mystic love for monsoon and its splendours which have been rhythmically expressed through Chandreyee's mellifluous voice and soft tonal quality of Santoor by one India's greatest living instrumentalists Tarun Bhattacharya, depicting Tagore's tribute to Mother Nature.

Emotions and different chords of nature have been wonderfully expressed through the Maestro Taruns' 100 stringed Santoor and Chandreyee's vocal rendition.

The imagery that these poems sketch brings out the fervour of the season. Tunes blend well with the images and emotions. Ragas like Miyan Ki Malhar, Megh Malhar and Desh have been mellifluously harmonised with the wordings. In some songs, Baul and Bhatiali impart the deep philosophical essence of life that the season sometimes evokes. Traditional folk tunes add colour to the monsoonal songs.