Kolkata, Jan 16 (IBNS): Josh Talks, in collaboration with Facebook, hosted its second event of this year recently at Gandhi Bhavan, Jadavpur University, Kolkata.
The day-long programme cut across genres and brought forth inspiring narratives by entrepreneurs and change makers.
Hip-hop rap artist Awessum Frankie, whose viral Rajabazar Ilaka video has shattered all records, shared his experience on redefining Indian rap.
Some people only dream of success, while others wake up and work hard at it. No one knows who said this, but it could well have been Supriya Roy. The owner of the famous Sugar & Spice chain revealed her journey of becoming a National Award winning baker.
Colonel Prabir Sengupta has a unique background. From commanding an infantry battalion of over 1000 men to working in minus 40° temperature, the Indian army officer's interesting experiences enthralled one and all.
Saheb Sharma, the founder of Radio BongOnet, refused to let his visual impairment hinder his internet radio station's launch. His talk was replete with life-lessons to live by.
Social activist Smarajit Jana is changing the way people think about sex workers. The founder of the Durbar Mahila Samanwaya Committee talked at length about his vision of a new social order where there is no discrimination by class, caste, gender or occupation and all individuals communities live in peace and harmony as global citizens.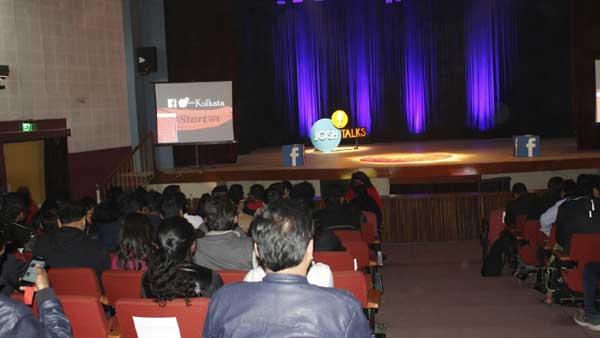 National Bravery Award recipients Tejasweeta Pradhan (18) and Shivani Gond (17) busted a human trafficking racket to save girls from a cross-border flesh trade ring. These bravehearts made their experience public and earned accolades in the process.
Sujay Santra, founder of iKure, created a software to help millions of rural patients by giving them access to quality healthcare in Bengal.
Apart from being a student of computer science at West Bengal University of Technology, Ranodeep Saha runs an award-winning e-commerce startup called Rare Planet. His quirky creations made from recycled household items are popular in the national as well as international markets.
The pressure of achieving top A-level results is extremely high. Esteemed IAS officer Debashis Sen shared his insights on why you will always have other options. His valuable life-lessons left everybody inspired.
Award-winning psychologist Mansi Poddar talked about about the things she finds fulfilling about working in the mental health industry.
Vlogger and motivational speaker Divyanshu Damani revealed from his personal experiences the different ways to add value into the lives of others.
Sagar Daryani started Wow! Momo immediately after his college. He launched his business with a mere investment of Rs. 30,000, which now stands at a staggering Rs. 100 crore valuation.