lifestyle
Tollywood star Prosenjit Chatterjee goes shopping at Sasya store, fashion partner for Mayurakshi
Kolkata, Jan 18 (IBNS): Leading Tollywood actor Prosenjit Chatterjee, during a film promotion at Sasya on Wednesday, could not resist taking a look at the Kolkata-based designer wear store's collection and buying some too.
"Sasya is an amazing store which I chanced upon on my way back from a shoot. I stepped into it and took to everything it had to offer. It has an impressive collection of ethnic, corporate and casual wear and that turned me into a fan of the store," the veteran actor said.
Chatterjee was at Sasya for the promotion of his recently released film Mayurakshi, directed by Atanu Ghosh.
The film is based on an emotional tale of a father and son pair, and how they handle the various challenges that life throws at them.
Sasya is a fashion partner for Mayurakshi.
To the delight of Sasya team, Chatterjee chose from the Corporate, Ethnic and Party wear collection as well as a fabric from the level four of the store for a contoured suit for himself.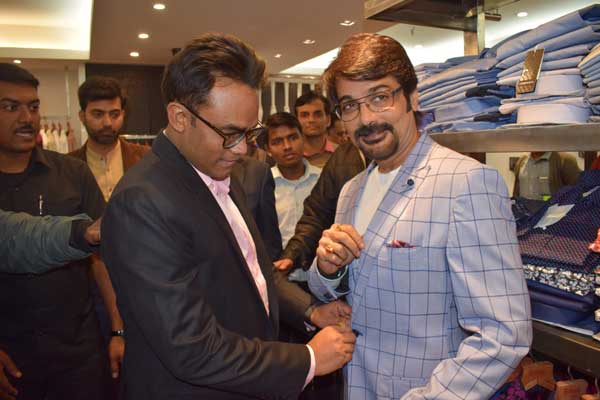 "Sasya was also one of the first fashion destinations to introduce the concept of Bespoke tailoring where a new pattern or style is catered for each individual client," claimed Rachit Agarwal, Director, Sasya.
''No modification are done as that could lead to tailor overlooking minute details of the wearer's form and line. It essentially makes perfect contoured wear for each wearer," said Mayank Agarwal, Director of Sasya.
Sasya offers a wide range of apparel under corporate wear, ethnic wear, and party wear for both men and women.