lifestyle
Vishwamohan Bhatt, Tarun Bhattacharya, Tanmoy Bose, Ronu Majumdar present Song of Nature to Kolkata audience
Kolkata, Jan 28 (IBNS): Padma Bhushan Pdt Vishwamohan Bhatt on Mohan Veena, Maha Sangeet Samman winner Santoor Maestro Pdt Tarun Bhattacharya and Sangeet Natak Award winner Flautist Pdt Ronu Majumdar, accompanied by Tabla virtuoso Tanmoy Bose, presented Songs of Nature at the Satyajit Ray Auditorium, ICCR recreating history and reliving the magic of 80's.
In the mid 80's legendary music maestro Bharat Ratna Pt. Ravi Shankar formulated a unique and first time ever team of his three leading disciples viz Grammy winner Vishwamohan Bhatt (Mohanvina – modified Hawaiian slide guitar ), Grammy nominee Tarun Bhattacharya (Santoor) and Ronu Majumdar ( Flute ).

Soon the Trio took the world by storm and they toured all over the world to perform at the most prestigious venue and enthralled the audience receiving standing ovations every where.

They also formed a part of Pt. Ravi Shankar's ensemble and performed with him at the India Fests at many venues. Instantly all these musicians become famous.

The trio performed one of Ravi Shankar ji's favourite Raag Charukeshi which exemplified a sense of loss and melancholy. Charukesi is known to incite feelings of pathos and devotion in the listener.The trio played Raga Charukeshi in Vilambeet Teentaal and Drut Teentaal with jhala, saath sangat saral jabab to the packed auditorium.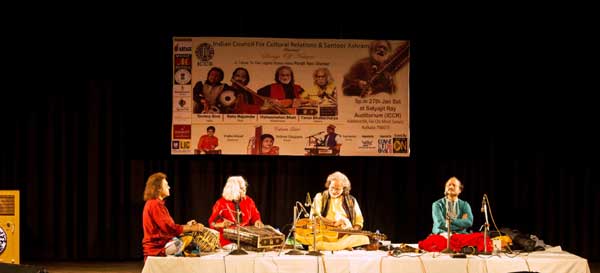 This raga of Carnatic origin is quite popular among instrumentalists. The interaction between Vishwamohan Bhatt Tarun Bhattacharya Ronu Majumdar and Tanmoy Bose was immensely appreciated by the entire audience.

The packed audience were left asking for more and the trio performed a special rendition from Songs of Nature album produced in the 80's. Guru Sanchita Bhattacharya also performed a special dance presentation on request of Vishwamohan Bhatt.

Prior to the maestros taking stage 3 talented performers Vrighu Ghoshal ( Santoor), Indrani Dasgupta ( vocals) Samikshn ( vocals) performed in a section Rising Stars.

The program was presented by Santoor Ashram and ICCR. Santoor Ashram is a philanthropic initiative by Santoor Maestro Tarun Bhattacharya to spread awareness, provide opportunity and support underprivileged musicians from different regions