Chhattisgarh school started with 7 students and 2 Franciscan sisters to soon complete 25 years
Bilaspur, Oct 31 (IBNS): It is hard to imagine that St Francis Higher Secondary School in Bilaspur (Chattisgarh), with its 7.5 acres of modern techno-savvy campus and five thousand students, began its journey under a shed in 1980 with seven students and two Franciscan sisters, Jocita and Elisa, from a Sisters of the Poor Catholic congregation in Germany.
The imposing campus is second only to the pedagogical standards set up by the school where the children of the well-heeled share smart classrooms with children from the poor family background. School and classrooms are a melting pot where artificial social barriers are sacrificed at the altar of meritocracy and learning.
The coming of age as one of the most prestigious educational centres of excellence in Chattisgarh, St Francis Higher Secondary School owes much to the hard work by a dedicated band of Franciscan Sisters who, inspired by the life, works and teachings of St Francis of Assisi, set up a tiny base in 1979 near Nehru Nagar area of Bilaspur.
They soon realized that the local population of the nearby Ameri villages were illiterate and their children did not go to any school. A school with seven students under a shed was started by the Franciscan sisters in 1980 near Nehru Nagar under the able guidance of Headmistress Sister Jocita and Sr Elisa. Later in 1991 the school was shifted to its present premises at Ameri Road campus and named St Francis Convent School where it started pre-primary courses.
In 1994 under Sister Paulit the school started primary education. During the first decade, the Franciscan sisters struggled hard to set up a foothold. The scene began to change rapidly from 1998 onwards after Sister Rosilin Augustine took charge as the Principal.
The Catholic congregation of this order of Franciscan Sisters from Germany operates out of India, Brazil, Germany and USA. In all, there are over 110 sisters of the order with operations in Kerala, Andhra Pradesh, Uttar Pradesh, Madhya Pradesh, Telangana and Chattisgarh.
St Francis Higher Secondary School, as a tribute to its humble roots, has adorned the campus with reliefs and motifs depicting St Francis of Assisi with poor children.
"This relief reminds us of our humble roots and the vision and life of St Francis of Assisi from whom we draw our inspiration," said Principal, Sister Rosilin Augustine.
The concept of the reliefs and motifs at the campus is the brainchild of Subrata Ganguly of Church Art - a Kolkata-based firm pioneering artwork in harmony with the canonical laws.
St Francis Senior Secondary School, a Christian minority institution established and administered by the members of the Society of Sisters of St Francis, Bilaspur, Chattisgarh, is affiliated to the Central Board of Secondary Education (CBSE).
In 2005 a new section St Francis Kids World, a dream project of Sister Rosilin, took shape. Currently, the impressive infrastructure has an administrative block (Francis Block), a primary school block (Assisi Block), The Kids World (for pre-primary students) and San Damiano block (for higher classes and special needs children).
Didaskaleinophobia is a long word that refers to the fact that many children suffer in silence. The fear of going to school is something tiny tots are often unable to express. Hence very few parents are aware of their plight. This can have an adverse impact on the education career of a student.
"Our concept of school is based on `second home away from home' where every child would love to come to," said Principal, Sister Rosilin Augustine, in a free-wheeling interaction sharing her dreams, ideas and the future of her school.
"Many students, especially the tender ones, have a fear of going to school. A school campus must be one which all children should look forward to attending. The positive impact of a small dedicated area within the school campus where we have kept rabbits, cows, ducks, hens and birds for children is an eye-opener. Children simply love it. This also helps to inculcate a feeling of compassion towards other species. This is an important aspect towards harmonious development of a child's personality," said Sister Augustine who gained much knowledge and experience about schools during her stay in Germany.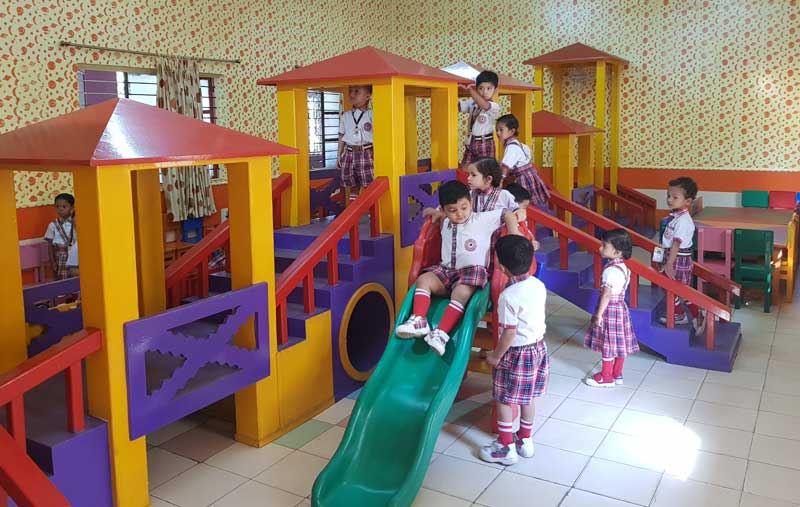 Out-of-box thinking and many innovative pedagogical standards set up by the school are drawn from real life experiences. These key differentiators have put St Francis Higher Secondary School Bilaspur a league above other schools.
The pre-primary section or The Kids World has an innovative playschool for children between 2 to 4 years where classrooms are marked in different colours which the tender minds can immediately register. The themes in these classrooms are changed frequently and aimed at developing cognitive skills, arouse curiosity, inculcate good habits, discipline, team spirit, interactivity and the flair to ask questions.
The playrooms, modelled on the lines of those in German schools, use play items of different shape, size, colour and textures, miniature basketball courts, models of animals, birds and so on.
The school has introduced the concept of "Zero Period" which is an extra period during which teacher-student-parents one on one interactive sessions are held. Personal attention is paid to the student and the parents are apprised of their children's progress or lack of it. Any particular issues are ironed out on the spot.
Another concept adopted by the school is that of "Smart Classroom". A network of closed-circuit television cameras (CCTVs) not only brings the school under a security scanner but also enables to monitor and record each and every classroom.
"We can play back the recording to consult a class teacher on how to make a certain subject more interesting and informative. We call it our "Teach Next" program. It is a continuous evaluation-based evolution of teaching methods that we have successfully improvised making education interesting, fun-filled and effective," Sr Augustine informed.
Though the school has a wi-fi network, use of mobile phones is strictly prohibited during school hours. A special communication channel is maintained through dedicated phone lines managed by a communication desk. Besides physics, chemistry and biology, the school has also come up with a `Maths Lab' to promote and popularize mathematics among the students.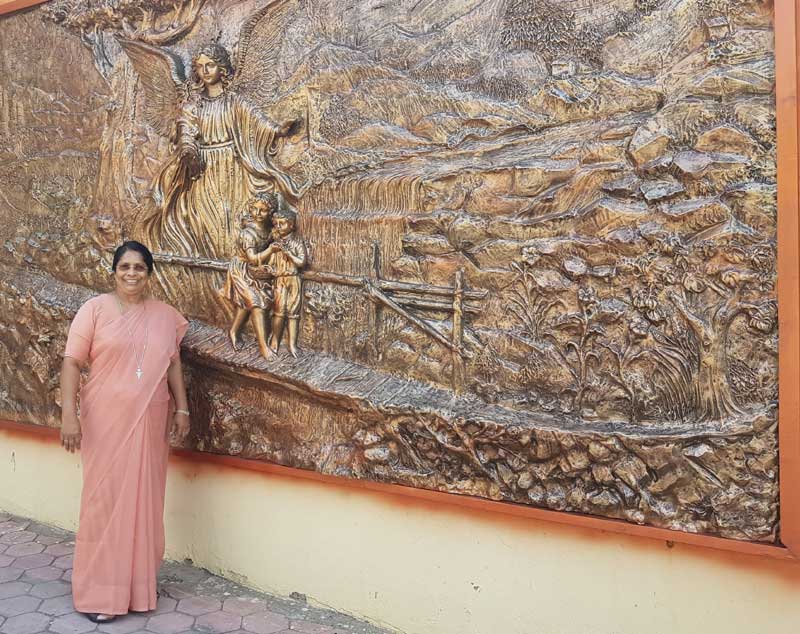 "When I reflected back on my school career it struck me that much of the classroom teaching lacked creativity. I, along with other students, disadvantaged. A teacher would draw a cylinder on the blackboard and try to explain its dimensions which failed to seep into our minds and we lost interest in maths. I realized a simple act of folding a paper into a cylinder could have done the trick. Our Maths Lab takes care of all this and makes maths interesting not intimidating to the students," Sister Augustine said.
The same approach is used for sports, fine arts, moral science and other extracurricular activities.
The school has introduced a unique system to negate the loss of periods due to holidays.
The school follows a day-wise pattern or timetable. The entire session is divided into packets of five days each named Day 1, Day 2 and so on till Day 5. For example, if there is a holiday after Day 3 the classes resume from Day 4. This way, unlike the conventional system of linking classes to the days of the week, no classes are missed.
The school also uses rainwater and groundwater harvesting for use and collect all the organic waste to convert it into waste-compost used to make the campus greener and fertile.
The school also runs a Hindi section in the same campus where children, whose parents cannot afford to send them to schools, attend classes using the state-of-the-art smart class infrastructure till class V. These students are sent then sent to another school where their fees are waived and they can continue with their education.
"I could never imagine my child going to such a school but for the Sisters. As I see my child grow, I cannot thank them enough," said one of the parents who is a rickshaw puller barely able to eke out a living. There are many such beneficiaries.
The school would soon complete 25 years.