lifestyle
Santoor Ashram-ICCR present Music Festival
Kolkata: Santoor Ashram, in association with ICCR, presented a Music Festival titled East West Music Fest recently.
The program featured Pratham, Karthik, Ashwin and Sadhana all on Mridangam based in USA, disciples of Vidwan Ramesh Srinivasan, along with Pdt Amarendra Dhaneswar, Pompa, Purbayan and Nirmala Rajshekhar accompanied by Asit Jana and Jyotirmoy Roychowdhury.
The grand finale was a recital of mridangam and santoor featuring maestro Tarun Bhattacharya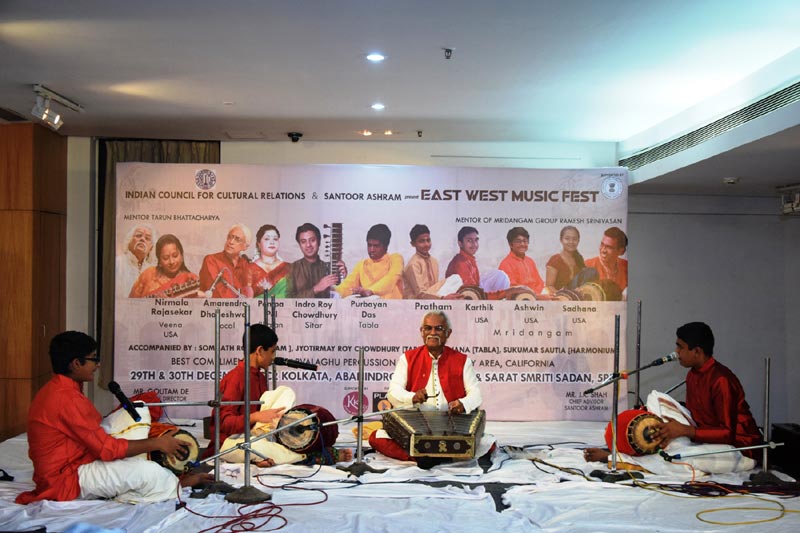 Santoor Maestro Pdt Tarun Bhattacharya, who is the Chief Mentor of the Festival East West Music Fest, said. "The fest will see a unique combination of young, upcoming talented musicians and recognized musicians sharing the same platform to express their love and passion for Indian Classical Music and to take the legacy of Indian Music Forward. Santoor Ashram has always been a forerunner in providing opportunities and platforms to upcoming musicians to showcase their talent."
Also present at the concrete were percussionist Prodyut Mukherjee along with PR Consultant Subhojit Roy along with other guests and music lovers.
Santoor Ashram in USA is a 501C3 a non-profit organization of that country.