Covid 19 has already changed the way we have lived so far when we took many things for granted. But as a sign of human resilience, people are also slowly adapting to the change. That includes dressing up fashionably still but keeping in mind the safety concerns. Anju Munshi takes a look at the current scene
When Kolkata's well known fashion designer Abhishek Dutta made his models walk the ramp with anti-pollution masks for the Lakme Fashion Week in 2012, little did he know that the mask was to become a big fashion accessory eight years later as the world reeled under the pandemic set off by Covid 19.
That particular shoot featured in many national magazines at that time. Today, as the mask becomes an essential part of an attire due to the virus attack, his designer line of masks is making waves. Denim masks, zipper masks, sequin masks, kantha stitch masks ,or in potochitra, kalamkari to ikkat - figure in his ongoing collection, matching safety with style.
It is given that Covid 19 has altered our lifestyle in many ways; the way how one dresses is a part of it. The virus in all probability is going to stay for a long while as virologists caution.
But life goes on. It is in human nature to evolve and adapt to situations. Hence there have been thoughts on options while working, socializing and even dressing.
Indeed dressing- up is no longer going to be divided strictly into formal or casual any more. The emphasis will be on comfort and being 'Covid- compatible'.
The designers too feel that basics in designs is going to be overhauled. Attire- wise, various modifications have made an appearance, says Dutta. For example, convertible garments, use of breathing fabric, and combining comfort and sustainability.
"There will be a demand for leisure wear, resort wear. Mostly people will be chilling out in comfortable and 'safe attires'. Volume dressing, ballroom gowns in wide circumference are under consideration, " Dutta says.
This would be somewhat like the Victorian gowns designed to allow the skirts to flare out with wired hoops to hold the dress. Those days, the wider the hoop, the better the wealth and social status it connoted. Today, the wider width is approved for better social distancing. Lehengas with cancans are a good option too, stylish and functional rather than slit and long flowing gowns.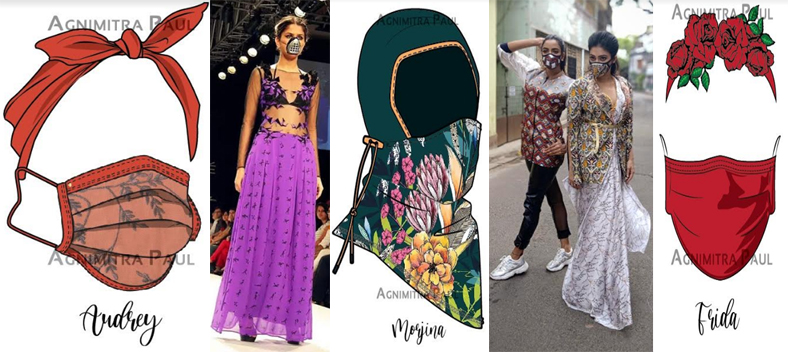 Bonnets- fashionable headgear for Victorian era women are being resurrected as a new style favoured by Agnimitra Paul, fashion designer and politician, Kolkata . "I would go for a headgear matching the masks," she says. Paul has designed an interesting array of innovative masks with matching headgears; each has a specific name based on colour, design and utility like 'Morjina', 'Frida', etc.
Personally she would recommend a transparent mask so that the lipstick matching in shade with the mask and headgear shows. Paul also works in Bollywood and finds that a bikini with a matching mask along with a matching headgear is going to be a novel concept . How would she name it ? 'Quadrapini', she replies promptly.
There are predictions that the fashion industry is going to be aggressively tech-savvy with garments so designed to flash one's body temperature. Digitization will help virtual reality VR so that without stepping out you can choose your stuff and see yourself in a 3D mode.
Indian weddings and get- togethers have more or less been curtailed significantly. Prêt-e-porter ready to wear and haute couture days are going to be over for some time at least. While prêt is available in a wide variety for customers with different sizes, haute couture is for the high end customers 'made to order' and impeccably tailored.
Earlier the focus was on seasonal clothing ,a trend that didn't sustain its attraction for long and one had to sell in that particular season.
Now designs are going to be in the 'slow fashion' category, in simple, breathing fabric and with more consciousness about hygiene and easy movements. The summer collection of 2020 is now accumulated in the stores and the designer community is trying to merge it with the winter requirements so that nothing goes waste and comes handy as part of the 'slow fashion' concept.
Tote bags are going to be designed to carry sanitizers, masks, gloves etc. and dainty clutch bags are out, according to the designers.
Despite the gloomy outlook 'till the virus goes away', there is a positive side too.
"This is the time when dabbling in your new design sense may actually facilitate your life, create some new avenues and vistas in fashion world and thereby introduce a new trend," says Carolyn Campo, former designer at Talbots, an American Speciality retailer and direct marketer of women's apparel, shoes and fashion accessories, in New York.
"We are learning more about upcycling and repurposing of garments and what we have with us already.We need to focus on materials that offer protection and filtration with antibacterial properties."
Campo has now started her own design line called Campofiore -floral artwork on breathable fabric.