With the chill of winter approaching one promptly retrieves the woollens and shawls that spell 'Kashmir', lovingly stored in boxes with mothballs in summer. Anju Munshi gives a lowdown on the rich heritage of Kashmiri woollen handicrafts
Kashmir, the name evokes images of kahwa tea, kangri- the earthen fire pot to keep warm in the chilling cold, and of course, the famous weaves spelling warmth. Those colourful shawls, caps, jackets , scarves, stoles and phirans keep cold at bay.
Long before thermals came into use to keep the body warm, Kashmiris have had cherished a treasure trove of clothes that speak of tradition and ingenuity . Hand crafted by skilled artisans, the versatile pieces can go with western and ethnic wear equally well even today. Among shawls, Pashmina and Shahtoosh reign supreme. Then there are the tweed jackets, embroidered phirans, stylish waistcoats, mufflers, scarves, gloves, caps all functional pieces that keep a person warm and comfortable but are statements in beauty too adding to India's famed handicrafts milieu.
Ensembles are often family heirlooms passed from generation to generation, especially during weddings of children. "Pashmina, Jamawar and Toosh shawls are known to bring magic to a daughter's trousseau and the status of the family is judged by the kind of shawls that she is given by her parents," says Bimla Dulloo, a teacher from Delhi.
Whether it is a handcrafted shawl or fine sozni or kani embroidered shawl – names depending on the needlework, the basic fabric is Pashmina which is an important symbol of Kashmiri identity. "It also builds a sense of well-being," says Jahnavi Mattoo, a homemaker from Meerut. She owns three pashmina sozni embroidered shawls given by her mother and two by her mother- in- law at her wedding. "I show them off with pride among my friends and relatives during get-togethers," she smiles.
Investing in a pashmina shawl is a matter of wisdom and pride because they are long lasting. In olden times the bridal attire was composed of a pashmina sari with fine embroidery. Even today, a couple of them make an important statement for a daughter's wedding.
Most of the pashmina wool is derived from the sheep of Ladakh's Changtang area. Known for its harsh and arid landscape with little vegetation, it induces the animals to produce an undercoat in order to insulate themselves against the bone-chilling weather. This soft coating under their bellies is six times finer than human hair and is used to making the expensive pashmina wool.
Skilled weavers from central Asia transformed the sheep's mane into a soft winter wear and the story goes that it was tough to tell which was the right side from that of the undersurface of the shawl, says Mohammad Ali Soz, a local craftsman. The original embroidery of a pashmina shawl and the workmanship is so intricate and time consuming that one needs much more time to get it finished. This explains the exclusivity and the high price that it entails.
Kashmiri shawl weaving tradition began with the Mughals in the 16th century. Mughal and Iranian kings travelled to British court where it acquired the stature of royalty and headed straight to the queen's wardrobe.
Jamawar shawl is a landscape of fine art and taste, mixing history and floral patterns on the pashmina and is reversible most of the times- so intricate and fine is this art.
Some twenty years ago this do-tarafa double-sided embroidery was a rage but with political turmoil in the valley many weavers and artisans either died or did not want to continue with the family occupation .The weaver community of Kashmir suddenly vanished, laments Soz. This craft is dying also because of the cheap foreign imports and the next generation disinterested in learning the skill.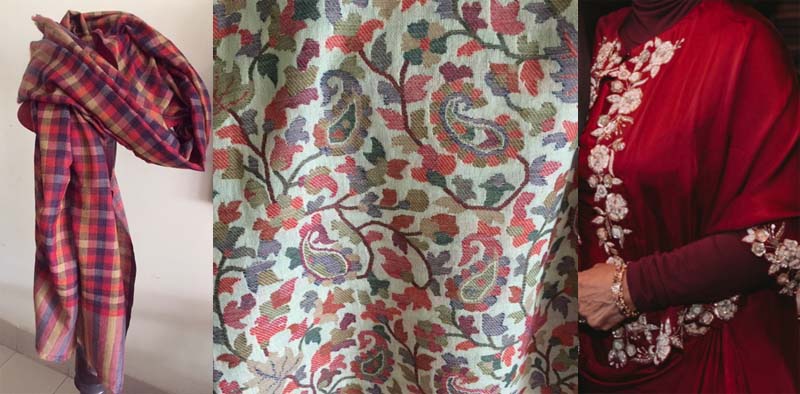 Tweed, a virgin wool product, is another warm and a durable fabric that is tailored into long winter coats, blazers, phirans, waistcoats and even trousers for the warmth it provides and versatility. The warm textile traditions have been incorporated by many designers in their collections in their capes, drapes and also in the designing of phirans, not as wide and long, but with slits, ideal for lounge wear and everyday use.
Shahtoosh is the king of the wool. It is now a banned item because the wool's source -the Chiru, is an endangered species. A shawl made of shahtoosh is known to be so fine as to be able to pass through a ring and hence the name, 'ring shawl'.
Raffal is a popular and less expensive wool. There are various kinds of embroideries that adorn its work. The finer embroidery is time-consuming and is generally reserved for expensive shawls, but for kurtas, phirans, skirts and jackets crewel or chain stitch work is more popular.
Tilla which means silver and gold embroidery, is customary wear for weddings.
Today many fake and semi pashmina outlets have found their way into the market. There are many who claim that they can turn out pashmina shawls and other cashmere woollen garments at half the price but the experts warn against such a buy because with time the softness and the warmth both wear off. "Some of the shawls, stoles and scarves being marketed as pashmina are likely to be inferior as they are made from acrylics regular wool and even cotton,'' says Soz. The fakes are equally soft and it is difficult to differentiate without an expert eye . Some even have a tag of being made in China, says Mirza Danish, a shop owner in Kolkata's famous New Market.
Upholstery and curtains for winter usage is made of cotton twill, says Qayoom of Pumposh Kashmir Shawl Emporium in New Market. Strewn with crewel embroidered flowers in many colours, the curtains look stunning. There are customised bedcovers, cushions, etc. with colourful Chinar leaves which can banish the wintry chill magically.