Sab ke liye Sabka Club! That's the impression of this unique all-day, all-season food hub—a place for all to put their feet up! Sab Ka Club has innovatively explored its sprawling space to create a heterogeneous environment. Pratik Agarwal, brand owner, states, "Sabka Club is all about community culture inspired by the warmth and essence of this City of Joy which celebrates life. An attempt has been made to capture the feel of Kolkata by using elements of architectural and interior design elements from a bygone era."
There's a section where the opulence of a typical zamindar's house is represented through the ornate-looking wrought iron chairs placed around a faux fountain. It captures the mood of a bygone era. An extension of this section has used sports chandeliers, ornamented lampshades, a gigantic lotus painting covering a wall, rich upholstery with floral motifs, and white pillars adding to the colonial feel. Black and white checkered tiled flooring, white and grey colours, vibrantly rich velvet curtains, wooden furniture with teak finish, unfinished walls and pink lotuses—have all combined to create an interior that boasts of a mix of conventional and unique décor elements.
This newest F&B outlet in town is perched atop Haute Street Corporate Park— on the Sixth Floor at 86A, Topsia Road, Kolkata. Spread across 7000 sq. ft. area with a seating capacity of over 200, Sabka Club has innovatively explored its square foot area to create a multi-mood environment. Its multi-cuisine spread adds to its attraction.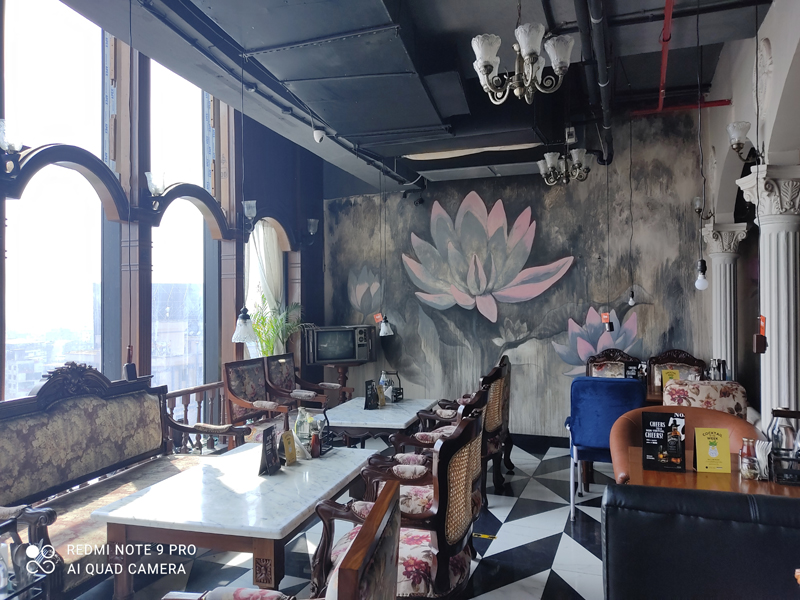 At Sabka Club (SKC), the customer is spoilt for choice! Sab ke liye sab ka manpasand khana seems to be their motto—something for everyone. Thus the Sabka Club menu includes a delectable variety of soups, salads, snacks, pasta, burgers, pizzas, momos, select Chinese dishes, and their 'Happy Endings' or desserts. From SKC's 'Kamaal ke Munchies', the must-haves include Jalapeno Balls with cheese served with sriracha mayo and salsa dip; American Fries—batter-fried potato fingers, which are baked, and Apna Special Nacho—SKC's take on nachos using chef's secret sauces.
Try their Macaroni Pasta Salad, Kolkata Style Fish Finger(Betki), Mushroom and Cheddar Bruschetta, Crispy Sesame Honey Chilli Fries, Chilli chicken Kolkata style, Bharwan Aloo, Classic Chicken Burger, Slice Chicken in Lemon Garlic Sauce with Chilli Garlic Noodles—but this is not the complete menu, of course! You ought to pay a visit to explore the culinary delights on offer! I sampled a variety–Ajwaini Fish Tikka, Pan Fried Momos, Stuffed Grilled Chicken, Cheesy-dar Garlic Bread and the one which actually satisfied my taste bud was the Chicken Spring Rolls! It was perfectly done—crispy with generous chicken filling. The Cheesy-dar Garlic Bread lacked the 'garlic' flavour. Ajwaini Fish Tikka, Pan Fried Momos came overtly spiced with masalas and sauces respectively. I loved the Stuffed Grilled Chicken with its green peas and cheese stuffing!
With good food, Sabka Club has laid out a variety of drinks to complement the food platters. The 'Sabka Paisa Wasool' selection of drinks comes at affordable prices. It has some appetizing drinks, among which we are highlighting a few. But this place has a lot more to offer apart from the mentioned ones. You can select from a wide range of innovative drinks like Velvety Red Sangria with a popsicle, Sub ka Ginger Orange Old Fashioned (Adrak Wali), Blueberry and Basil Mojito, Burnt Orange Ginger Basil Mojito, Pineapple Tandoori Smoked Margarita, Virgin Aam Panna Gondhoraj Mojito, Aampanna and Gondhoraj Margarita Martini A-La-SKC, Blue Lychee Margarita. All these amazingly curated drinks will surely excite your senses. I relished sipping on the mocktail— Virgin Aampanna Gondhoraj Mojito!
What makes Sabka Club unique is its spacious interiors, where attention to comfort has been given priority. The restaurant has an impressive collection of a few antique items, viz. the gramophone, radio, trophies, and a pendulum clock, enhancing its old world charm!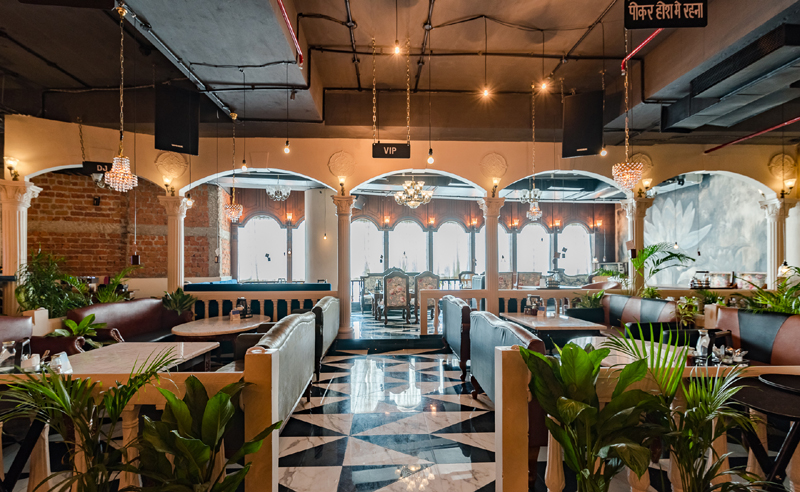 Sharing two recipes to try out at home—
Virgin Aampanna Gondhoraj Mojito(Mocktail)
Ingredients:
1. Lime chunks—5-6 pcs
2. Mint leaves—20 gm
3. Lime juice—20 ml
4. Sugar syrup—20 ml
5. Aampanna syrup—20 ml
6. Sprite—20 ml
7. Soda-40 ml
8. Garnish—lime slices, mint sprig
9. Monin Mojito syrup—20 ml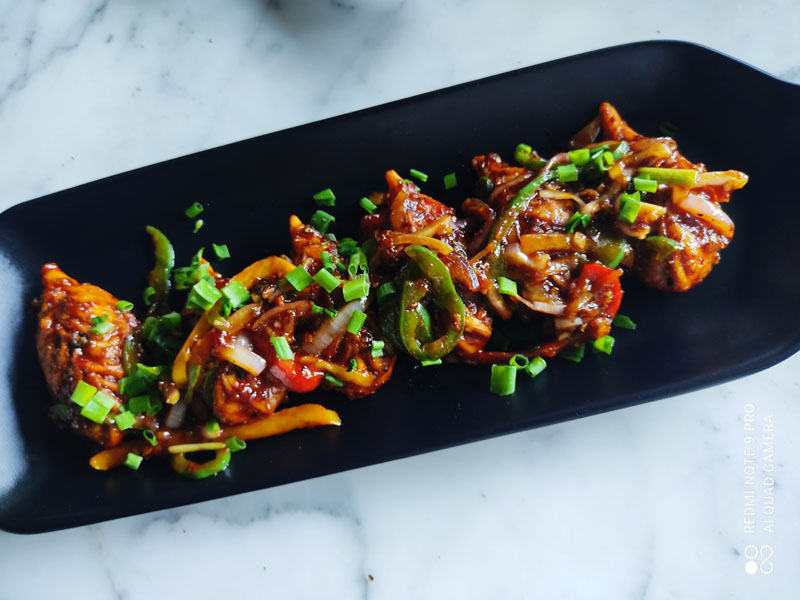 Method:
1. First take the lime chunk, mint leaves, lime juice, Mojito syrup and mix properly.
2. Add Aampanna syrup, Sprite and soda in it with ice cube and stir it properly and serve it in a tall Glass.g
3. Add the lime slice and mint sprig on top of the glass as a garnish and serve chilled.
Stuffed Grilled Chicken(From Continental Section)(Stuffing of Green Peas and Amul Processed Cheese)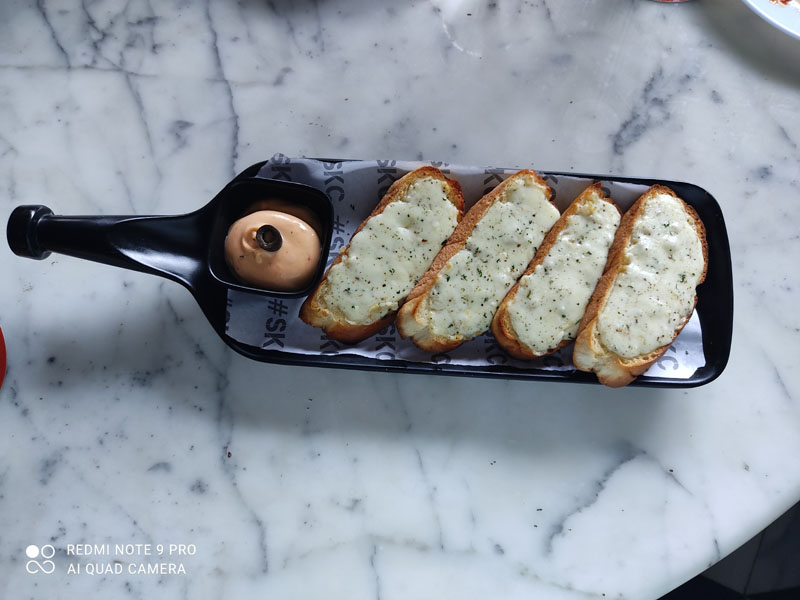 Ingredients:
1. Green peas—100 gm
2. Amul processed cheese grated—50 gm
3. Salt—As per requirement
4. Pepper powder—10 gm
5. Chicken breast whole—180 gm
6. Rice—50 gm
7. Parsley—10 gm
8. Brocolli—30 gm
9. Zuchini-25 gm
10. Button mushroom—25 gm
11. Carrots-25 gm
12. French beans—25 gm
13. Butter-30 gm.
14. Amul fresh cream-30 gm
15. Maida (refined flour)-100 gm
16. Olive Oil—30 gm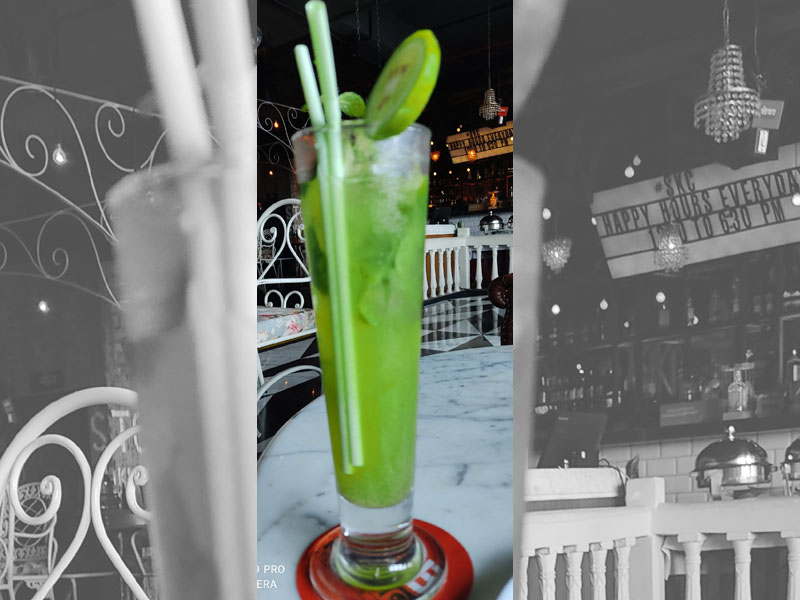 Method:
1. First boil the green peas and mash it properly with grated Amul cheese and season it with salt and white pepper as per requirement. Make a round shape and keep aside.
2. Saute maida and butter properly, add a bit of milk and fresh cream and keep the white sauce separately.
3. Boil all the vegetables and then sauté them with olive oil. Add salt and pepper as per taste.
4. Saute the boiled rice with dry parsley and keep it separately.
5. Grill the breast of chicken separately for 15-20 minutes and then stuff it with mashed green peas and cheese and bake it in an oven for 4-5 minutes.
6. When serving, cut the grilled chicken breast into three pieces and top it with the white sauce. Put the sautéed vegetables and herb rice on a plate and serve it hot.
What makes Sabka Club unique is its spacious interiors, where attention to comfort has been given priority. The restaurant has an impressive collection of a few antique items, viz. the gramophone, radio, trophies, and a pendulum clock, enhancing its old world charm!
Address: Haute Street Corporate Park 86A, Topsia Road, 6th Floor, Kolkata – 700046
Open on all days between 12:30 pm and 11:45pm.