Anthology 'Abrittir Kobita' fulfills a void in the world of Bengali recitation, say poets and elocutionists
Kolkata, Sep 21 (IBNS): It is not easy to select poems for recitation because an elocutionist has to cater to a varied audience at any given time, said Sutapa Bandyopadhyay at the launch of the book named 'Abrittir Kobita', at a programme held at the Starmark book and lifestyle store in Kolkata.
The book, edited by Bandopadhyay and published by Patra Bharati, is a collection of 65 poems by noted Bengali poets and authors.
The book is also accompanied with a CD, where Bandyopadhyay has recited some of the poems from the book.
The book was launched in the presence of writer Subodh Sarkar, lyricist and writer Srijato, actor Shankar Chakraborty and sarod player Pandit Debojyoti Basu.
The poems selected by Bandyopadhyay include those written by Rabindranath Tagore, Kaji Nazrul Islam, Dwijendralal Roy, Sukumar Ray, Shakti Chattopdyay, Purnendu Pattrea, Shankha Ghosh, Taslima Nasreen, Subodh Sarkar, Srijato, Arani Basu among others.
Said Bandyopadhyay, "Many of my fellow elocutionists have edited such books and I also wanted to do it. Every performer would know the struggles of selecting the right poems, the right songs for a particular show. Every audience is not the same. So selecting the right poem is very necessary, I think the book does exactly this. I have selected poems which, according to me, are meant for recitation. Aspiring elocutionists are likely to benefit from this book and also those who can't memorize everything. I hope the readers enjoy this book."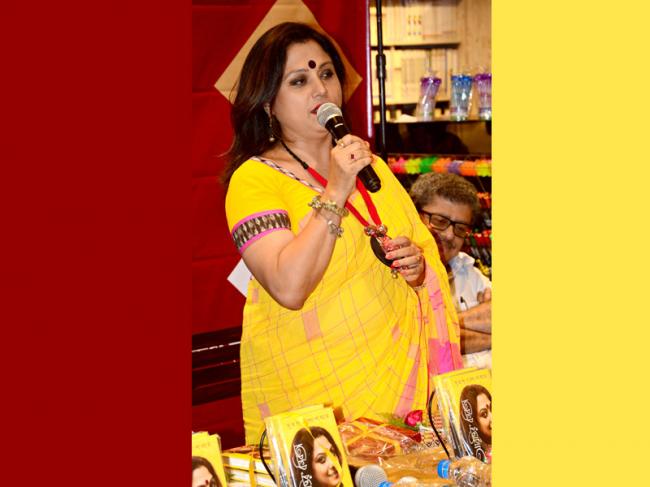 Actor Shankar Chakraborty who himself recited poems before becoming an actor, said, "Before acting in films and television, I used recite poems at stage shows. I was not good at memorizing. So I could only recite one or two poems. This books comes in very handy in situations like these. I am sure a lot of us who perform cannot remember poems. The shape and size of this book allows you to carry it everywhere. There is another important quality of this book, the poems selected are meant for recitation, you don't have to search 10 books to find the appropriate poem. I congratulate Sutapa on a job well done."
Writer Subodh Sarkar whose poems are included in the book shared his feelings on the book and digital society we are living in. He said, "I am extremely thankful to Sutapa for including me among such esteemed group of poets. In today's society, the biggest problem is that a publisher or a writer works so hard on a book and because of this shameful piracy culture, the book immediately is transformed into a pdf. All of their efforts and money are wasted, I think the book is exceptional and is very helpful, I hope the audience will appreciate it."
Srijato's poems have also been featured in the book. He also thanked the elocutionist for considering his writings among poets like Kazi Nazrul Islam and Rabindranath Tagore. He talked about the benefits of a book like this for readers like him, "I am an avid reader and have innumerable books but when I feel like I want to read a particular poem by a particular poet, I never find that book. Because there are so many books that I lose track of them. A book like this is very useful for someone like me, it is small and handy and has all the poems that one would want to read."
The book is priced at Rs 150 and available at all Starmark outlets across Kolkata.
(Reporting by Tirna Chatterjee)