Popular mystery story by Shrishendu Mukhapadhyay now available as a graphic novel 'Pagla Sahib's Grave'
Kolkata: A popular children's story in Bengali, 'Pagla Saheber Kobor', by noted author Shirshendu Mukhopadhyay, will now be available in the form of an English graphic novel.
The graphic novel, titled 'Pagla Sahib's Grave' was recently launched in the presence of the author and others at the South City outlet of the popular bookstore chain Starmark, an Emami Group venture, which is also the publisher of the novel.
The illustrations have been created by Harsho Mohan Chattoraj with Shuvorup Bhattacharjee's script and Arundhati Gupta's text.
After the launch of the book, Chattoraj was in conversation with the author in the presence of Gautam Jatia, CEO, Starmark.
While the author didn't give out all the details of the book, he gave the readers a peek into the background of the characters.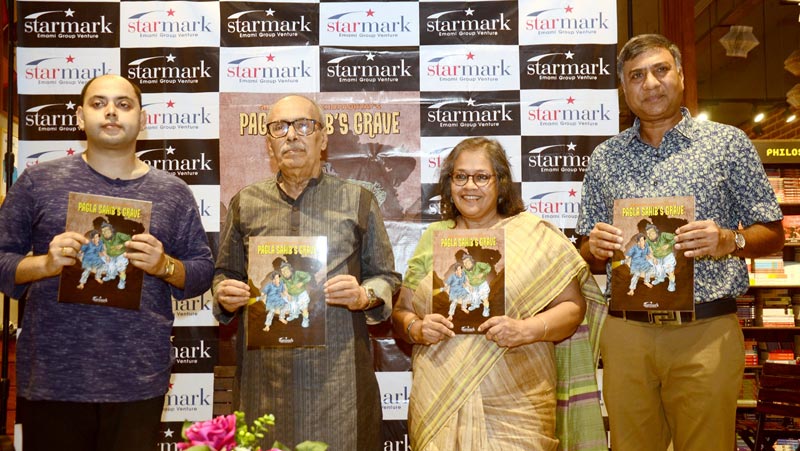 Mukhopadhyay said, "Pagla Saheber Kabar bears traces from my childhood. The book was written with the prime intention of providing entertainment to my young readers, where mysterious settings, a lovable thief, and a ghost form the basis for adventure and fun."
"If my readers get to know how I write a book, maybe many of them will not consider me an author anymore. I always think of the first sentence, and then I start developing my story around the sentence," said Mukhopadhyay about his style of penning a story.
Starmark, which has forayed into the publishing of graphic novels based on the works by noted Bengali authors, has already published 'Ghost of Gossain Bagan', 'Incredible Splendour', 'The Boxer', and 'Chakrapurer Chakkare', all written by Shrirshendu Mukhopadhyay.
Said Gautam Jatia, "Bengali literature has a very rich heritage, and we wanted to introduce these evergreen stories to a larger readership base. Hence, we thought that bringing out these in a graphic format would appeal to more people, especially youngsters".
He said that the graphic novel is available on all digital platforms for readers across the country.
(Reporting by Shaibalina Choudhury)

Image Credit: Avishek Mitra