Author interview: Dr Ashutosh Jain on his book 'Punarbhava – A Hero Reborn'
Although a fantasy action thriller, 'Punarbhava' draws inspiration from the Sanatan Dharma of India, says the author.
Congratulations on the release of 'Punarbhava'. You are not a full-time writer. How and when do you manage time to write in between your regular career?
Thank you very much. I hope readers are liking the book. Finding time to write this book simultaneously with my practice as a doctor has been a Herculean task. There have been long periods when it became challenging to devote time to writing. However, there is an inherent power inside everyone that comes out when you focus on doing something that excites you. Writing regularly has been the key to avoid any sort of writer's block.
After a grueling day of taking care of patients, I would squeeze time into my schedule to write, even if it was only one sentence in a day.
What kind of books inspire you as a writer? Who are your favorite authors and poets?
My school and college days were filled with fantasy fiction and Russian folk tales. Growing up, Lord of the Rings was one of my favorite book series. I was also genuinely intrigued by science fiction books. Isaac Asimov has been my childhood idol and biggest inspiration as an author - his books introduced me to the vast potential that the human mind has - a concept integral to the story of Punarbhava.
I am also especially fond of Larry Niven. His work is primarily hard science fiction, using big science concepts and theoretical physics. I am awed by his magical vision and creative ideas like in the Ringworld series.
Why did you want to become a writer? Who inspired you to become a writer? What triggered you to come into writing?
Some people in this world are born with an overactive and inquisitive mind. Throughout my life, writing has been my way of expressing all my thoughts and ideas - my solace. Being an avid reader myself, I understand the sheer power words can have. I started with writing poems, short stories, and articles on various online publishing platforms.
The love and encouragement received from the readers of my blog, my friends and family, gave me the courage and confidence to turn my dream of being a published author into a reality. When the readership of one of my articles on Medium.com crossed 3,72,000 views, it sort of triggered me to take my storytelling to the next level.
And five years later, here we are!
What are you doing to let readers know about your book?
I am a very reserved person, I don't believe in hard selling. The book will speak for itself. In fact, readers can download the first three chapters for free from the official website (https://www.indianmythologybyashutosh.in/)
The vital aspect over here is making readers aware that this book is out there for them to read. So through my blog and other social media, I am trying to reach out to the readers who like action and mythology, and fantasy aficionados, who I think are the perfect audience for Punarbhava.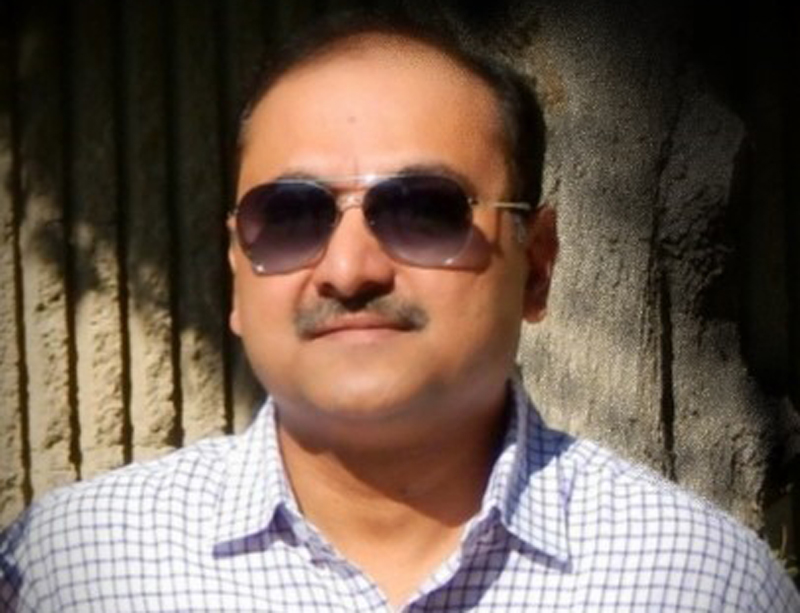 Tell us something about your book—some highlights.
'Punarbhava' is not just a book- it's an introduction to the great Indian philosophy, still unknown to many. I am a firm believer in the core principles and ideas of Sanatan Dharma. The Indian subcontinent has seen many invaders, many different schools of thought, but Sanatan Dharma has withstood the test of time. This book offers the readers a refreshing and intriguing glimpse of what our great religion has to offer. But instead of preaching it through monologues, our ancestors preferred to spread Dharma through the stories of Purana, and the book is my effort to get this message across the most powerful tool in this world – Storytelling.
Let's come to the characters. Captain Abhinav Trivedi - the protagonist of the book is like Arjuna from Mahabharata if I need to draw a parallel. He too needs the right guidance and counselling, which will help him clear the hurdle of self-doubts and motivate him to fulfill his destiny. Friends play a major role in our lives, and Major Ravi Chandra, above everything else, is Abhinav's loyal friend. He is an integral part of Abhinav's journey, but he will also find himself along the way.
Then there's Gayatri, the powerful yet serene Yogini. Gayatri, is my daughter's favourite character. She is an embodiment of the modern woman for me. Capable in her own self and an important voice in each discussion.
The romance between Gayatri and Ravi is pure and gentle, and something that the readers will enjoy a lot, according to me.
Though most of the characters from the epics have been overused by the fiction writers in India, Shukracharya is one character that is still unexplored. Be prepared to find out many new aspects of this evil genius in the book.
Tell us something about yourself and your background.
I was born in Delhi to a typical middle-class Indian family. My father is an engineer, and my mother is a homemaker. Yes, like most of the children from the eighties, I also spent my days running around on the streets, playing cricket, and orchestrating pranks. But, reading, debating, sketching, and listening to popular music was always more preferred. I, along with my sister, used to save our pocket money to buy comic books and rent books from private libraries.
I have been a pan India man, my family shifted many bases since my father was an engineer with the Uttar Pradesh government. I finally ended up in West Bengal, where I studied Medicine and met the love of my life.
Now I am heading the General Medicine department in a Super Specialty Hospital in Meerut. Happily settled with my wife and three children.
Do you plan to take it up as a full-time profession if the response is good?
I am in a noble profession. over the years, I have realized the responsibility a doctor carries towards society. Moreover, I enjoy my work. So while I will definitely make more time for writing about things that are close to my heart, I will continue with my practice as a doctor.
The readers can rest assured that they have nothing to worry about, I have already started writing an exciting sequel to 'Punarbhava'.