The university, named after Goddess Durga, is located in the Himalayan foothills, in Solan, Himachal Pradesh.
Atul Khosla, pro - vice chancellor, and members of faculty, Pratip Majumdar, Koushik Das Sharma and Vipin Pubby, spoke in detail about the university's graduation and post-graduation courses.
They also said that the university is the first in the country to offer undergraduate research programmes. It also has 60 patents under its name.
"For a great university, there must be a foundation of research. So most of our 200 faculty members have PhD degrees and that is the base we build upon." said Atul Khosla.
He said, "Our focus on research is mostly based on life sciences."
Being one of the top universities in North India, Shoolini University is home to about 3,500 students.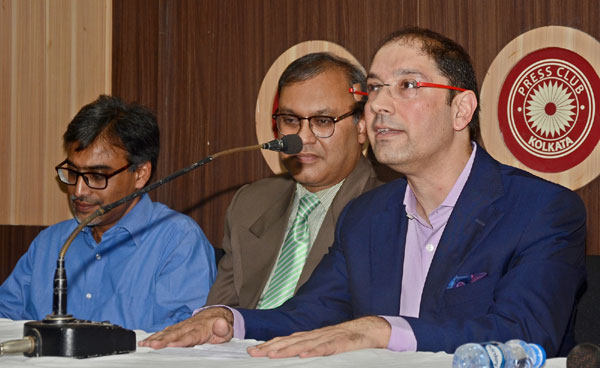 More than 30 bilateral exchange programmes with universities, such as Stranford, are available, The university also offers seven months of internship programmes in all courses.
Innovative courses like BSc. in Yoga Sciences are not only at par with the country's demands but can place individuals in hotels, spas and resorts worldwide.
There is also an 11 month Young Journalist's programme in Digital Journalism, a specialised course in Law, PG diploma in Business Management, BSc in Hotel Management, Bsc in Agriculture, B Pharma, etc.
Professors like Pratip Majumdar, Koushik Das Sharma are mostly industry experienced and hence can guide the students according to practical industrial standards and develop the curriculum likewise, said Khosla.
Pratip Majumdar, a faculty for Hotel Management, said, "The focus is on practical knowledge along with abundant theory to make them a complete hotelier when they go out."
The undergraduate Summit Research programme is offered to students is very different from places which offer research only after post graduation.
Kaushik Das Sharma said, "We are trying to develop practice based programmes where we can produce students who are not only technically sound but practically aware."
Shoolini's pro-active placement cell, which a Placement Week, the first of its kind in Himachal Pradesh, managed to place students in leading industries like LG Electronics, Genpact, Pepsi, HDFC, Volvo and so on.
University officials claimed that although the fee structure, including tuition and hostel fees, is manageable, yet based on a student's capability and financial condition, there are options of fees waiver along with various scholarships and free-ships so that education can reach out to the masses.
The campus has a gymnasium, clubs for dramatics, music, art & craft, a cineplex, basketball, tennis, badminton courts, yoga cum meditation centre, 24*7 internet connectivity and other facilities to help groom the students in an all round manner.
Reporting by Shilpa Salwan. Images by Avishek Mitra