Dubai-based DMCC keen to enhance business and cultural ties with Eastern India
Kolkata, Oct 5 (IBNS): DMCC, Dubai-based leading trade and enterprise hub for commodities, recently organised a programme called 'DUBAI KOLKATA: The corridor between the Middle East and Eastern India' in Kolkata.
Trade and cultural links have tied the Gulf countries and India together over centuries. This programme aimed to foster much closer ties between the two regions.
DMCC is a Government of Dubai entity, dedicated to enhancing Dubai's position as the global gateway for trade by providing world-class physical, financial and smart infrastructure as well as regulatory frameworks, services, and expertise needed to build marketplaces for success.
Gautam Sashittal, Chief Executive Officer, DMCC, said "Valued at just US$180 million in the 1970's, compared to the US$50 billion we see today, the UAE-India partnership is a great example of how strong leadership and collaboration delivers. Our inaugural DMCC Made for Trade Live road show in Kolkata sets out to build on this success by connecting business leaders in Kolkata, West Bengal with Dubai's pro-business community to unlock new opportunities and strengthen the future of trade for all."
The Dubai-Kolkata corridor meet had been organised to enable DMCC members to connect with business interests in Kolkata, tapping its geopolitical area of more than 500 million people.
By tapping into the inherent strengths of Dubai and Kolkata, the event aimed to boost exchanges and investments across the two cities, the organisers said. Likewise, businesses in Kolkata looking to expand into new markets will benefit from learning more about DMCC and its Free Zone offering.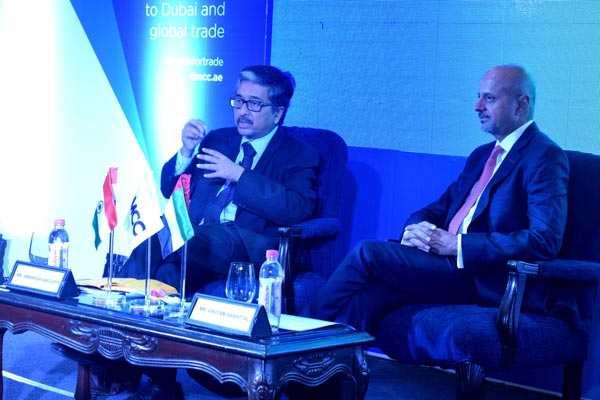 Ambarish Dasgupta Senior partner, Intueri Consulting LLP said, "Multi country approach to doing business is a method many countries are adopting in the present state of global economy. Pacts are being signed between countries to bring about integration in business and bringing self sufficiency. West Bengal having a long coastline offers an excellent opportunity through its waterways as a trade route which is often a cheaper way of doing business than conventional routes. So this meet serves to connect the gateway of world –Dubai to the gateway of eastern India and South East Asia-Kolkata and exchange business interests between the two corridors. Having explored Mumbai and Delhi ,DMCC is here to explore the inherent strengths of the region in manufacturing, services , and seek other business opportunities and offer the facilities of DMCC to set up business in Dubai."
The keynote address on 'Indo-Arab Cooperation in Transport and Logistics' was delivered by West Bengal minister Javed Ahmed Khan.
"Today, in this event promoted by the DMCC, with the collaboration of Art Valley, we send forth a message of integration," said Khan. "Before the British Empire, another empire came to India and even to Bengal, it was the Roman Empire, where integration was the model. This integration event is aimed at forging new friendships between India and the Arab world and therefore also rebuilding and renewing existing ties."
He said, "The DMCC, the world's most effective Free Zone, shows us a model useful for Bengal in terms of a leading trade and enterprise hub for commodities."
Prominent speakers at the conference also included Ahmad Sultan Al Falahi (Minister Plenipotentiary - Commercial Attache, Embassy of India), Krysta Fox (Executive Director, DMCC), Sanjeev Dutta (Executive Director, Commodities, DMCC), Pankaj Parekh (Chairman IICCI Eastern Regional Committee), Gautam Ray (Vice President, FOSMI), Zia Nafis (Director NTI Group, Adjoint Secretary of the CLC Tanners Association), Satyavrat Singh (CEO, JS Group), Amitesh Singh (CEO, Suman Forwarding Agency), representatives of IICCI, and Tanneries Association.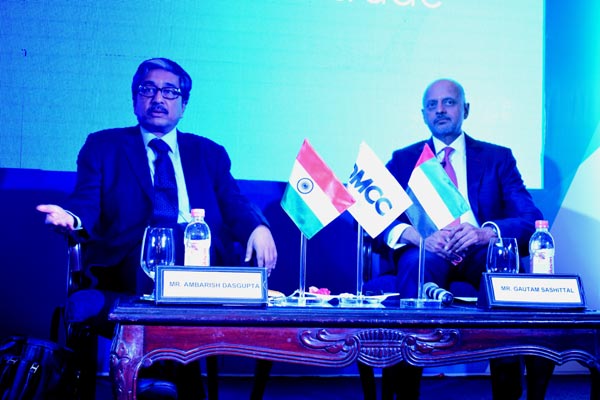 The conference was designed and co-organised in partnership with ArtValley, an international organisation that hosts international projects for the promotion of cultural and business ties.
"Since we've been working for years to build bridges between areas experiencing growth and we're already been dealing with exchanges between Italy and West Bengal, we also realised that trade between the Arab Gulf and Eastern India has a long history. The development of exchanges between the DMCC in Dubai, a world-class trading marketplace, and West Bengal, the area with the fastest-growing GDP, can bring major growth increases for both parties," said Prof. Alberto Cavicchiolo, Director, ArtValley.