News
The Bengal Chamber hosts seminar on education strategies for gen-next
Kolkata, May 7 (IBNS): To identify educational strategies and introduce technology-based learning, the Bengal Chamber, in association with Sister Nivedita University and IIHM. recently organised a seminar titled "The Millennial Learning-Education Strategies for the Gen Next", in Kolkata.
Usually, those born between 1980 and the mid 1990s are referred to as the 'millennial generation'.
Spread over three sessions, the seminar focused on the dynamic changes in educational systems and how technology and smart learning can slowly take over conventional classroom studies.
Suborno Bose, President of the Education Committee of Bengal Chamber, said, "The vision for higher education is the value-based excellence, which will be leading to innovation, employment and entrepreneurship."
Dr. Anil Sahasrabudhe (Chairman, All India Council for Technical Education); Bruce Bucknell (British Deputy High Commissioner, Kolkata); (Prof) Dr. Ranjan Saxena (Vice-Chancellor, NMIMS) and Leonie Muldoon (Senior Trade and Investment Commissioner, Australian Trade and Investment Commission, New Delhi) were some of the key speakers.
Leonie Muldoon, who spoke on "Higher learning ecosystem and the strategic application to education in Australia" said, "This generation has never lived without gadgets and this means that the education system should also reorganize and change."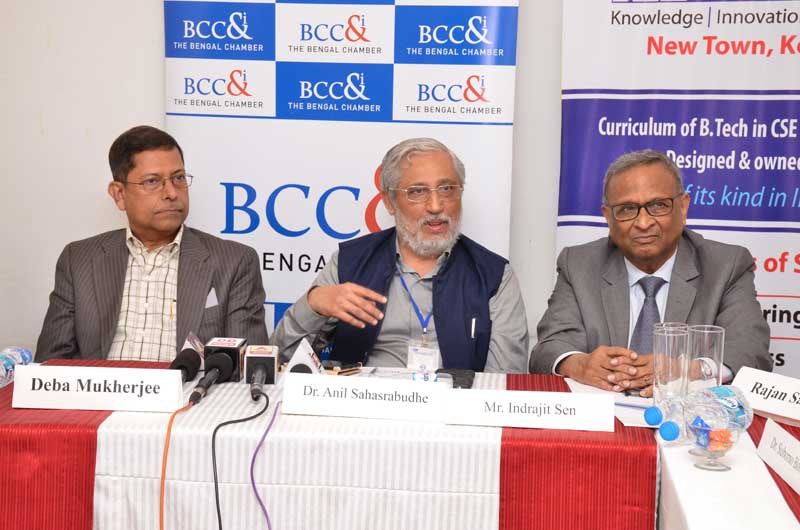 IBNS asked Dr. Sahasrabudhe if the paradigm shift in the educational field will entail economic pressure on the institutions and learners.
"Not all equipment are expensive and the colleges can afford them, while for industry level training internship in the best gateway to succeed," replied Dr. Sahasrabudhe.
While replying to IBNS's query on training teachers in the new processes, Dr. Sahasrabudhe said, "We are doing a lot of things to see that those getting recruited have sound knowledge of the industrial world."
The question of English language training was also raised.
Bruce Bucknell emphasized on the training programmes provided by the British Council.
The launch of The Skill India Mission in 2018 by the Central government to make India the largest workforce producer in the world by 2022 was also discussed.
(Reporting by Sourajit Choudhury)