The Maritime and Logistics industry, including Ports and Shores side infrastructures, forms a major part of any country's overall infrastructure. It not only plays a vital role in the development of the trade but also contributes considerably to the growth of export import policy (EXIM).
"The objective of this workshop is to provide realistic knowledge on the developments taking place in India in the maritime and logistics sectors and to understand the challenges being faced by the maritime and logistics industries," said Capt. S.B. Mazumder, Chairperson, Shipping Committee, The Bengal Chamber.
"Besides, an important area covered in this workshop is safety of our Indian coastline," said Capt. Mazumdar. "The objective of covering this topic is to highlight to the audience the safety of our Indian coastlines."
Apart from the above, the workshop also focused on another important area -- Protection and Indemnity (P & I) of the ship owners, which is done by a Standard P & I Club.
"The objective of covering this topic is to highlight the operations and activities carried/undertaken by a Standard P & I Club for the benefit of the Shipping fraternity. We at the chamber are happy to announce that some of the suggestions provided have been included in the Ministry," said Capt. Mazumdar.
The workshop highlighted that though the Indian logistics industry has improved with changing business ecosystems, it is still far behind qualitatively when compared to developed nations.
Logistics costs in India are high due to poor infrastructure, high waiting time at ports due to congestion, inadequate facilities, technological problems, lack of skilled human resources, etc.
To overcome the challenges the government and private sectors need to make necessary efforts to steer India's growth in this sector, pointed out the stakeholders.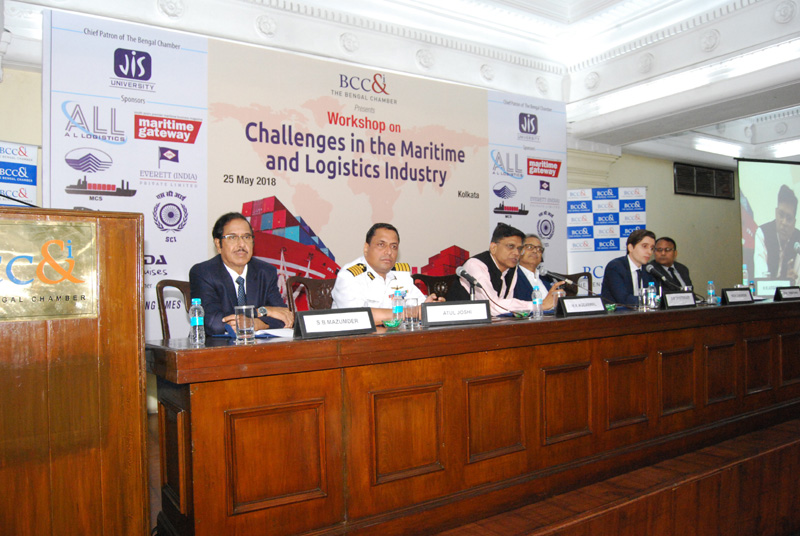 K Swaminathan, Director (Service Business), Balmer Lawrie & Co Ltd, said, "India has 12 major and 200 notified minor ports. Port logistics is dependent on container volumes. CFS or Container Freight Stations were conceptualised in 1989 to decongest ports and to provide relief of providing storage area and facilitate faster clearance for EXIM containers. Both government undertaking and private companies are making significant investments for setting CFS across major ports of India."
K K Aggarwal, IRSE, Joint Secretary – Sagarmala Project, Sagarmala Cell, Union Ministry of Shipping, spoke about the Sagarmala Project being the first of its kind program for promoting port led development in India.
He said, "The vision of Sagarmala was to reduce logistic cost for EXIM and domestic trade with minimal infrastructure investment . Port led development includes port modernisation, port connectivity, port led industrialisation and coastal community development. Skill gap study of 21 coastal districts has been completed and domain ministries and state governments have been asked to implement district action plans.The Sagarmala program aims to synchronise works by over 60 implementation agencies for a coordinated port development . Till now 59 projects have been completed of Rs.11,299 crores and 162 projects under implementation. The number of project completions are expected to double in current financial year."
Other key speakers included Atul Joshi, Dy Inspector General, Indian Coast Guard, Eastern Region, Nick Dimokidis, Senior Claims Executive, Charles Taylor Mutual Management (Asia) Pte Limited, and managers of The Standard Club Asia Ltd, Singapore ( P & I Club).
The workshop was intended to be an eye-opener for those in the maritime trade, especially in the EXIM trade, shipping and logistics players, supply chain companies, barge operators and manufacturers, real estate developers.