EII gave me precise mindset, says GATE 2021 Chemical Engineering topper Dhruval Kumar Thakkar
New Delhi: IIT Bombay has released the result of the Graduate Aptitude Test in Engineering (GATE 2021) on 19th March 2021. The test was conducted in February in which nearly 7.1 lakh candidates had appeared.
Dhruval Thakkar secured AIR-1, scoring highest 89.66 marks in GATE 2021 Chemical Engineering. Being an average student from DDU Nadiad, Gujarat he never expected to be a top ranker before joining EII.
"Engineers Institute of India gave me the precise mind-set and planning for the exam," said topper Dhruval Thakkar, who appearing in his second attempt in GATE 2021 became a topper. "Consistent practice and right guidance keys to his success," he said.
In his first attempt at GATE 2020 he had scored 2406 rank, but later with sheer dedication and strategies he cracked the top rank.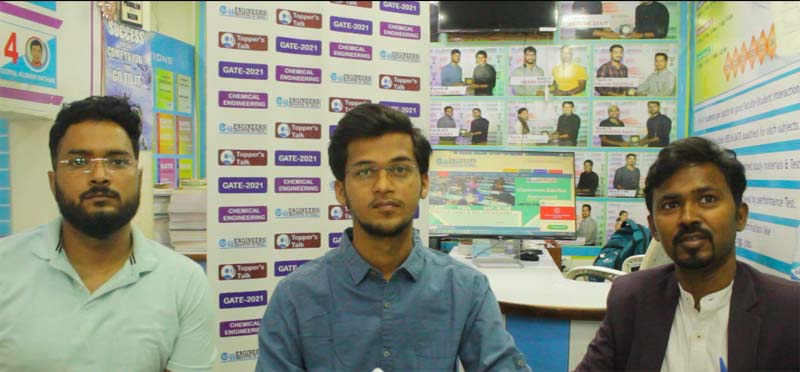 Speaking on the occasion Mr. RK Rajesh, Founder & Director of Engineers Institute of India (EII) said: "Considering the recent examination pattern study material gets revised on a regular basis, which helps students to prepare and deliver more competently. In Chemical Engineering GATE 2021, Top RANK 1,2,3,4,5,7,9 are from EII. Through our Classroom, Online classes & Online assessment test, every student is able to get exclusive one to one guidance from the faculty which will always helps them to deliver better results."
About Engineers Institute of India (EII)
EII was established in 2008 by Mr RK Rajesh with a goal to deliver a quality learning platform where one can learn Engineering subjects in such a way so that they can come out of fear of being an unqualified Engineering Professionals.
Mentors are well experienced and self qualified with top AIR in GATE and other competitive examinations and most of them are working as permanent pillars of this institute.

Mr. Pradeep Singh, Mr. Priyant Chaudhary, Mr. RK Rajesh are among top instructors having enormous craze among students. As they teach in such a way so that an average student can understand and perform at top level.
In recent years many top rankers are produced in exams like GATE, BIS, EIL, IOCL, ONGC, BARC, ISRO, GAIL, CIL, NFL...etc.
Selection ratio and top results are coming year by year, due to hard efforts and dedication towards teaching and delivery of examination oriented contents. Institute also provides scholarship and various options for financially weaker and meritorious students.
More than 300 students have been placed in various PSUs in recent few years.
https://www.engineersinstitute.com