Female impersonation as a genre in stage performances has a long history in India. Today, that tradition is all but dead but its contribution to the field of performing art cannot be ignored, says Shoma A. Chatterji
Young people of the present generation enjoying a play or a dance drama would find it ridiculous if a male is dressed, and acts, as a woman. But it was widely prevalent earlier if you look back at the history of India's performing arts. Presence of female impersonators in Greek and Victorian plays has been well documented in the world history of theatre too.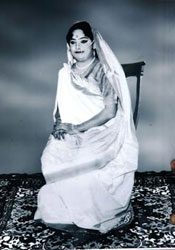 In India, among traditional theatre forms that employ /employed female impersonations are encountered in forms like the Ramlila on the story of Ramayana enacted annually during Dussera in north India, Krishnattam of Kerala performed in temples, Raaslila, Krishna's ethereal dance with Radha and the gopis under the moonlit sky, Therukuttu folk theatre of Tamil Nadu, Bhavai of Rajasthan when the dancer balances pitchers on the head while dancing, and Jatra in Bengal. In the sattras (Vaishnavite ashram) of Majuli, the river island in the midst of the Brahmaputra, young boys still impersonate the women characters. In Andhra Pradesh classical dance Kuchipudi even a few decades ago was performed only by male dancers.

The history of Jatra, a popular folk theatre form of Bengal, dates back to nearly 400 years.

For decades, female impersonators held centre stage across rural and even urban Bengal when the idea of women playing themselves on stage was not socially accepted. The Jatra is still popular, especially in the rural areas with the difference that today, actresses enact the female roles.

An interesting programme, Future Footprints: Obhijatra recently presented by the Future Media School (FMS), Kolkata, looked at the journey through the past and future of this traditional art form through an ensemble of artistic performances, film screening and interactive discussions. "This is a homage to androgyny in performing arts through these 'queens' of stage, who espoused the precept of gender-fluidity, a concept of the future," says Sujoy Prasad Chatterjee, the artistic director.

"Heritage is as important as technology and innovation. At FMS, we also build linkages for the youth between heritage and arts through such initiatives," asserts Mousumi Ghosh, founder and director, Team Future.

As part of this event Janardhan Rani, the octogenarian 'actress' who enthralled audiences in the West Bengal with his incredible delineation of female roles in many performances was felicitated. Also was felicitated Chapal Bhaduri (76) who is still seen in solo performances as devi – goddess, in and around temples in Kolkata.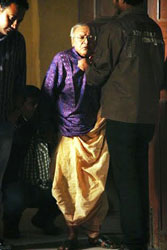 At the tender age of five, Janardhan took his first lessons in music from Bengal's famous 'Charan Kabi' Mukunda Das of Dhaka in undivided Bengal; he was known for his inspiring patriotic songs. But later , Janardhan had to migrate to Kolkata in search of better prospects. A talented singer, he came to Chitpur, the Jatra hub of the city, and started his career as a female impersonator. Among other roles, he became famous for playing goddess Kali.

Over his once successful career that faded into anonymity and poverty when women stepped in, Chapal Rani (Bhaduri) played roles like Raziā Sultana, Chānd Bibi, Devi Kaikeyi and the goddess Sitalā. Occasionally he has took up roles like Mahinder Kaur in a play based on the massacre of Jallianwala Bagh .

However, Kathryn Hansen in Stages of Life: Indian Theatre Autobiographies (2011) that analyses four autobiographies: Narayan Prasad Betab's The Deeds of Betab, Radheshyam Kathavachak's My Theatre Days, Jayshankar Sundari's Some Blossoms, Some Tears, and Fida Husain's Fifty Years in the Parsi Theatre, does not include a single female impersonator in the Jatra form of Bengal. Perhaps because no female impersonator from Bengal is known to have recorded his autobiography either as oral history or in writing.

Also as part of the event, a documentary Chena Kintu Ajana :Known Strangers was screened which explores the last generation of male actors in the earlier Jatra form. Playwright and theatre historian Ananda Lal elaborates (in the film) on how the suffix 'Rani' (queen) became a signifier of the actor's identity in essaying the role of female characters. "Most of them entered the profession driven by extreme poverty especially during the famine in the 1950s," he articulates.

The film is a tribute to the rich contribution of these actors who went against the grain of their biological identity to merge with the femininity the characters demanded. Other social issues such as poverty and social ostracism within the mainstream emerge naturally out of the script.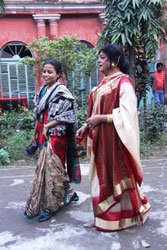 "The absence of female impersonators in today's Jatra is indeed a loss for contemporary Indian theatre because they just cannot be replaced," writes Payal Trivedi in her discourse on this film. The film traces the cultural iconography of 15 female Jatra impersonators like Nitai Rani, Upen Rani, Kanai Rani, Chapal Rani, etc. and the contemporary Bobby who is young, attractive and still performs female roles.

Says Debojit Majumdar who directed the film jointly with Dipankar Dutta, " I was inspired to make this film after I saw documentaries on two famous female impersonators of the past century. One of them was Sundari – An Actor Prepares on Jayshankar Sundari by Madhusree Dutta. While researching, I discovered an amazing world of facts, memories, and research findings and decided to place this in a single film." Jayshankar Sundari was a popular female impersonator of the Gujarati stage in early 20th century in Mumbai.


The documentary elaborates how female impersonators perhaps began in Bengal from the time of Sri Sri Chaitanya Mahaprabhu, propagator of the Vaishnava Sect , who portrayed the character of Krishna's wife Rukmini in a play staged in 1506 at the age of twenty.