The founder of Fitter Strength, a kettlebell sport facility in Kolkata, Arnav Sarkar is also one of the pioneers of the sport in India. A fitness enthusiast, Sarkar is aware of the slow growth of the sport in the country, but is extremely hopeful of KB picking up speed towards the end of this decade. In a chat with IBNS-TWF correspondent Sudipto Maity, he discusses the aspects and the challenges the sport presents.
Kettle Bells have been gym equipment for years now, but you saw a different side, the sporting aspect it has. How challenging was it for you to spread the message across to other people?

The kettlebell sport which is known as Girevoy Sport, or simply GS, became my focus somewhere around 2012, and I started training for it. The problem however was that no kettlebell competitions were being conducted in India at that time. This was very limiting, as me and other kettlebell enthusiasts did not have the opportunity to participate in this sport unless we were ready to travel abroad. Thus with the support of my team members, I decided to start the first ever kettlebell competition in India in January 2013 with the Kolkata Kettlebell Meet. It was a humble beginning, but with time, the number and quality of participants have increased and we are now being covered by maintstream media and followed online.

It was definitely challenging to get more people involved in the sport, but through the past four years that we have been organizing competitions, we have seen a slow but steady growth in the sport, with more people willing to participate and take the platform. However, the process of spreading awareness is a long one and we are ready to take this sport in different corners of the country so that we can take this to the masses.
When and how did it all start?
As a fitness tool, the kettlebell made its appearance in Indian gyms around 2008 or so. However, there were very few people then who were using it, and most were self taught by watching online videos, so technique was not well understood either. Gradually things started changing as some fitness professionals including myself decided to start learning to use kettlebells properly by attending international kettlebell courses. As I learnt more about this fantastic tool, I fell more in love with it.
Are you happy with the response?
The response has actually been quite good when one considers the poor current infrastructure for kettlebell sport in the country. At the moment, very few gyms in the big cities keep kettlebells, and very few instructors actually understand the finer details of kettlebelll lifting. Despite that we have Indian athletes achieving high ranks internationally, like my student Samrat Sen who achieved Rank 1 in Thailand in late 2015.
The kettlebell community is currently a small one, but I can proudly say that an extremely supportive one. When a competition happens anywhere in the country, there are others across the country who are spreading the news and help promoting it. Lifters from different states come to our events, and pay for it entirely from their own pockets, simply because of the love of the sport. Currently, Kolkata is the leading city in India in the kettlebell sport.
What do you make of this sport's future in India?
As a sport, it will grow for sure, but I am not sure if it will become a true professional sport where one can just compete and make a living. There will be more passionate lifters and also lifters achieving the highest rank in the sport. We will also have national teams competing in World Championships, but it is most likely that they will be self sponsored, or partially sponsored at best. However, the goal of the sport is beyond just medals and trophies. With the growth of the sport, it will be a much needed boost for the fitness levels of the nation.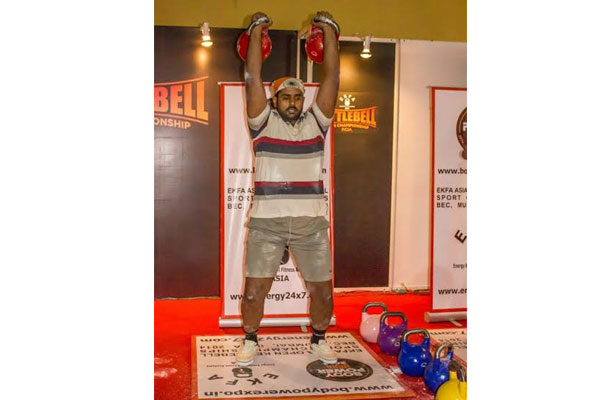 As an insider, elucidate the readers why one should take up this sport. Also throw some light on the cost involved.
Simplicity and the ease of practicing it anywhere are two of the biggest assets of this sport! Unlike many sports which require a lot of space or is dependent on having the right training partners, this sport can practiced within one's own bedroom and by themselves. Also, the sport itself has only 3 moves, of which people usually participate in just 1 or 2, which makes it a rather simple sport to train for. The health benefits that the sport offers, considering how little time it needs makes it a winner for busy adults. The cost in terms of training is very minimal. In most cases, 2-3 pairs of bells, and a lifting platform will be enough.

KB's still an elite sport. Does that worry you?

It is still very early days, and the sport has not reached its full potential yet. As more and more gyms start using kettlebells, we will have more lifters from all sections of society participating in it. It just needs some time, patience and hard work.

How do you plan to tackle that problem?

The number one factor to tackle that would be to have more qualified coaches who can teach it to the masses. Right now, very coaches are around, and this makes it hard to reach more people. One way I intend to change this is via the kettlebell courses that I teach across the country via my organization, Fitter Strength. We offer courses, workshops and even online training for trainers and kettlebell enthusiasts all over India to learn the finer points of kettlebell lifting.

How are the Indian KB athletes faring as compared to the other nations?

I would say that at the moment we are one of the top 3-4 nations in Asia. Last year, we had the first ever Indian team participate in a relay in Thailand, and emerge as champions! Some Indian lifters, including myself currently hold, or have held Asian records in the sport.

However, the gap between Asia and Europe, where the sport originated, is huge at the moment. There are very few Asian athletes who can survive full 10 minutes with 24 kgs, whereas in Europe many lift 32 kgs for the entire 10 minutes. Then again, it is mostly because the sport is very new here. With time, we will surely have great results even on the world stage.

Talk us through your record of lifting the heaviest weights. Do you think someone from India will break your record?

I was the first person in India to compete with 32 kgs, and go the distance in March 2014. It was quite a feat, as most Indians were struggling to survive 10 minutes with 16 kgs in those days. So while lifting 32 kgs was special for me personally, I really wanted to do it to show the world that even we Indians can lift 32 kgs and not just Russians and Ukrainians.

The training for it was tough and challenging, but when you are as focused as I was to be the first Indian to lift 32 kgs onstage, the motivation was not hard to find. I honestly never doubted myself even once when I started training for the competition, simply because I was so motivated! The competition was in Mumbai, and it was the first time that I was personally competing, even though I had organized two competitions myself before that.

The set was challenging, and I pushed myself to lift till the end. The result was what I had expected, so I was glad, but the feedback I got was worth much more than what I could ask for. Many other competitors congratulated me, and told me that they were glad that an Indian has also lifted 32 kgs, which meant a lot to me.

Regarding breaking the record, it will definitely be broken, hopefully by me soon, and I expect more lifters in the 32 kgs category in India by 2020. It is also needed for the growth of the sport, so I will be most glad to see my current numbers being surpassed.
Image: Arnav Sarkar Facebook