Indian fixation with marriage and children a hurdle to LGBTQ acceptance: Mr Gay World runner-up
A cancer research scientist, a model, an LGBTQ activist and a writer, Kolkata boy Samarpan Maiti, who added another feather in his cap finishing second runner-up in Mr Gay World 2018 this year in South Africa's Knysna, speaks to Sudipto Maity
Belated congratulations on the achievement in Mr Gay World. From being a bullied kid in some rural part in West Bengal to walking the ramp at Mr Gay World 2018. How has the journey been so far?
It may look like a fairy tale but the journey was not that easy. There were times when I contemplated quitting everything, but, never gave up. My father always used to say, 'life is a lot like traveling, so, don't take the shortcut, or you will miss many beautiful things'. I have nothing to prove to anyone, I follow my heart. The pageant experience was a dream come true, as I always wanted to represent my country and win. (Reality TV chef from Australia Jordan Bruno was crowned Mr Gay World 2018 while the first runner up was Ricky Devine-White from New Zealand).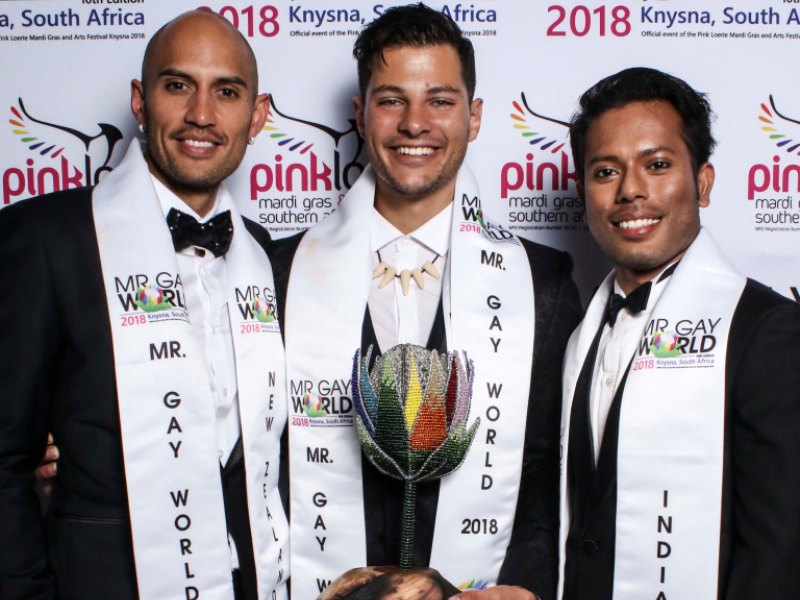 First runner up Ricky Devine-White (L) from New Zealand; Jordan Bruno, Mr Gay World 2018 and Samarpan Maiti (R), Second runner up
When did you decide to come out? How hard was it to accept yourself the way you are or to make your parents understand?
In 2016, my family was planning for my marriage, and I was planning to participate in Mr. Gay World, so I thought it was the time I should tell them about myself.

Since my adolescence I am attracted to men. But, I had neither heard about the term 'gay', nor did I have any idea about 'sexual orientation'. Part of it was due to the fact that in India, our academic course lacks sex education.
As a child, I was a victim of sexual abuse. My neighbor, also the perpetrator, had warned me against disclosing it to anyone and I kept mum out of fear. Even though it stayed with me, I felt everything would change and life would be fine, once I grew up. I learned about the existence of the internet after I moved to a city to pursue higher studies. It was then that I heard of this particular term-LGBTQ-and, I could finally relate to it.
It was depressing to live with this hidden identity. I used to pretend that I was straight and to validate it, had "girlfriends" like others. Still, I was driven out of my hostel, because a few people suspected and termed the bonding between me and one of my friend as a 'gay relationship'. We were subjected to abuse and bullying as the society didn't believe us, even at a time when he supported me emotionally, following the death of my father. Today, he's married to my sister and continues to support me.

About acceptance, I accepted myself easily. The challenging part was to come out publicly. I was more worried about my family, as I never wanted them to face any trouble because of me.
Were your parents supportive of your sexuality? If not, have they changed their minds now? How's it now?
My family consists of me, my sister and my mother. Mom was either indifferent or pretended to show indifference about my sexuality. But, she believes in me and knows that I can't do anything wrong. She understands me, and is very supportive of whatever I do now.
Apart from being an active member of the LGBTQ community, you are also a model and a scientist. Do you think that at times the latter (you being a scientist) gets shadowed and your sexuality takes centrestage?
I don't think so, rather, I think the other way around. Being a scientist, I am still able to both work as a model and take part in Gay beauty pageants, and even win the competition. I have broken the stereotype. My message is clear, the LGBTQ community can excel in every possible field. I want the society to give me equal respect for both my research work and sexual orientation.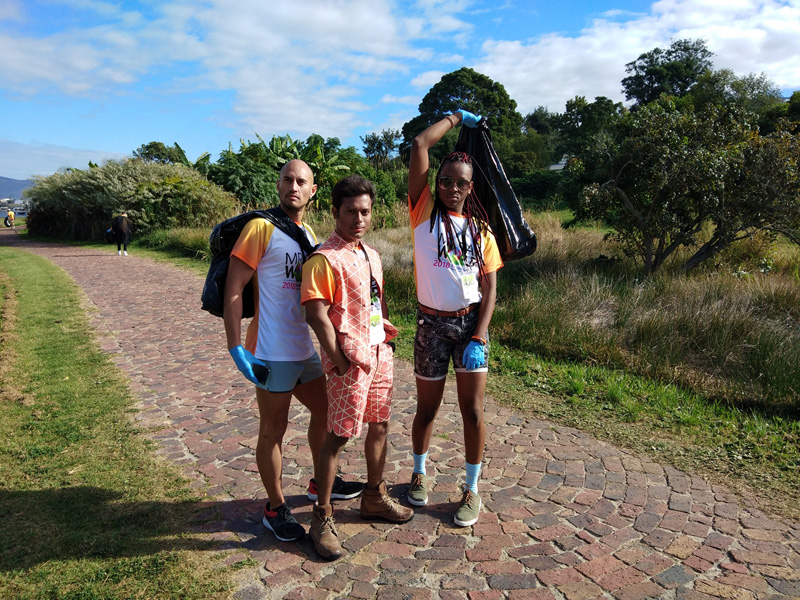 Do you watch movies? Are you happy the way the gay community is portrayed in movies/books, other mediums now as opposed to a decade ago?
There are movies and books where the real struggle and lifestyle of LGBTQ community is portrayed, but, at the same time, there are movies and TV shows where they making fun of the community, in an inappropriate way. In our country, the "censor board" is quick to bring down the scissors on intimate scenes in a movie or a TV show. They say, it's against our culture. They are quick to edit political or religious satire, stating that it's against a particular group or religion. But, fun at the LGBTQ community's expense incurs no such actions from the certification board. What happens is, our society looks up to Bollywood for ideas and when they start making fun of us, society follows suit.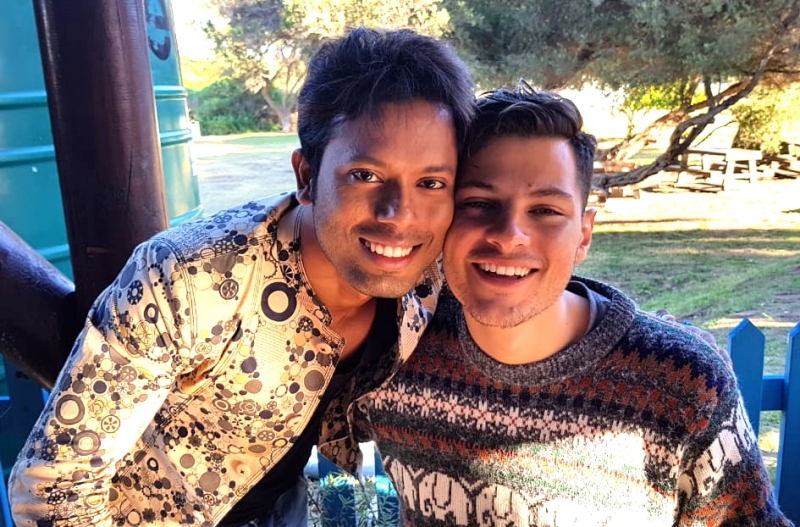 Samarpan (L) with Jordan Bruno (R), the winner of Mr Gay World 2018
Is there greater acceptance today for gay themed films?
Acceptance remain exclusively in the highly educated part of the society, not in general. However, we will witness a change if a commercially successful actor decides to portray such a role in a mainstream Bollywood movie.

What do you make of the Indian society's outlook towards the LGBTQ community?
The Indian population is driven by the question- what will the society say- without realising that its us who form the very society that we so frequently talk about. So, if we change and accept, it will influence others to do the same. Just giving you an example: in my village, after marriage you have to wear a Saree and use 'ghomta' (using one end of the garment to cover the head, as a sign of respect towards elders). But, a few women started to change the trend. They ditched the Saree for Salwar Kameez. Initially, people talked a lot, but now everyone is accustomed with that, nobody speaks about all these.
A major hindrance towards the acceptance of the LGBTQ people in India lies in the fact that the Indian society is preoccupied with marriage, children and future generations. We need to set more examples so that they can see it in regular basis and can overcome the inhibitions.
In a recent disclosure, you had mentioned bias among gay community based on looks and money. Share your experience and how you overcame it.
See, we can't deny that to most people looks is the major factor while choosing someone. My concern was about body shaming. In LGBTQ dating apps, you will find profile with hate messages such as 'big no to fatty, trans, sissy, ugly'. I wanted to say that you can't shame anyone for their looks and appearance. For me, when I came to Kolkata, people used to avoid me for my rural background and my difficulty in speaking the English language. I was bullied for my fashion sense, for my simple lifestyle and so many other issues. But I channelised all that through stories and poetry. After they were published, the educated part of the society started interacting with me and that is how I overcame my plight.
What's next in store for Samarpan Maiti?
I find myself very unpredictable, but again, I am very much focused once I decide to do something. Someone offered me a role in a biopic. Though not sure yet, you may find me acting in that biopic soon.
Images: Mr Gay World organization and Gerhard Meirine