Sports
Prodigy Praggnanandhaa thrills audience including Vishy Anand at Blindfold simultaneous chess display
Chennai, July 2 (IBNS): A week after becoming the World's second youngest person ever to become a chess Grandmaster, Praggnanandhaa thrilled the audience, including five-time World Champion, Viswanathan Anand, with a blindfold chess simultaneous at a function co-hosted by Chess Gurukul Academy and Microsense Private limited.
Grandmaster Praggu played blindfold while his 3 opponents could see the board. Praggu won against all his opponents.
Praggnanandhaa, who is barely taller than the table on which he moves chess pieces, is widely seen as a potential heir to Anand's legacy in the game and his rapid rise in the game has put him in world chess spotlight.
In 2016, he became the youngest Indian International Master at the age of 10 years, 10 months and 19 days. He bagged his first GM norm in November 2017 and then added the second in April 2018, before finally completing the third GM norm at the Gredine Open in Urtijei, Germany to become a Grandmaster on June 23, 2018.

Sergey Karjakin, now 28, holds the record of being the world's youngest chess Grandmaster ever. He achieved the feat in August 2002 at the age of 12 years and seven months. In November 2016, Karjakin lost the World title match to Magnus Carlsen in the rapid tie-breaks after drawing 6-6 in classical games.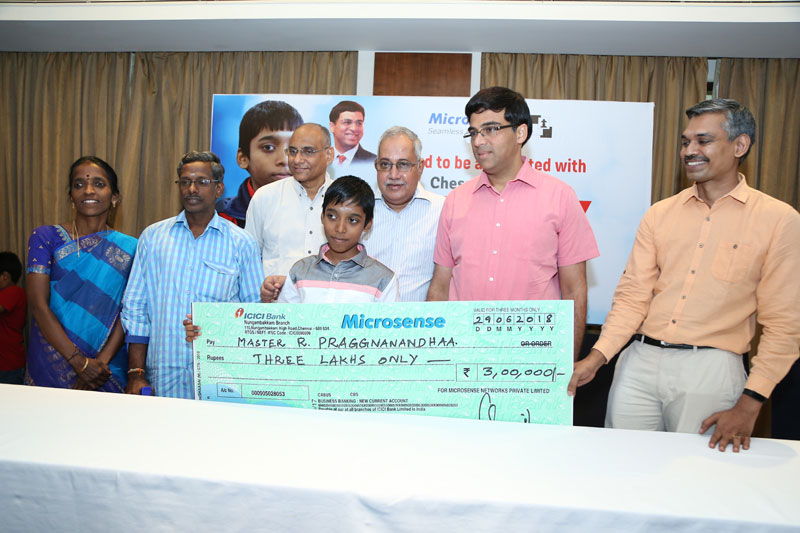 Anand, himself a prodigy in his youth, spoke in glowing terms about Praggnanandhaa. He said, "It is a great feeling to see Praggnanandhaa achieving the (GM) title at this young age. He will reach new heights by scripting more records, I am sure this will be a very inspiring milestone for his Chess career. I congratulate and wish him a bright future ahead."

Praggnanandhaa's coach, Grand Master, R B Ramesh, who is also the coach for the Indian chess team and founder of 'Chess Gurukul', said, "We are very happy for Praggnanandhaa. He is very hard- working. I am proud that one of my students has become a world star at so young an age. The 'Chess Gurukul Academy' is aimed at motivating and encouraging young talent and we are committed to the development of young minds in Chess."

S. Kailasanathan, Managing Director, Microsense Private Limited said, "We are proud of Praggnanandhaa's achievements. It is a great moment for Indian sport, as Praggnanandhaa has become a global achiever in chess, where we have such a rich tradition.
"I am sure he will continue to take Indian chess to greater heights. As a committed sponsor of chess talent for several years, we at Microsense take great pride and joy in the achievements of the youngsters, who fly the Indian flag high on the international platform. Microsense is committed to creating more chess champions in India."

Microsense has been supporting promising wards of Coach R.B. Ramesh and the list of players apart from Praggnanandhaa include young stars like GM Arvind Chidambaram, Divya Deshmukh, the current World Under-12 girls champion, Leon Mendonca, M Pranesh as well as established super GMs Baskaran Adhiban and Harikrishna

Microsense founder Kailasanathan was a Tamil Nadu chess champion in 1972 and also played for West Bengal and Delhi in the early seventies.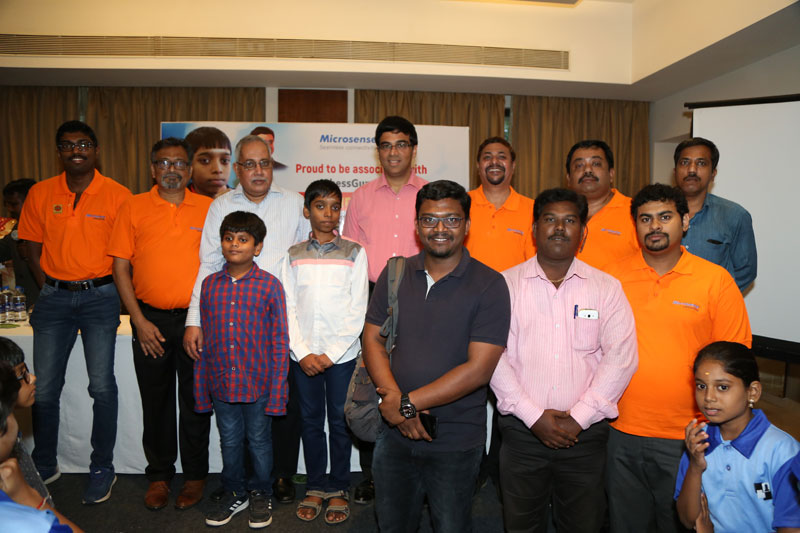 In Blindfold chess the player does not see the board or the pieces on it or touch them either. This means the player needs to have mental vision of the board and the pieces positioned on it. Moves are communicated through spoken chess notations.

Chennai-headquartered Microsense, is the country's leading Wi-Fi Service Provider (WISP) as well as being a global technology player. On June 20, 2016, the World Wi-Fi Day, Microsense paid tribute to two of India's greatest minds, C. V. Raman and his nephew Subrahmanyan Chandrasekhar, by networking their ancestral villages Purasakkudi and Mangudi (Agaramangudi) in Tamil Nadu.
Raman received the Nobel Prize in 1930 his contribution to physics through the Raman Effect and Chandrasekhar received the Nobel for the 'Chandrasekhar Limit' in 1983.