Ashley, a smart, lithe looking young woman, was right there with the sign "Miami Culinary Tours" when I reached Bolivar Restaurant on Washington Avenue, South Beach, in the historic Art Deco district of this south Florida gem.
"Miami is a wonderful place," lobbed a passerby near the ear of our pretty guide Ashley as she introduced us to the tour and herself right outside the Boliviar. "Yes, it is a wonderful place," she responded back to the stranger and at the same time assuring all of us that coming ahead is a not-to-be-missed Miami food and architecture experience.
Our tour started from Boliviar and I soon realised that this food joint, which boasts of its exotic fusion of South American cuisine with a rustic and chic vibe, is perhaps the ideal place to start a culinary tour in the Art Deco hub that comprises of avenues between 5th Street and 23rd Street, along Ocean Drive, Collins Avenue and Washington Avenue.
This is a tour to savour tasty treasures inside the beating heart of Miami Beach with the engaging heritage walk through the Art Deco district. As you walk you enjoy delicious cuisine at a diverse range of food halts; from swanky, starry gourmet to hole in the wall ethnic eateries.
Well, our tour began with a taste of tasty Colombian empanada at Boliviar. They are golden corn-crust pies filled with your choice tender pulled beef or chicken or cheese.
We then headed for the iconic Ocean Drive to learn about the famous movie locations and the history of the Art Deco architecture, which is marked by the 1920s style of buildings with simple, clean shapes, often with a "streamlined" look.
Well, not to be missed in Ocean Drive is also the mansion of Gianni Versace. The Villa, Casa Casuarina, which is popularly known as Versace Mansion, is a property which is now a boutique hotel but was once owned by the Italian fashion impresario till he was assassinated right at the front gate of the building by a serial killer in 1997.
Ocean Drive is also lined with some of the awesome food joints of Miami.
After Boliviar, we checked in a restaurant owned by none other than Cuban-American musician couple Gloria and Emilio Estefan. The celebrity power couple's award-winning restaurant Larios on the Beach- painted white and blue in the exterior- is Miami Beach's go-to destination for authentic Cuban cuisine and mojitos.
We were told that the joint recently underwent a complete renovation to its interiors.
The Estefans say they have created "a tempting new menu featuring traditional favourites as well as Cuban-inspired specialities." New menu offerings run the gamut, from sweet and salty bacon-wrapped maduros, black bean hummus served with crisp plantain chips, to a fresh tropical ceviche and a sizzling chicken vaca frita.
The signature dishes are lechón(roasted pork), house-made pork tamales and the classic arroz con pollo. Decadent desserts include traditional flan, arroz con leche (rice pudding), natilla (vanilla custard) and chocolate tres leches.
The Estefans proudly commissioned a three-dimensional site-specific sculpture by Miami-based, multi-disciplinary artist Carlos Betancourt. The sculpture consists of over 100 three-dimensional objects that include a microphone used by Ricky Martin and Gloria Estefan (Mi Terra), Shakira's harmonica, drumsticks from Shelia E, Tito Puente and Emily Estefan to elements from Betancourt's iconic artworks.
At the bar, along with hand-crafted cocktails and premium wines, you can nosh on appetizing bites such as fire-grilled skewers and baked Cuban empanadas.
Now the food apart, a walk along the Ocean Drive is a walk through Miami's famous Art Deco quarter.
So after having some delicious bites at Larion on the Beach, you can take a walk to the intersection of 5th Street and Ocean Drive. You have to walk north, to see the district's minimalistic buildings with porthole windows, curved metal rails and duplicated flags from popular ocean liners that once anchored at the Port of Miami in the 1930s.
In particular, look for The Celino South Beach hotel, between 6th and 7th Street. This Art Deco masterpiece was once a popular hangout for Hollywood glitterati like Clark Gable, Carole Lombard and Rita Hayworth.
Nearby, the 1936 Beacon Hotel and the 1935 Colony Hotel have neon accents and giant signs that are hard to miss.
Continue north to 23rd Street, and you'll notice other prominent Art Deco spots like the popular party place, the Clevelander Hotel, on Ocean Drive; Villa Casa Casaurina, the 1930s Spanish-style mansion where Gianni Versace famously lived and died from an assassin's bullets; and the restored National Hotel.
We stood across the street right in front of The Breakwater building which is a 1936 resort hotel and a beautiful product of the Art Deco style with the strong line and the attention to symmetry.
Well, our next food stop was Miami Mediterranean Cuisine at 209 11th St (11th St And Collins Ct). Here you have a good choice of Mediterranean food available for delivery or takeout.
We went for some small bites and chose Cigar Roll which is a cigar-shaped crispy pastry stuffed with feta cheese and parsley served with tzatziki sauce.
Hummus, which is a blend of pureed chickpeas delicately flavoured with sesame puree, fresh lemon juice, olive oil and med spices and served with pita bread is a good choice too.
Or a Mixed Appetizer perhaps, which includes Hummus, babagonoush, tabouli, sauced eggplant, stuffed grape leaves, falafel, served with hot pita bread.
We then headed Lincoln Road on the outer edges of the Art Deco Historic District. This is a pedestrian-only promenade and outdoor mall and is lined by restaurants, shops, bars and more, all with Art Deco nuances on their façade.
Our tour ended with two more mouth-watering experiences at the Española Way, where you are transported to the old world Europe as you stroll down the palm tree-lined pedestrian street with rows of food joints on either side.
Conceived as a "historic Spanish village" by NBT Roney in 1925, the two-block corridor between Washington and Pennsylvania Avenues was designed to resemble the romantic Mediterranean villages of Spain and France. Here, buildings are made of chalky pink stucco with Spanish tile roofs while sidewalk cafes are shaded by striped awnings.
Española Way is all about art galleries, boutiques and gelaterias, as well as restaurants. Take your pick from Mexican, Cuban, Japanese and Italian cuisines here.
We chose Tapas y Tintos for some Spanish cuisine sitting in one of the tables that spill out onto the streets filled with tapas, paella and boardsofjamon Iberico and manchego cheese. The menu included albondigas (meatballs), piquillo peppers stuffed with cod, garlic shrimp, Spanish tortilla made with potatoes and onions and Gallega octopus.
This joint also hosts live flamenco shows with tapas.
And finally, we wrapped up the walk with a yummy gelato taste in the mouth at Milani Gelateria on the Española Way. This is a place to savour the authentic, handcrafted Italian gelato made with the highest quality natural ingredients directly from distinct regions of Italy.
If you are in Miami and not taking a culinary tour in the Art Deco district, then you really miss the flavour of this vibrant, voluptuary American city on the Atlantic coast.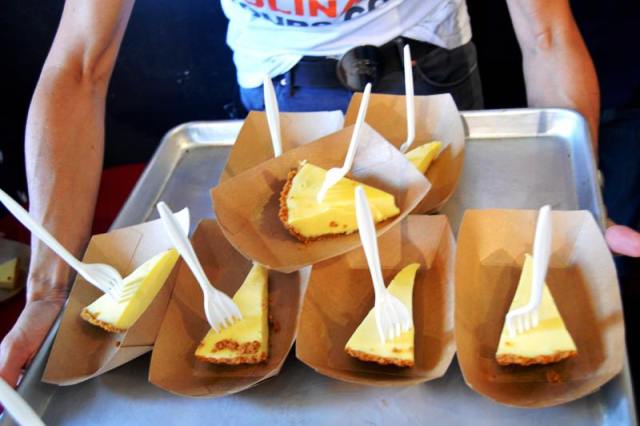 Images by the author and Miami Culinary Tour. www.miamiculinarytours.com