Global tourism professional body Skal International India launches new brand identity in jazzy Kolkata meet
Kolkata: On a crisp winter evening in a sprawling deck of Kolkata's Novotel hotel, an enlivened group of travel industry professionals was celebrating this early December.
There was music, folk dance, passionate speeches and good food and wine. But more than the razzmatazz of the Dec 4 evening, there was a steely comeback resolve. The gathering actually threw the gauntlet to a raging Covid-19 pandemic that dealt a heavy blow to the tourism industry worldwide.
The men and women at the event belong to Skal International, the world's largest global network of tourism professionals promoting Tourism, Travel, Business and Friendship worldwide since 1934.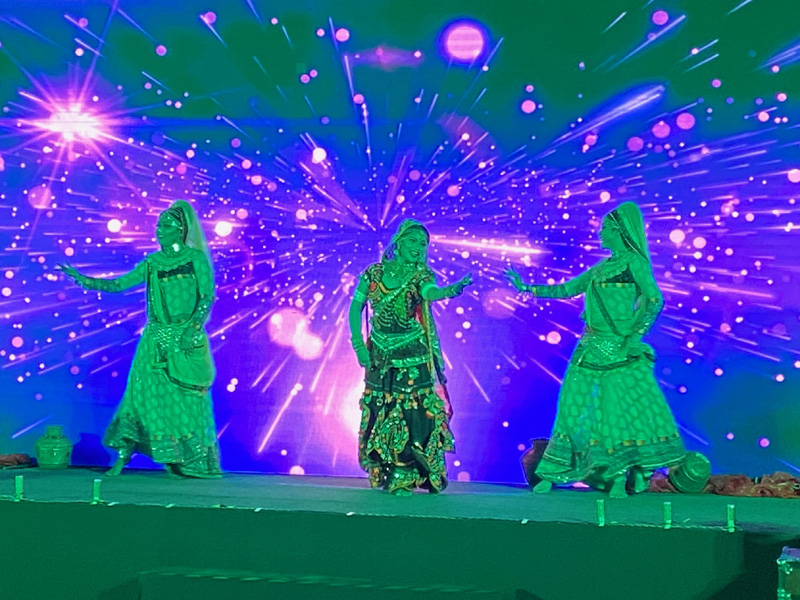 In Kolkata on Dec 5, Skål International India launched its new brand identity at the National Committee meet. Presidents of 14 Clubs across 13 cities in India along with the Skål India National Board members were invited to this hybrid event, held in-person and on Zoom + Facebook Live.
Skål International India comprises members across up to 42 verticals of the travel & tourism industry – including hospitality (hotels & resorts), aviation, travel agents, tour operators, OTAs, ground transport, tourism boards, marketing consultants specializing in tourism and several stakeholders from international and local Government representatives.
Sk. Carl Vaz, the newly elected President, Skål International India, said "Developing an identity for Skål International India was a challenging yet ultimately rewarding task. A team of passionate Skålleagues across India came together to work on the project, with the aim of bringing life to a brand identity that is simple, yet tells a story to remember".
Skal India Board, Club Presidents & Kolkata office bearers at the 1st Skal India National Committee Meet 2020 in Kolkata
"India is recognized as one of the most diverse places on the planet. A country of many languages, faiths, cultures and climates. Our nation is all about the myriad experiences we provide every traveler.
"An ancient civilization, in a young country, our people bring life to India – through our values, culture and positive attitude. Indeed, it is our social fabric which brings us together. With over 1150 Skålleagues across 14 Clubs in 13 cities around India (and growing), we have a wonderful opportunity to develop not just our unity, but also the diversity that makes each of us special," said Vaz.
Skål International India roped in young New York based designer Varun Vig for the project.
"The stage was set, and young Varun Vig got right down to work! A successful designer from New York, Varun has worked on exciting projects such as the New York Fashion Week 2020, Adidas Originals 2018, and the album artwork for Maghreb, by rapper Naezy (who inspired Bollywood film Gully Boy)."
The new brand identity recognizes the beauty, history and diversity of India's fabrics and prints, he said.
"Our country has a history of producing fabric since 5500 BC! Over the millennia, many forms have developed, each tells its own story. The national brand identity is an amalgam of the distinctive styles of each region with a Skål Club, and each regional print is an integral part of the social fabric of Skål International India. The imagery can also be extended to new Clubs, while recognizing their local traditions and artisans.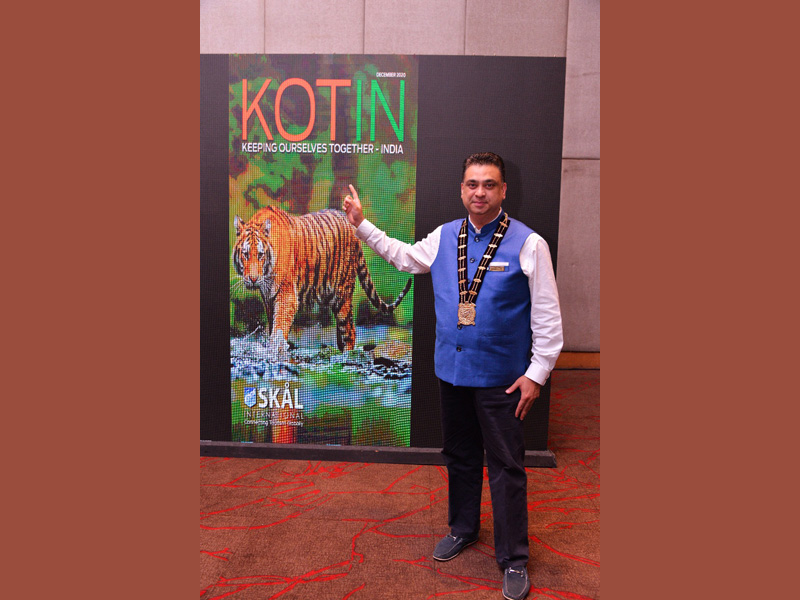 Skal India President Sk. Carl Vaz announces the launch of Skal India's new consumer facing brand identity and the monthly magazine KOTIN
"The vision is to create a recognizable brand for Skål International India. One that is visible when the customer walks in to buy a flight ticket, checks in at a hotel, visits a travel agent, drops by a tourism board booth, reads an industry publication, sees a social media post or even when they see an ad from a proud Skålleague.
Sk. Carl Vaz said: "The best brands are those which are simple to understand, and tell a great story. What better way to grow our movement in India, than with a heartfelt connection to our roots, the social fabric of our Clubs – united in spirit, and devoted to spreading the vision of doing business among friends."
Speaking at the event, Sk. Sanjeev Mehra, President, Skål Club Kolkata 127 said "We are proud to host Skål India's National Committee meet in the sweetest part of India. This is also the perfect forum for us to announce Kolkata's bid to host the Skål World Congress in 2023! A great opportunity to bring recovery and international business to Kolkata and West Bengal".
Skål International holds an annual World Congress each year in a different country. Without a doubt, a great opportunity for its members to discover incredible destinations and different realities of the travel and tourism trade worldwide. The General Assembly of Skål International takes place during the annual World Congress, where the new Executive Committee is elected. Previous destinations and venues for the World Congress include Symphony of the Seas, USA (2019), Mombasa, Kenya (2018), Hyderabad, India (2017), Monaco (2016), and Malaga, Spain (2015).
Sk. Carl Vaz said "with over 1150 members across 14 Clubs, India is one of the largest national committees in Skål International. Kolkata would be a fine venue to bring Skålleagues from across the globe together, with a focus on growing the industry in a post-Covid world."
Skål International is the world's largest global network of Tourism Professionals promoting Tourism, Travel, Business and Friendship worldwide since 1934. Its members are Directors and Executives of the Tourism sector who connect with each other to address issues of common interest, improving a business network and promoting destinations.