Animal activists in Rajasthan's Sirohi district have launched a unique campaign to provide water through tankers to wildlife animals to tide over acute water shortage in its forests. But conservationists say there is no need to intervene in these natural processes of variations in mortality, reports Rakhee Roytalukdar
The air is already hot, the sun is scorching, the temperature is touching over 40 and the watering holes are running dry. And this is early summer yet. In fact, March this year has been sultrier than usual. The script is running as predicted by the Indian Meteorological Department, saying that India is expected to experience a hotter-than-normal summer this year.
Water shortage in summer months is a perpetual problem in the desert state of Rajasthan. More so for its wildlife in its numerous famous sanctuaries. Most of the watering holes dry up in the extreme heat from May onwards. But this year, the intensity of heat has brought on the summer earlier.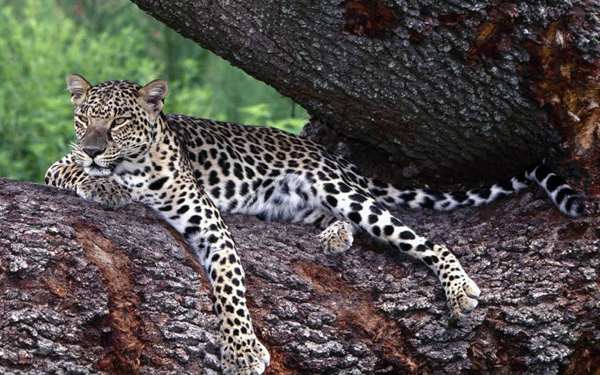 Water scarcity in the sweltering summer has often made wild animals stray leading to incidents of animal-human conflicts. In 2012, a panther died of thirst in the Devdungari forest in Bhilwara district, one of the first such recorded occurrences. There could be more, but unreported.
Environmentalists accuse the government of not making adequate arrangements for water, forcing wild animals to stray into human habitats to quench their thirst and hunger.
The state wildlife department, however, claims otherwise. State Chief Wildlife Warden, G V Reddy confirmed: "Rs one crore has been set aside for making water arrangements during the summer months for wild animals."
But probably even this huge amount is not enough. To ride over the crisis, animal activists of Sirohi district have found a unique way. They have initiated a massive campaign called Pyaas Bujhao Yaaro, in the Vadakhda forest area (about 415 km from Jaipur and 10 km from Sirohi town) stretching from the Aravalli hills to over 35 square km. The district is one of the most backward regions of Rajasthan. The forest hosts birds and wild animals like panther, leopard, neelgai, wild cat, rabbit, deer, peacock, etc.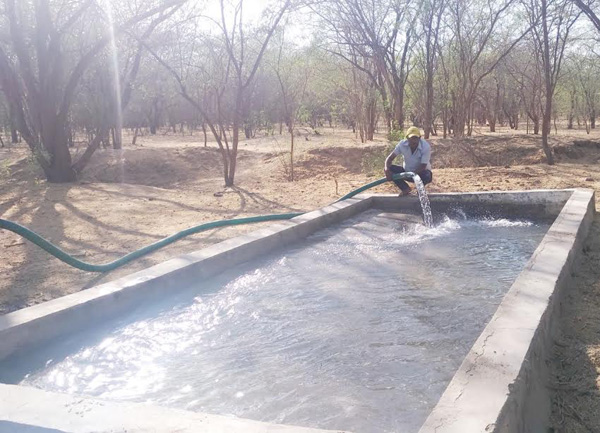 Fearing that many could die due to dehydration, a few animal activists under the banner of People For Animals ( PFA), Sirohi, have built at least six water reservoirs throughout the forest and are filling it up with water from tankers.
Amit Deol of PFA, Sirohi, says : "At least 10,000 litres of water is being supplied everyday to fill up six water tankers, so that animals don't have to come out of the forest in search of water. These reservoirs have been built with the permission of the forest department and they have helped to identify the places for building them."
Deol says that the idea of building the water reservoirs germinated after he receive calls to rescue injured wild animals. The forest is next to a four-lane highway which wild animals often cross to enter villages in search of water and food and fall victim to accidents or conflict with humans. .
But fulfilling the watering needs of the animals is a costly affair as little help comes from the government. PFA spends about Rs 12,000 per month for filling up the reservoirs every day managed through donations.
Rajasthan's most famous Ranthambhore Tiger Reserve has about 200 watering holes, informs Y K Sahu, field director of the park. "When the wildlife population was lesser, these watering holes sufficed. But now with the tiger count reaching 62 and about another 100 leopards and other wild animals crowding in the limited core forest area of 392 sq km, water shortage is bound to be a problem in summer. Till now there's no plan to supply water from outside, " he says.
Many conservationists are not in favour of providing water from outside. One of the guiding principles of wildlife management in conservation areas is that the natural population dynamics of animal populations should not be interfered with. Experts say, wildlife populations are entirely different from domestic animals which have to be fed, watered and maintained through human interventions for human consumption.
Karnataka Forest Department's decision to replenish drying waterholes in Bandipur and Nagarahole Tiger Reserves with water brought by water tankers has been opposed by several experienced conservationists, who have worked in these areas for several decades.
Nagarahole and Bandipur reserves have attained high density of tigers and other large mammals after 1974, owing primarily to the strict measures taken by the forest department during the past decades.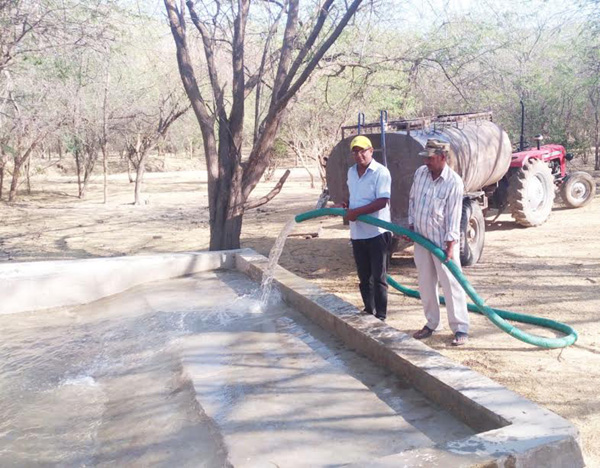 The overall density of nearly 40 to 50 large herbivorous animals per sq km now observed in Nagarahole-Bandipur are among the highest ecological densities of large mammals in India.
However, the density varies greatly within the 1500 sq km of Bandipur and Nagarahole habitats, from as low as five animals per sq km in the driest parts to more than 100 animals per sq km in more moist forest patches. The density in drier areas is generally lower due to lower forage ability during the peak dry season.
On the other hand, wildlife populations must undergo natural stress such as droughts, disease etc. and should get impacted by cycles of lower survival rates and densities as well as increases in these.
Successive and massive habitat modifications in the form of continually providing water sources over the past three decades have already caused huge unnatural interference in these natural population dynamics in Nagarahole and Bandipur leading to artificially high densities of some species and shrinkage of others.
Thus, from an ecological perspective, conservationists believe that there is no need to intervene in these natural processes of variations in mortality.
But because Karnataka and Rajasthan have different climactic conditions, the desert state's requirements for its wildlife are different.
Consisting of approximately 10% of land area, 5% of the total population, Rajasthan has only 1% water of the country. A 2012 report of Rajasthan State Action Plan on Climate Change reveals that Rajasthan has the highest probability of drought in India.
However, Rajasthan's belief in traditional methods of water harvesting like Jhalara, talab, bandis, baolis, paar, tankas, johads, nadis and others, have helped it tide over water crisis for ages.
But rapid urbanisation and water pollution are putting enormous pressure on the quality and quantity of surface and ground water.
With rainfall pattern changing every year, it is imperative to revive and maintain these traditional systems of water harvesting, otherwise water tankers for wild animals seems the only plausible solution for now, environmentalists say.